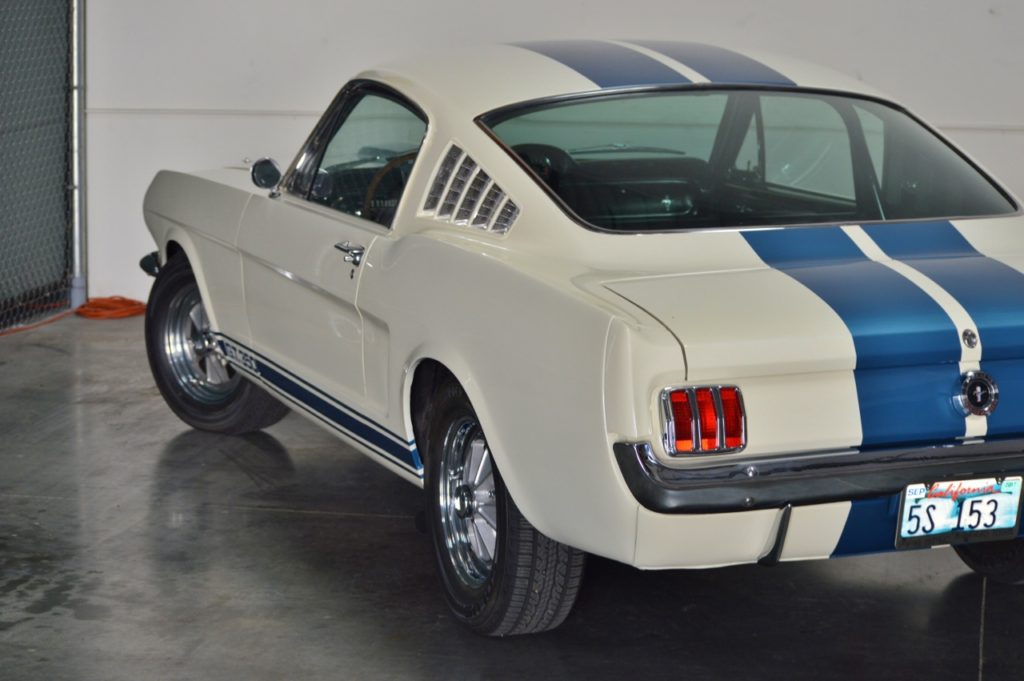 With regards to aftermarket performance, Mercedes' AMG, BMW's M division, Cadillac's V team, and their ilk are contemporary powerhouses all vying for a chance to be 'best' in their business. Of course, each brand has a personalized backstory as to its existence, but today most auto companies have an in-house skunkworks responsible for masterminding the most devious creations that they created themselves. Hailing from Texas, Carroll Shelby's Shelby-American organization founded in the sixties is the guilty party behind Ford's legendary GT40 Le Mans successes and the notorious Cobra 427. In fact, Shelby was cranking out their diabolically fast street and racing cars long before most of these current in-house competitors were even conceived.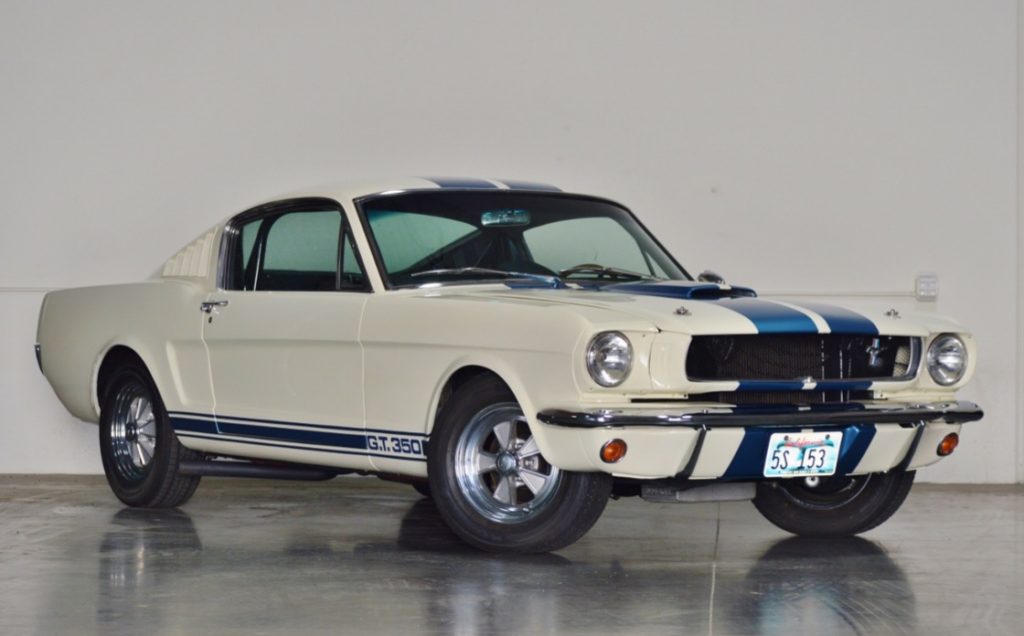 After engineering the vaunted Cobra, he turned his attention to improving Ford's new pony at the behest of Lee Iacocca. The resultant Shelby Mustang GT350 was impeccably perfect. At the time it offered more standard performance parts with a factory warranty than anything else: exotic body panels, a requisite power increase, bespoke interior, unique livery, and a nearly a full overhaul of the suspension – the GT350 was the complete weekend race car package. All of this, first in 1965, at an astonishingly low price of $4,311!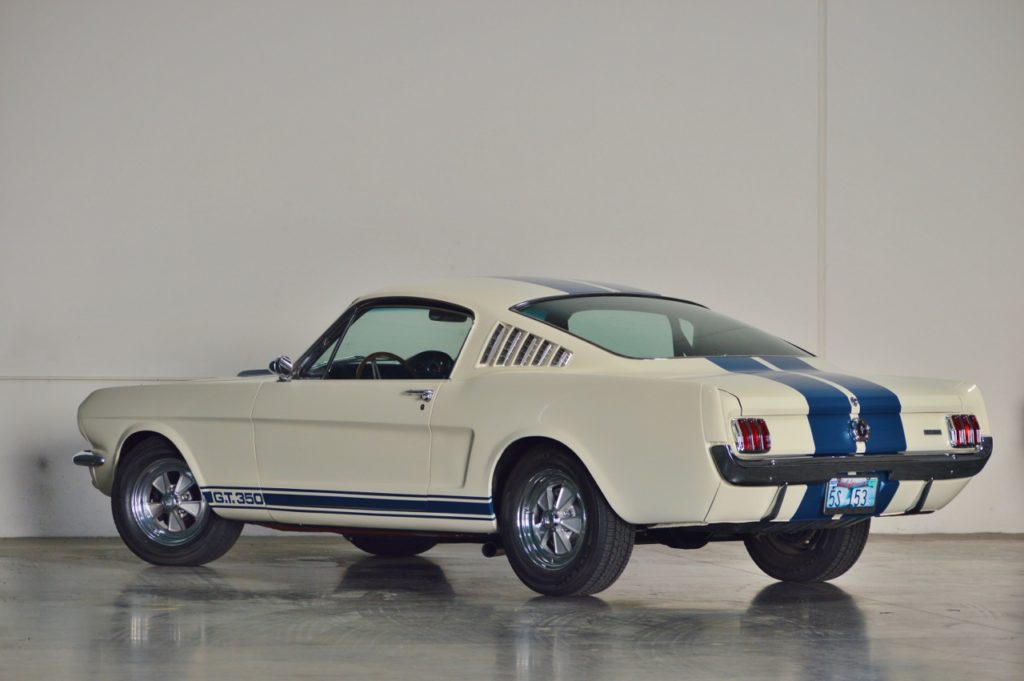 A titanic forebearer to souped-up modern muscle, we recently auctioned one of these first-year Mustang GT350 examples that reached a market-commanding premium of $210,000. An astounding financial figure considering their original price tag. It is worth mentioning that the exclusivity of these Shelby Mustangs is enhanced due to low production for only four years, with Shelby and Ford terminating their partnership in 1969. During that first year, though, only 562 GT350 were built of which only 504 were provided for dealership sale. Comprehensively painted in Wimbledon White with Guardsman Blue side stripes, a mere 28 percent of GT350s built that year became recipients of full-body Le Mans stripes, which made our car further standout.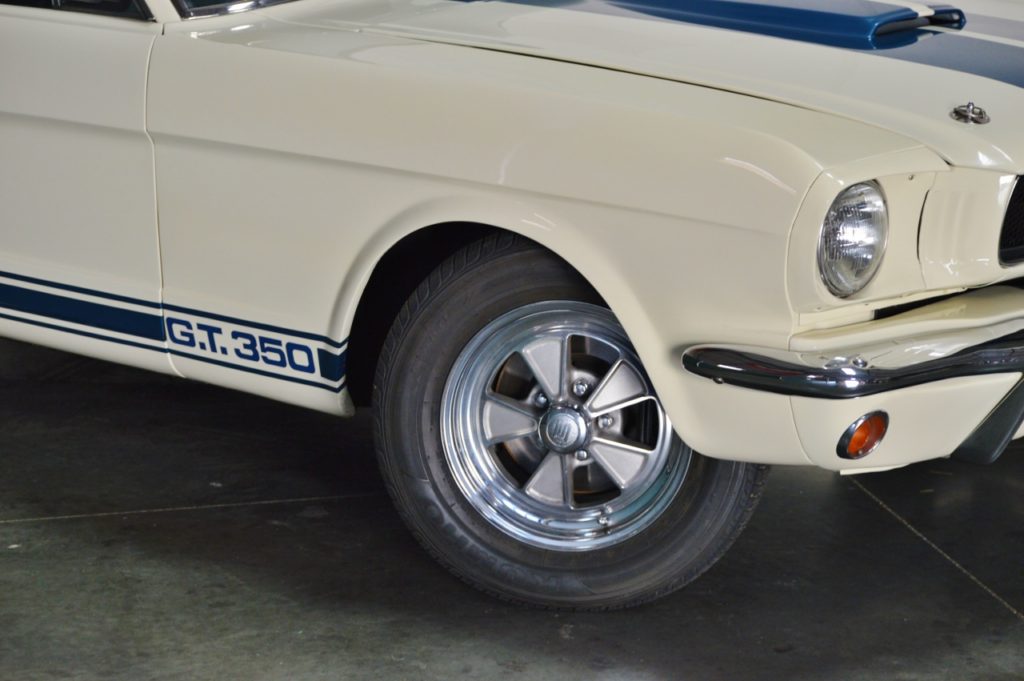 Although the total production volume was minimal and options were limited solely to Cragar wheels and the addition of Le Mans stripes, market prices fluctuate within a wide birth. Low-mileage, unmolested examples can confidently command half-million-dollar donations. Meanwhile, racing conversions and mileage-sodden Shelbys see valuations orbiting the one-hundred thousand dollar spectrum. Such a grandiose margin makes any GT350 that was raced, restored, or that wears period-correct but non-original modifications unpredictable before the gavel.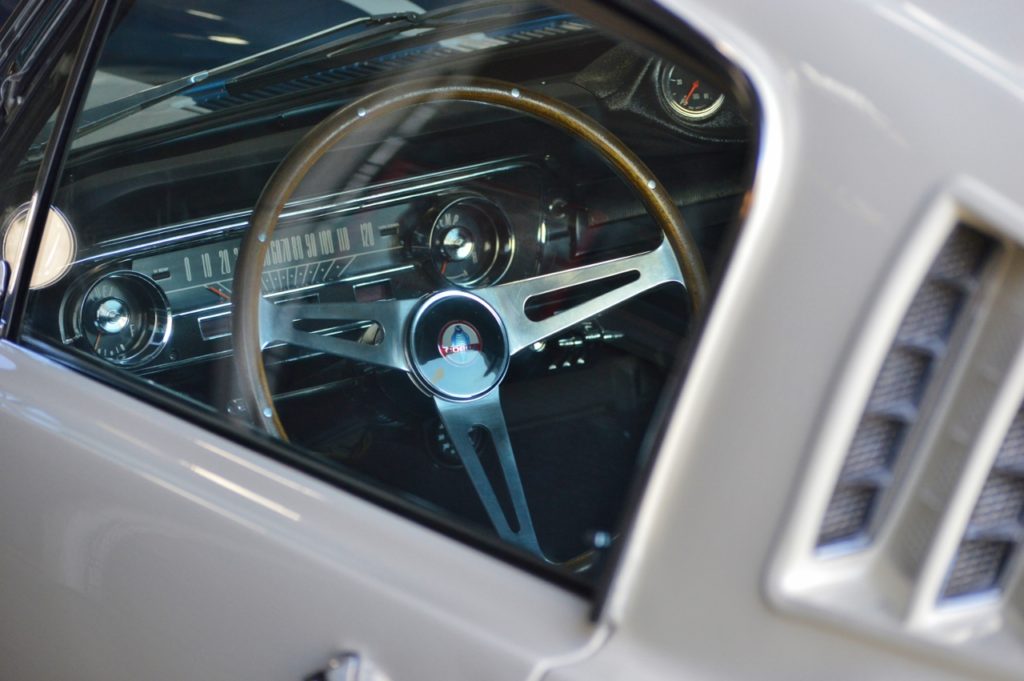 The vintage race car conversion our example underwent in 1990 by Dralle Engr was comprehensive with a fuel cell, roll cage, and fire suppression systems professionally installed. In this configuration, the GT350 was in active race participation around the United States until 2016. In this capacity, the GT350 achieved numerous top-five finishes. However, a new owner in 2017 sought to resolutely restore the Mustang to street-legal status, but with a twist.

Cosmetically, the vast majority of our Shelby remained comprised of its original sheet metal and fiberglass hood, but, as they say, 'rubbin' is racing.' After the panels had reprised their factory fitment, the Mustang was then reverted to its proper 1965 GT350 paint livery. The new paint finish exhibited some minor issues, but the owner's adherence to the original scheme and options evoked the true spirit of this restoration effort, especially in the case of the rehabilitated Cragar 15" wheels.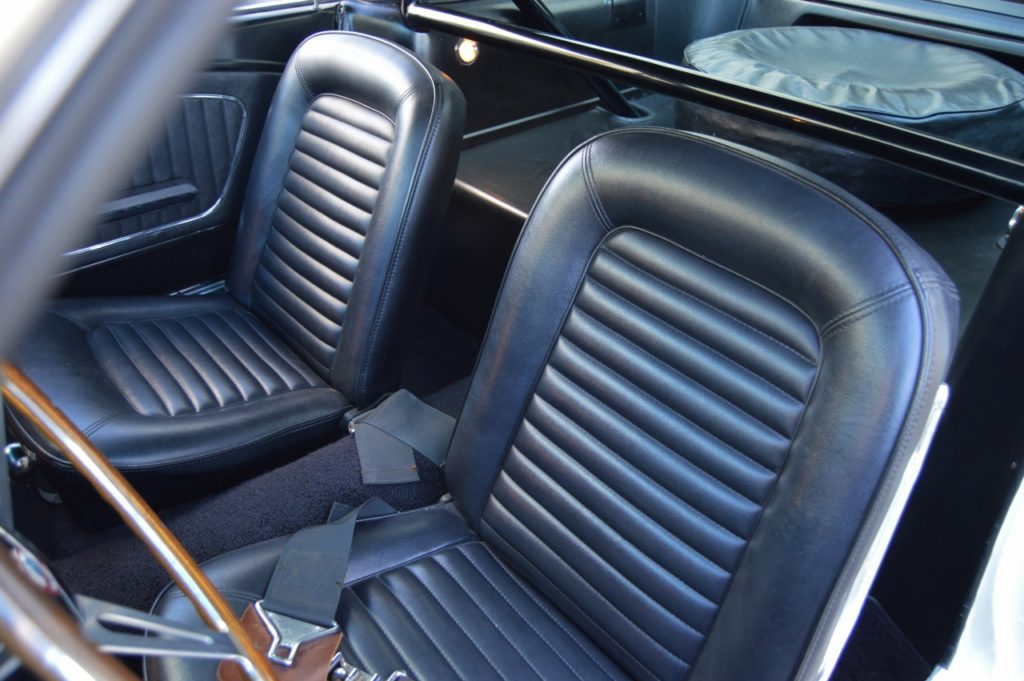 Overall, Shelby's team was tasked with shaving weight where possible while still providing customers a hospitable, street-legal sports car. As such, inside the cabin, domestic provisions were limited to black vinyl seats, vinyl door panels, and thin carpeting. The rear seats were exorcized to accommodate a full-size spare wheel, and our example retained its aftermarket black painted roll cage. Far from bear-huggingly bolstered, the bucket seats were furnished with the proper competition-style vintage seat belts that do their best to ensure passengers remain seated throughout the entire ride.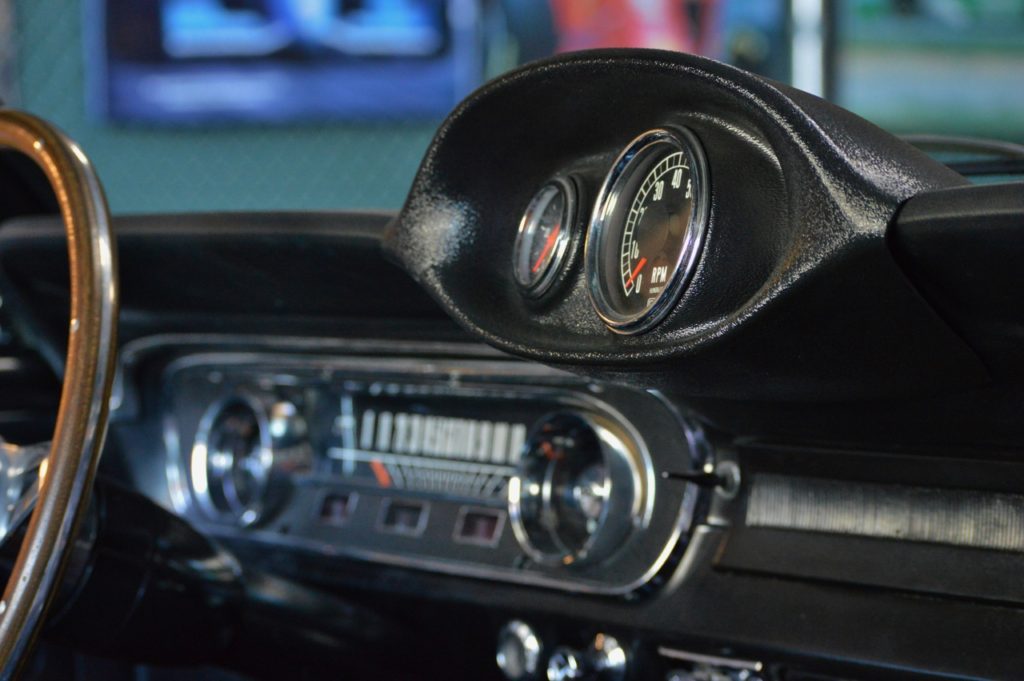 Primarily focused on extracting the superfluous, necessary components were breathed over by Shelby-American to engender the bespoke stature of the Shelby modifications within the beast. The standard Mustang cluster with 120mph speedometer, fuel level gauge, and coolant temperature dial was now accompanied by dashboard-centralized, Shelby-branded oil pressure gauge and 8,000 rpm tachometer. A flat wood-trimmed sports steering wheel housing an acrylic Cobra badge exudes a foreboding presage to anyone who dares turn the key.

As if the 306 horsepower, 130-mph plus original GT350 was not mental enough, our Mustang featured a period-correct Paxton supercharger. This unit was plugged into an upgraded 333ci stroker on a HiPo block that is from 1966. Mike Eddy was responsible for those engine enhancements augmented with HiPo cylinder heads, competition camshafts, and Crower 1.6 rockers. The air begins its journey into the engine via a Holley 600 carburetor and returns to the atmosphere courtesy of custom-built 2" side exhaust piping. Cooperatively, those powerplant improvements provide 420 horsepower with 400 lb-ft of torque to the rear wheels!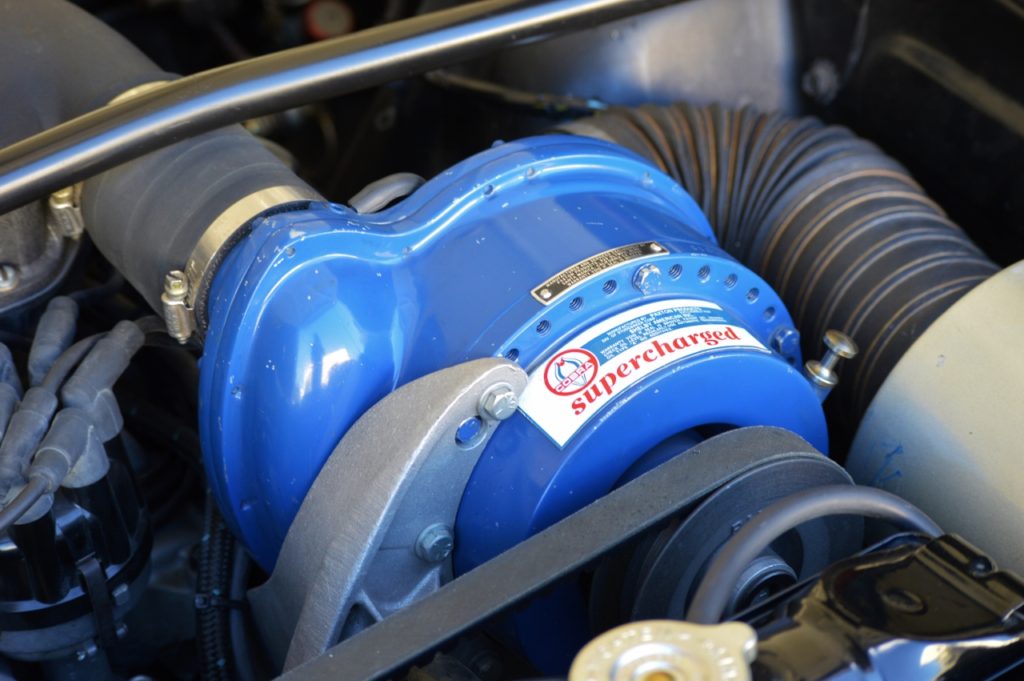 As with the interior and exterior, the engine bay conforms to its correct sixties style. A Monte Carlo shock tower bar and export body bracing were installed to reduce chassis flex. Below those are Cobra embossed aluminum rocker covers and a deep sump oil pan. The original Warner T-10 aluminum gearbox was supplanted by a rebuilt Toploader four-speed transmission before a Detroit locking differential. Underneath the body panels were refinished in red oxide primer, similar to their factory issue. Riveted to the engine bay frame is a new Shelby chassis ID tag displaying the same VIN (SFM5S153) originally stamped by Shelby into the passenger-side fender well in 1965.

Having lived a long and storied past, the fastidious attention to originality and details resulted in an exceptionally high-quality restoration with welcome improvements. Unabridged documentation of its past life, including Shelby American Automobile Club (SAAC) letters, Shelby register paperwork, racing photographs, race event literature, and a considerable collection of memorabilia pieces were presented with the purchase. So while bidders on this spectacular Shelby failed to meet our seller's reserve, the valuation of its restoration coupled with the historical magnitude of the GT350 moniker was not misplaced.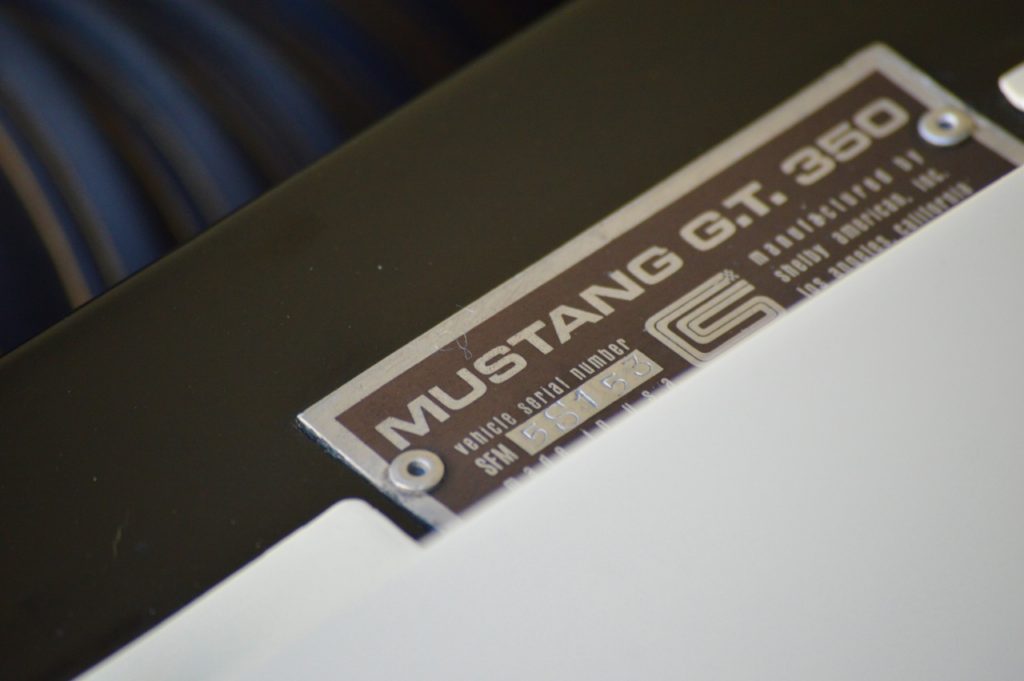 As years progress past us, collectors will undoubtedly encounter ever-increasing appreciation, especially in limited-production specials, due to attrition, nostalgia, and reverence. In only four years, Shelby established and cultivated a dominant manufacturer performance arm that garnered worldwide respect well-before some manufacturers had even fostered a brand identity. Plainly put, the GT350 is a cherished icon that rightfully induces panic in rearview mirrors.