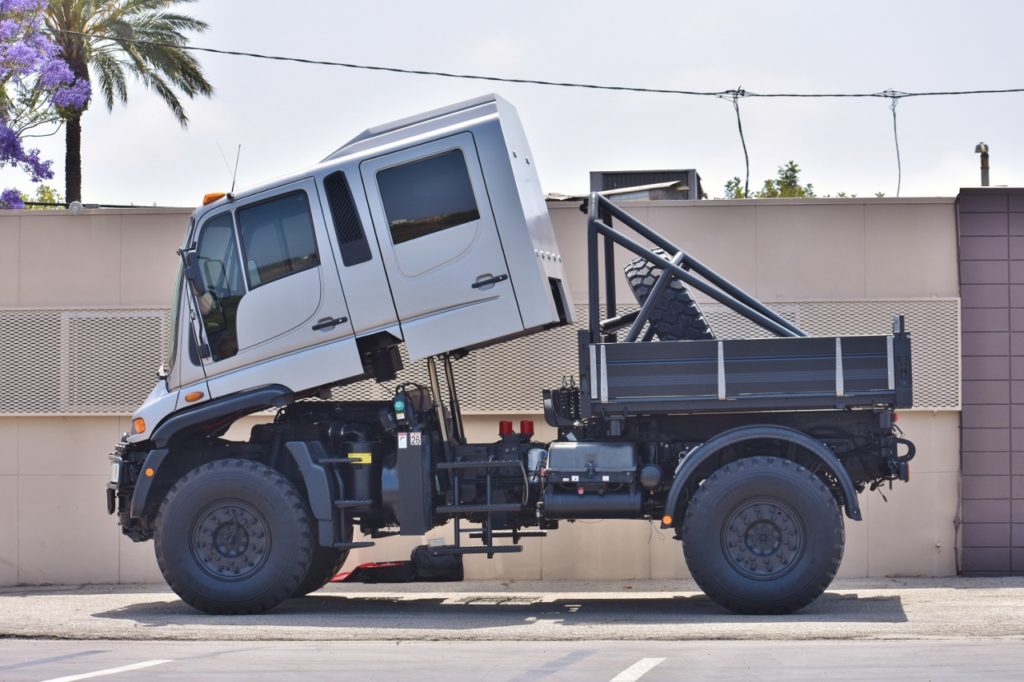 Sold – $195,000 (plus fees)
Germany's automotive climate after World War 2 was one of slow recovery and desperation. Materials were scarce to come by, so companies found great difficulty in new car production. Moreover, utility trucks or vehicles that had not been destroyed during the war were now in exceedingly short supply. Mercedes-Benz had already recognized this necessity and employed designers to build what would become the first Unimogs. Although not as capable for hauling, the Unimog could surmount nearly any obstacle in almost any terrain and could be retrofitted with equipment for a variety of tasks.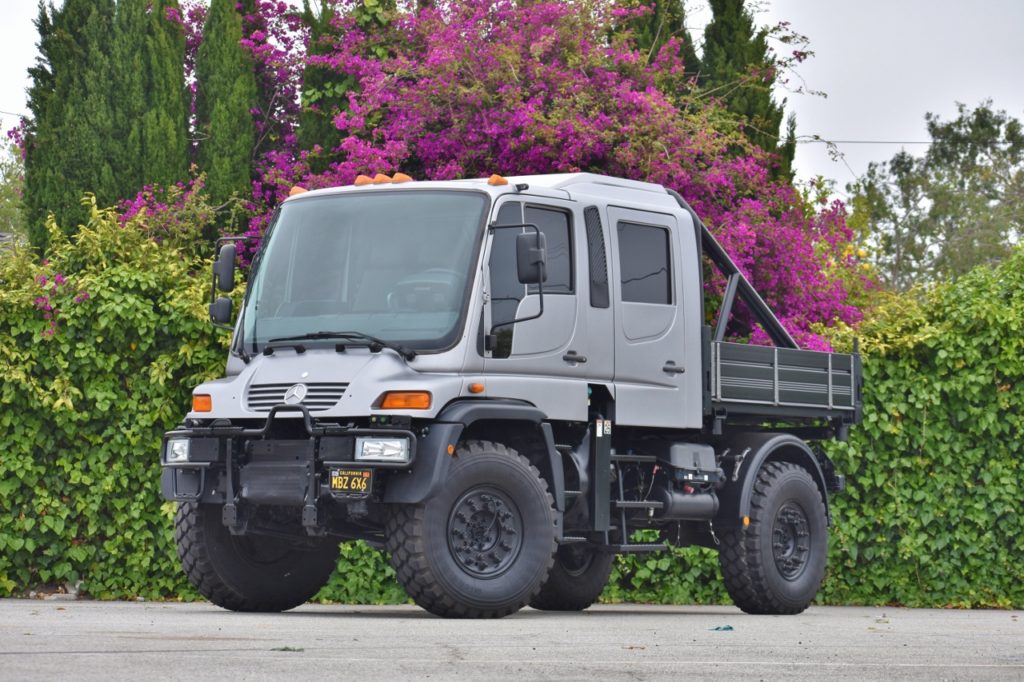 In 2002, through Freightliner dealerships, Mercedes offered North American buyers the opportunity to own a road-legal Unimog U500. Considerable alterations were performed on the U500 to make it legal in North America, but after five years, Mercedes-Benz elected for a departure from the market. During that time, few models were sold, with reports lingering around 200. Given that paucity, our 2004 Unimog U500 that is on auction now represents an exceptional opportunity to drive a truck that is unbelievably unique. Here are the details on this mighty Mercedes.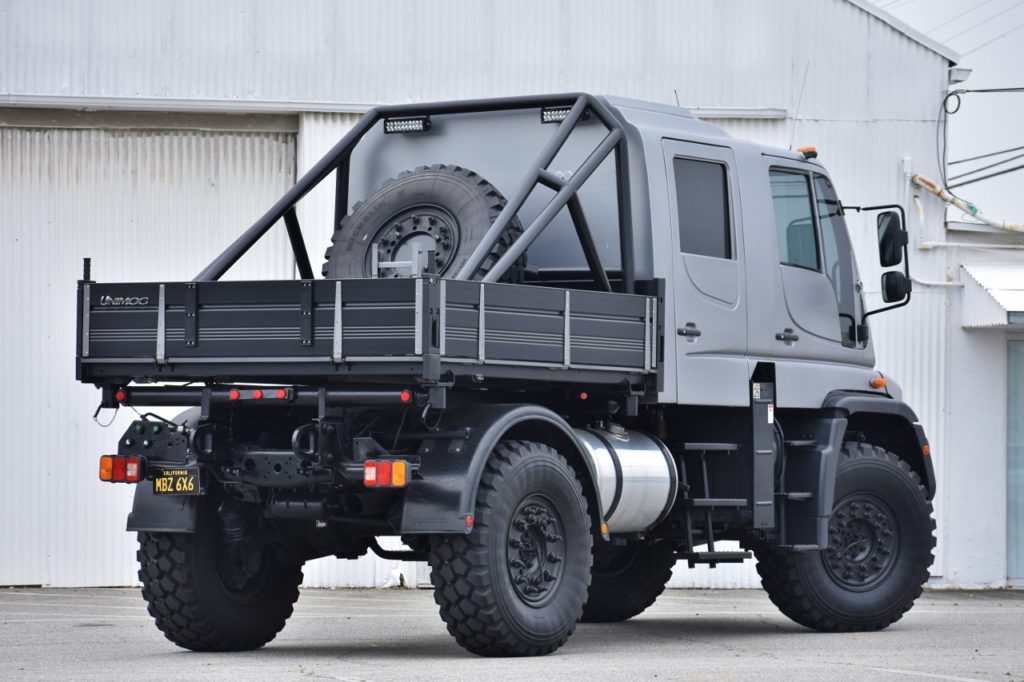 Gran Turismo of Los Angeles performed a dual-cab conversion on this originally single-cab U500 in 2015. The crew cab was created by Plastisol, and a tilting dump bed was fitted during these modifications. The new rear doors were rekeyed to match the ignition lock. Following this body reconfiguration, the Mercedes was taken to Avio Coach where its initially blue paint was replaced by Mercedes Designo Platinum Metallic matte paint.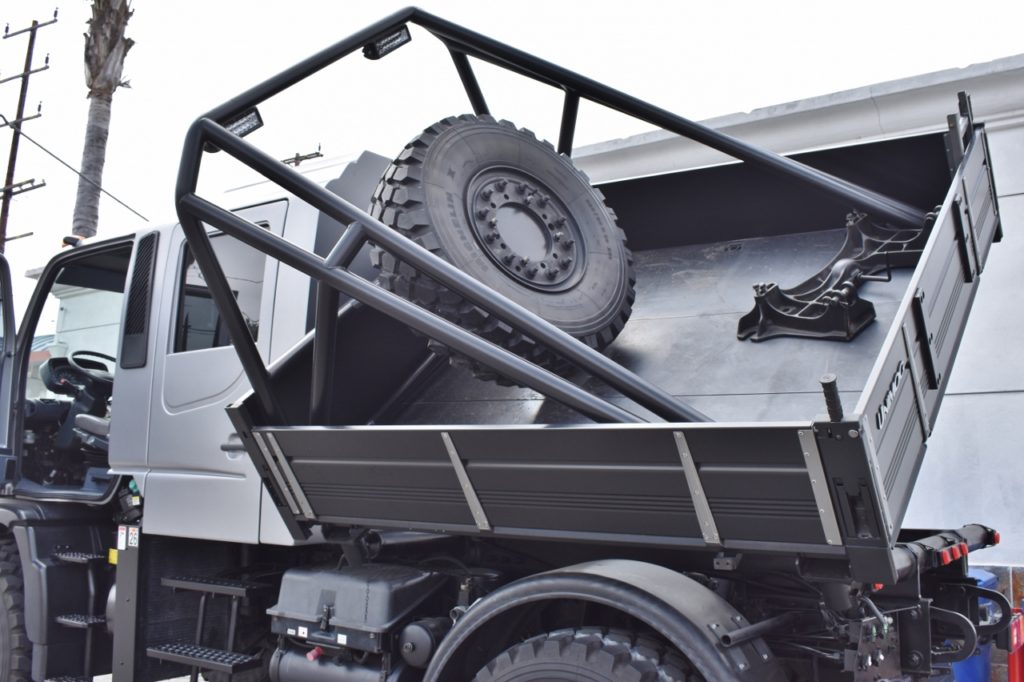 The dump bed itself is able to be hydraulically actuated to the left, right, or rear. Inside of the box is a black painted custom-made roll bar that has a full-size spare tire mounting point. Each wheel is 20" and wears Michelin X tires measuring 365/85. Moreover, each tire can be inflated via a central inflation system. A note from our seller indicates that the current license plate will not accompany the sale as it has been transferred to another vehicle.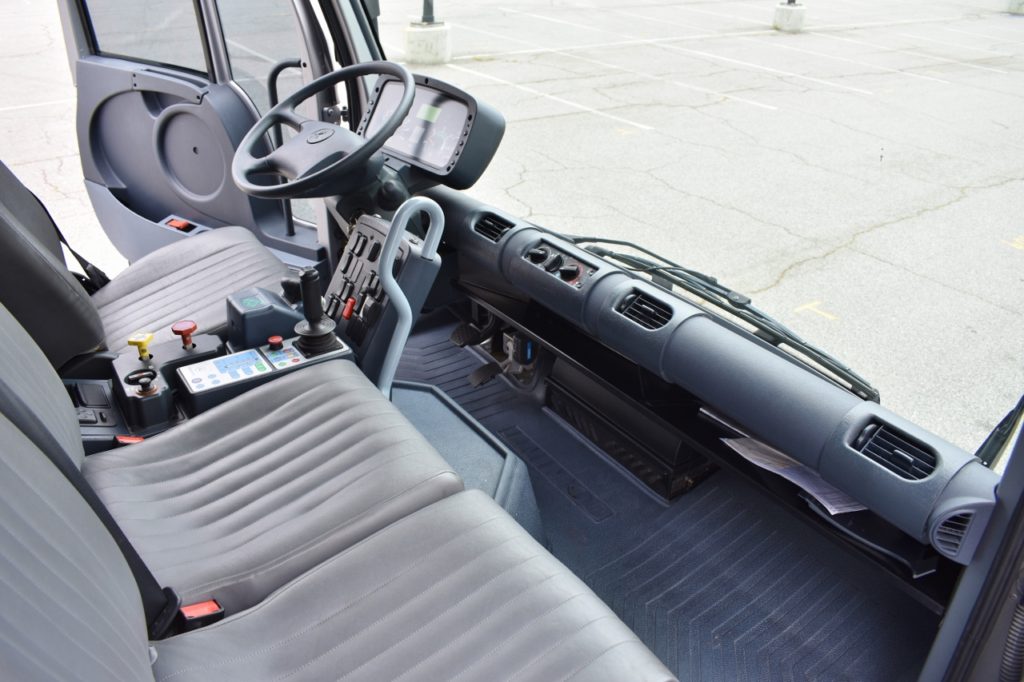 The interior of the U500 is all business. Front passengers sit on air-supported, multi-point adjustable grey vinyl seats that rest above industrial-grade blue dashboard plastics and rubber floor mats. The interior remains in excellent condition aside from the blue vinyl steering wheel, which has developed a crack among the Mercedes star. The owner is sourcing a replacement. In between each seat is a myriad of controls, switches, and dials that are responsible for adjusting the differentials, truck bed, tire inflation system, cutoffs, weight limiter, and more. Above the front seats are a DIN radio mount and the cabin has functional air conditioning.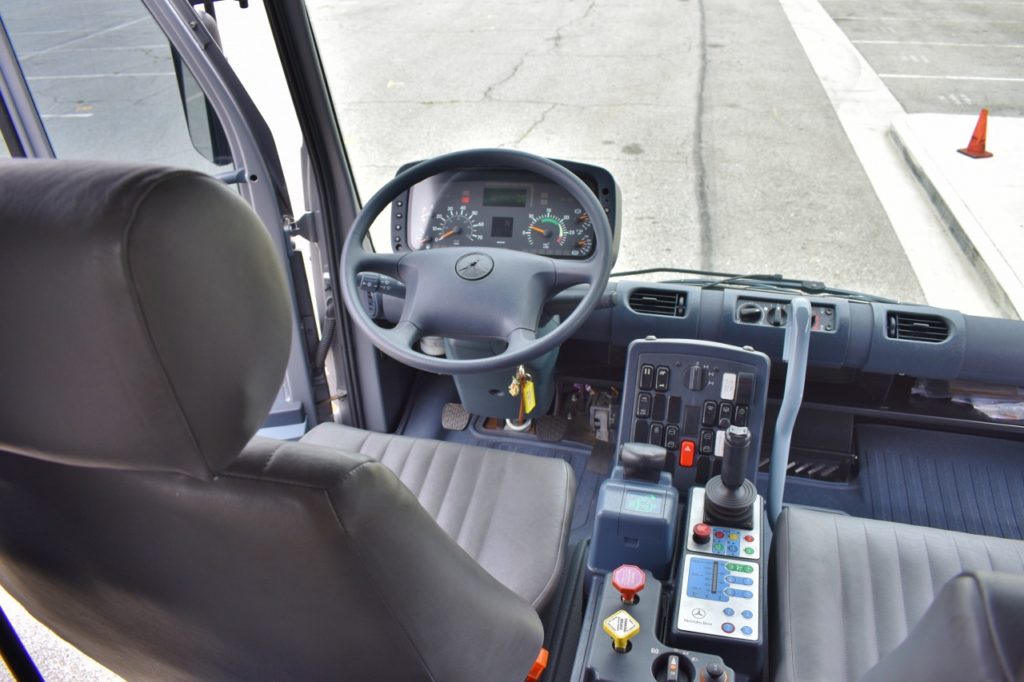 Grouped together inside of the instrument bin are a speedometer, tachometer, four auxiliary gauges, and two digital displays that provide further vehicle information. In total, the U500 shows approximately 18,000 miles on the odometer and the engine has roughly 610 operating hours. Behind the front cabin is the crew cab, where there are seating provisions for four with a bulkhead that has a pass-through window.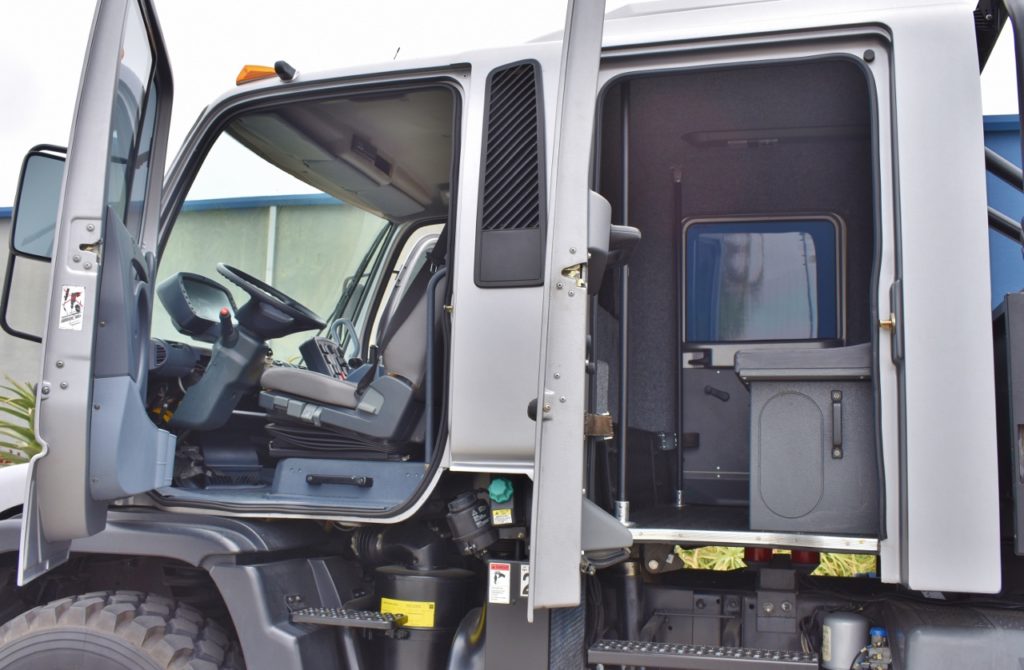 A 6.4-liter straight-six turbodiesel engine (OM906LA) with three valves per cylinder makes an available 206 horsepower at 2,200 rpm and 700 lb-ft of torque between 1,200-1,600 rpm. That energy is sent out to an eight-speed automated pre-selector manual transmission and then on to two transfer cases and portal axles. A supplied statistics sheet indicates a crawl ratio of 3000:1, which allows 0.9 mph movement at 2,000 rpm.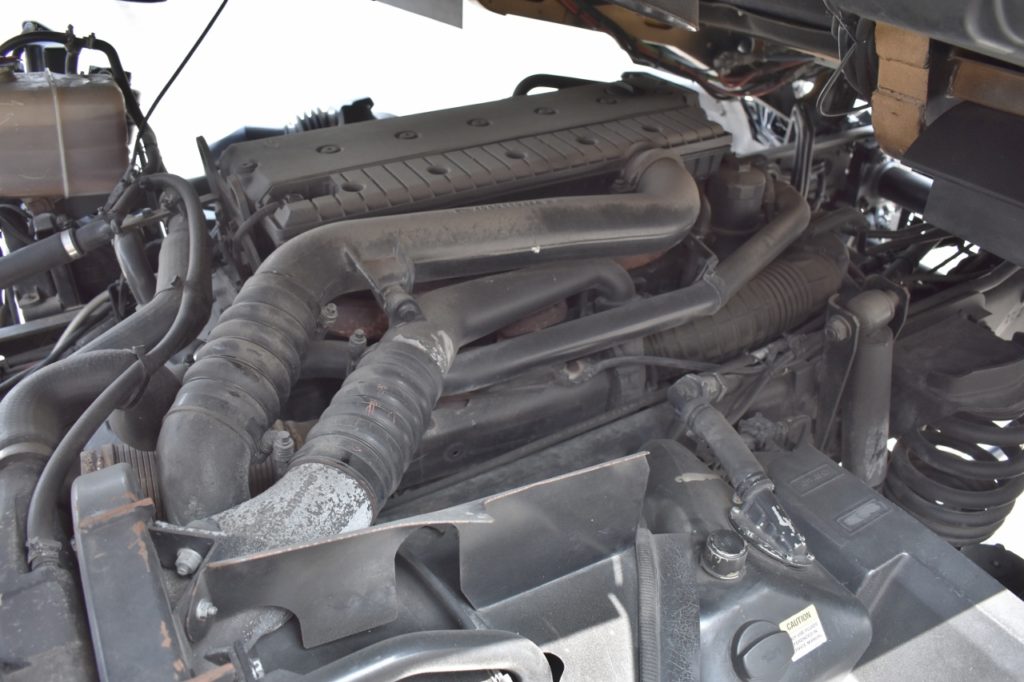 This Unimog U500 has been with its current owner for four years, and any service or maintenance records – including the conversion documents – will be handed over with delivery. An estimated account of these services accrues to around $45,000. A clean California title is also guaranteed to those looking for the ultimate offroader.

For those interested in this monstrous Mercedes – click here to see the auction!