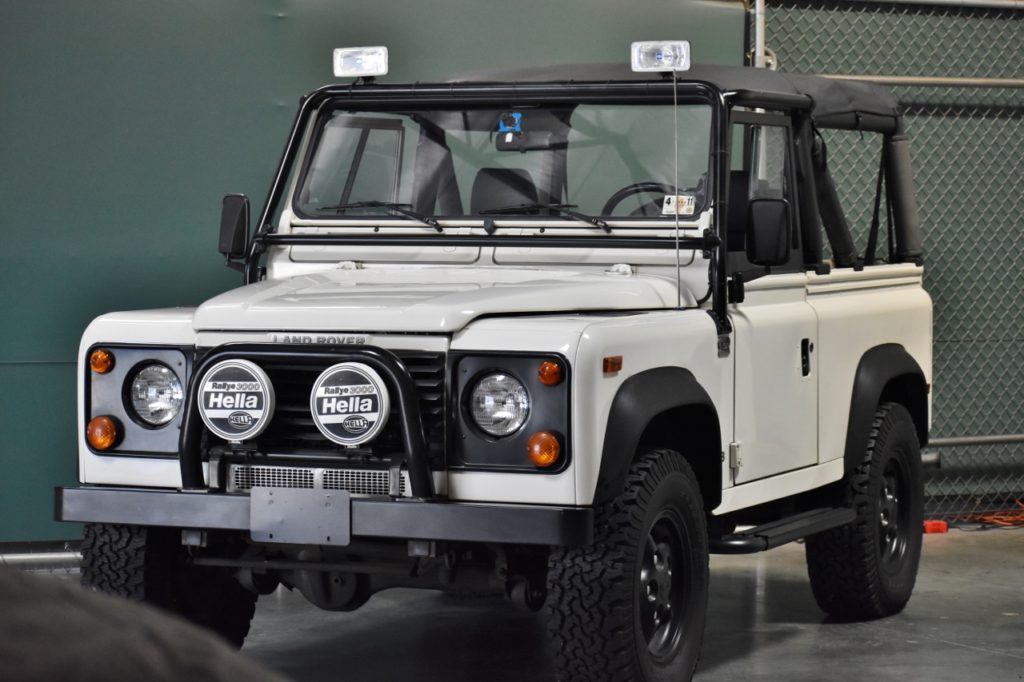 Sold – $91,935 (plus fees)
When the Defender 110 launched in the American market in 1993, Land Rover thoroughly modified the model to comply with current automotive regulations – it was costly. The Defender 90 that came a year later required the same level of re-engineering but was projected to be a successful step-up for buyers looking to upgrade from Jeep's Wrangler. Three years later, sales were sluggish and automotive regulations were again changing which required further augmentation to the purposefully archaic Defender, so Land Rover pulled the metaphorical plug. This final year of production, 1997, though came with factory-supplied mechanical enhancements that no earlier Defender received, making them even rarer than the already scarce North American Specification (NAS) models currently were. On sale now is just such an example arriving on the auction block with 31,000 miles!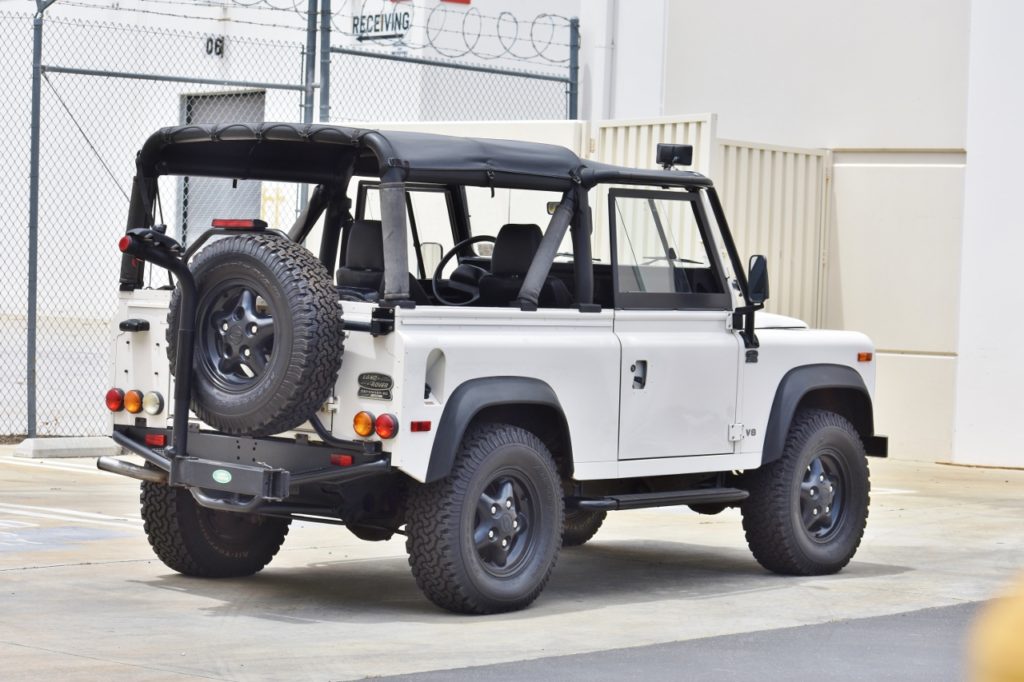 This dapper-looking Defender wears bright Alpine White paint over its martinet-esque body paneling, which is perfectly polarizing to the dark black wheel arch extensions, vinyl roof assembly, and bumpers. The paintwork remains in its original factory-applied condition but does show minimal signs of wear from use. The body paneling itself is in great condition besides a dent on the hood and several small rust holes along the bottom of the passenger's bolt-on running board. Aside from the standard headlights, Hella Rallye 3000 driving lamps were installed within the front brush guard, and a light bar surrounding the windshield has two flood lights affixed.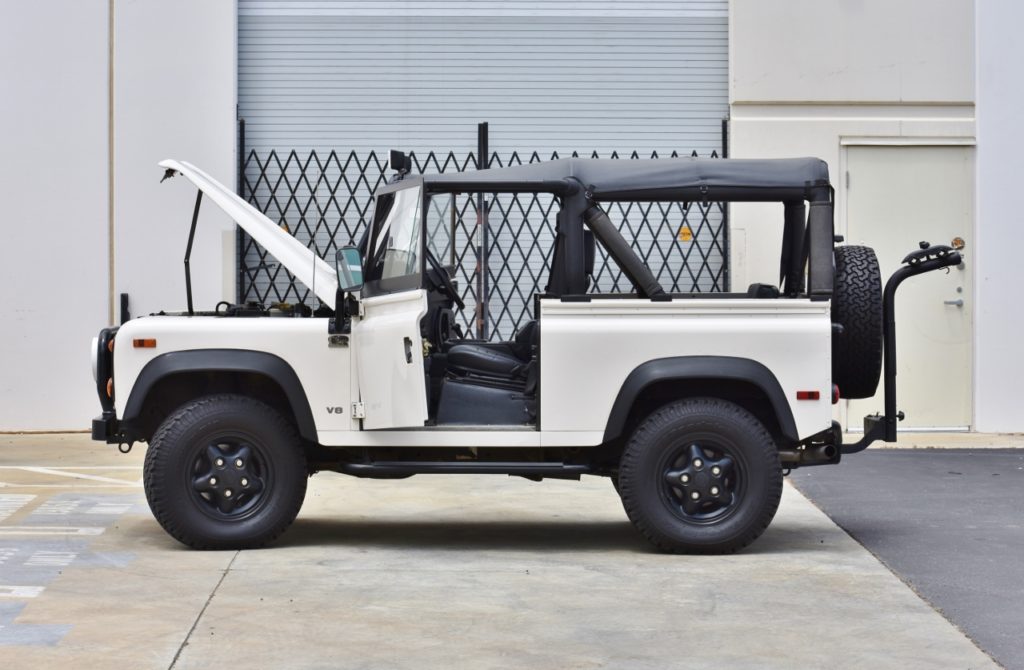 To properly complete the white with black motif, the factory five-spoke alloy wheels were powdercoated in black by a previous owner. Each of the five black wheels wears BFGoodrich All-Terrain T/A tires. In front of the rear tailgate is a Land Rover issue bike rack installed via the tow hitch port.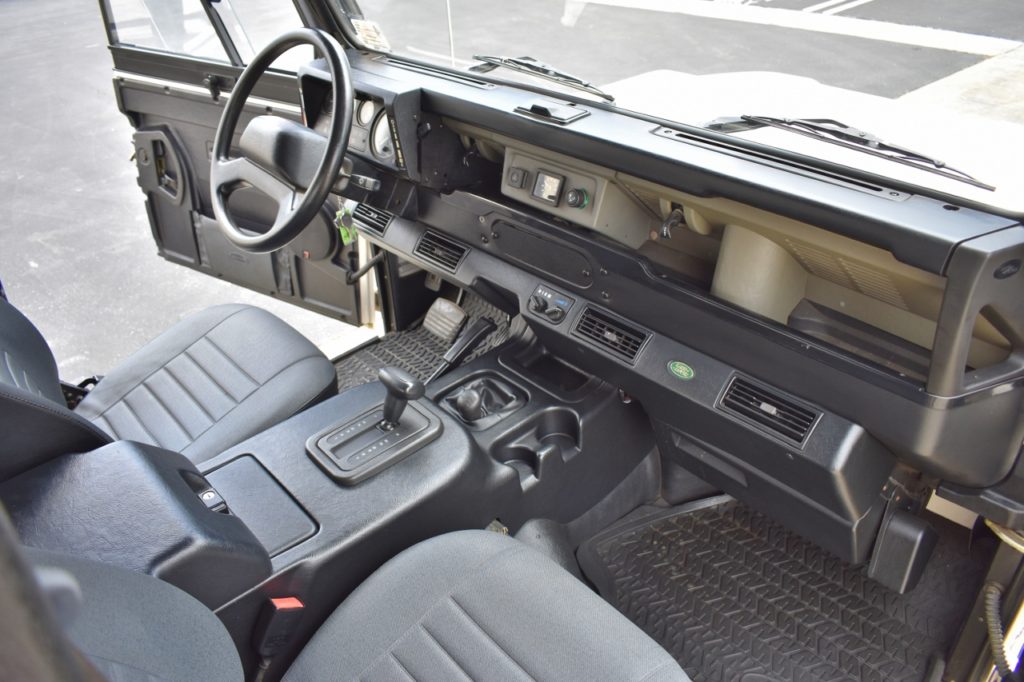 In terms of interior accessories and equipment, the term "spartan" first springs to mind about the Defender. Utilitarian designed black plastics cover provide the dashboard and center console. Meanwhile, the floorboards are protected by thick, channeled black rubber floor mats. Four passengers can reside front and back on seating covered with industrial-use light grey cloth. Door panels include speakers that are connected to an aftermarket radio found within the center console and vinyl map pockets embossed with the Land Rover logo.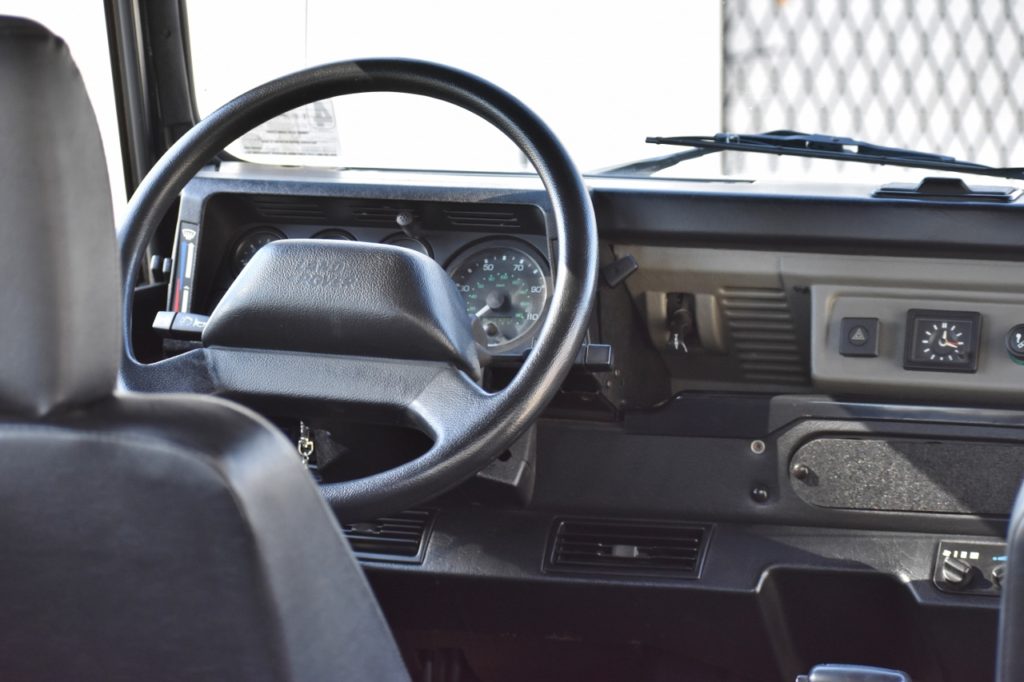 Held within the dashboard is a gauge cluster providing a 120-mph speedometer, a 6,000-rpm tachometer, coolant temperature gauge, and fuel level meter all seated above standard warning lights. Centrally placed is a small box containing an analog clock, the hazard lights, and cigarette lighter. Seated below that box are the air conditioning controls. The air conditioning system blows cold thanks to new lines fitted recently. Behind the front seats is the rear bench seat below a full roll cage construction covered in padding.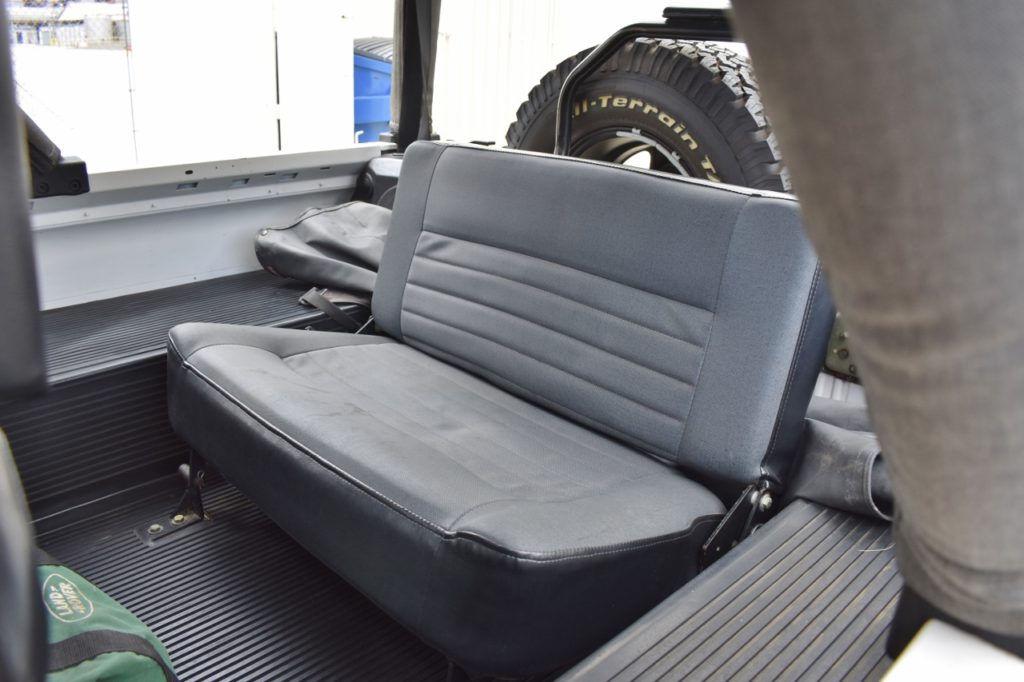 As mentioned above, 1997 Defender 90 models featured several mechanical upgrades exclusive to that final year. To begin with, the V8 engine increased in displacement from 3.9-liters to 4.0-liters, although Land Rover claimed it was improved it provided no increase in power output. Espoused to the engine was a new four-speed automatic transmission that still continuously sent power to all four wheels.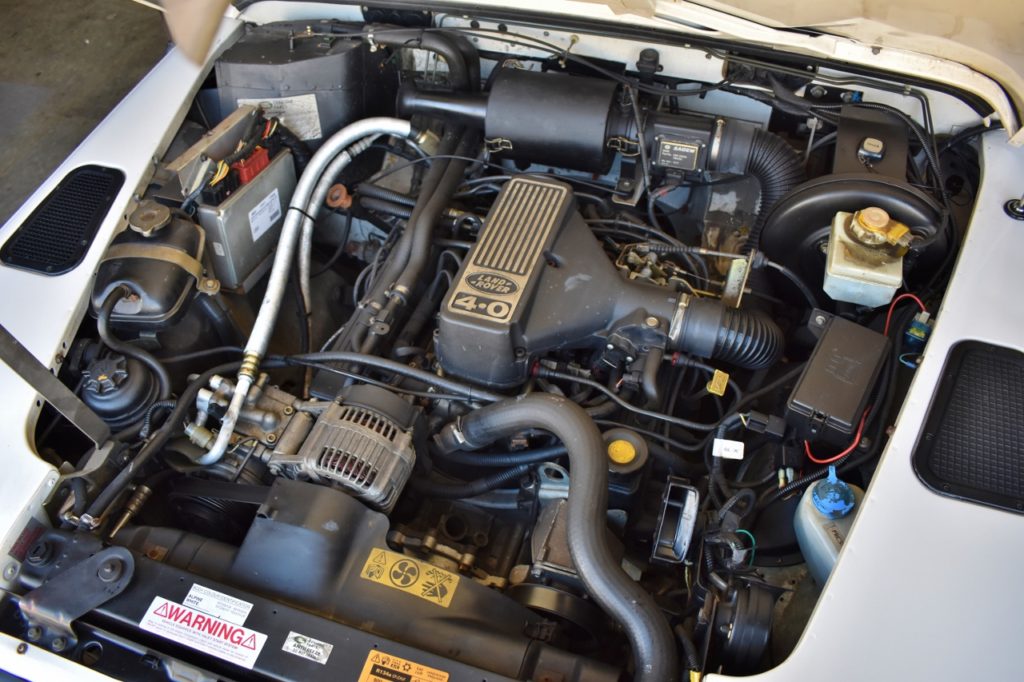 Our example has been mechanically kept in outstanding condition. At 28,000 miles the head gasket was preemptively replaced, as was the alternator. In preparation for this sale, an oil and filter change was performed, and during this time the differential oil was refreshed. The owner denotes some minor moisture accumulation that is noticeable among driveline components.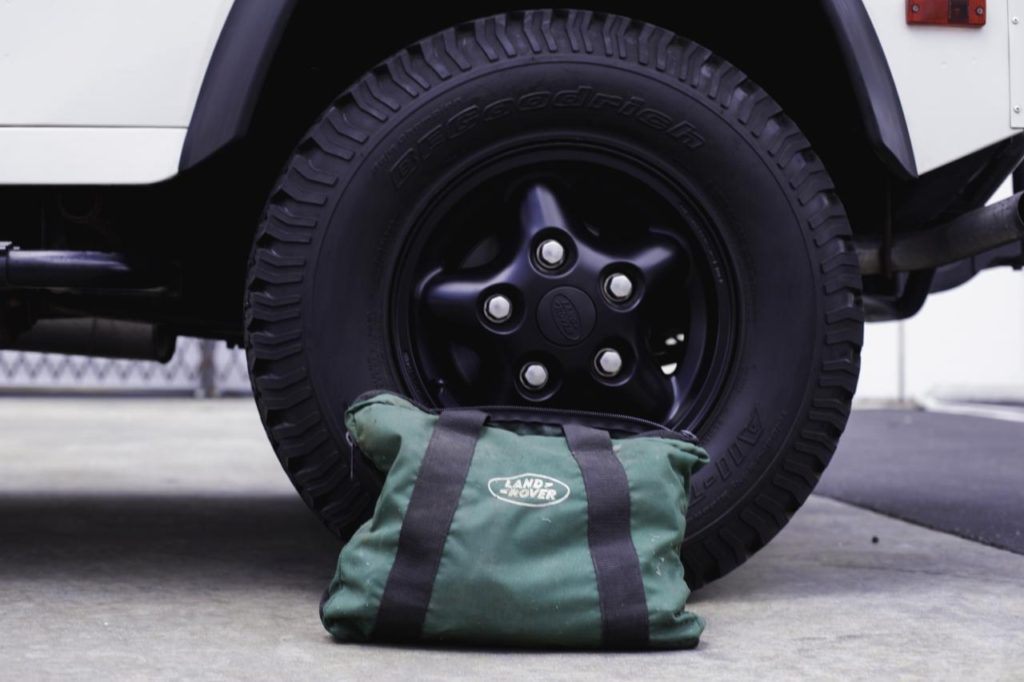 Initially sold new in Connecticut, this Defender 90 stayed in that state with two other owners until 2010. In that year, our current owner purchased the Land Rover and has since lived with the D90 in Florida, Texas, and now California. As such, service records included with the sale date back to 2010. Additionally, the factory owner's manual and literature materials have been kept with the car inside of their leather-bound portfolio. A clean California title is guaranteed thanks to a clean Carfax report that demonstrates no accidents or damages since new. A factory-branded gear bag is also part of this Defender package. As the final year of Land Rover's mechanically robust but aesthetically austere American Defender adventure, this low-mileage example is an exceptional buy for collectors or those looking to drive something genuinely different.

If you have now decided on a Defender, here is the auction link!