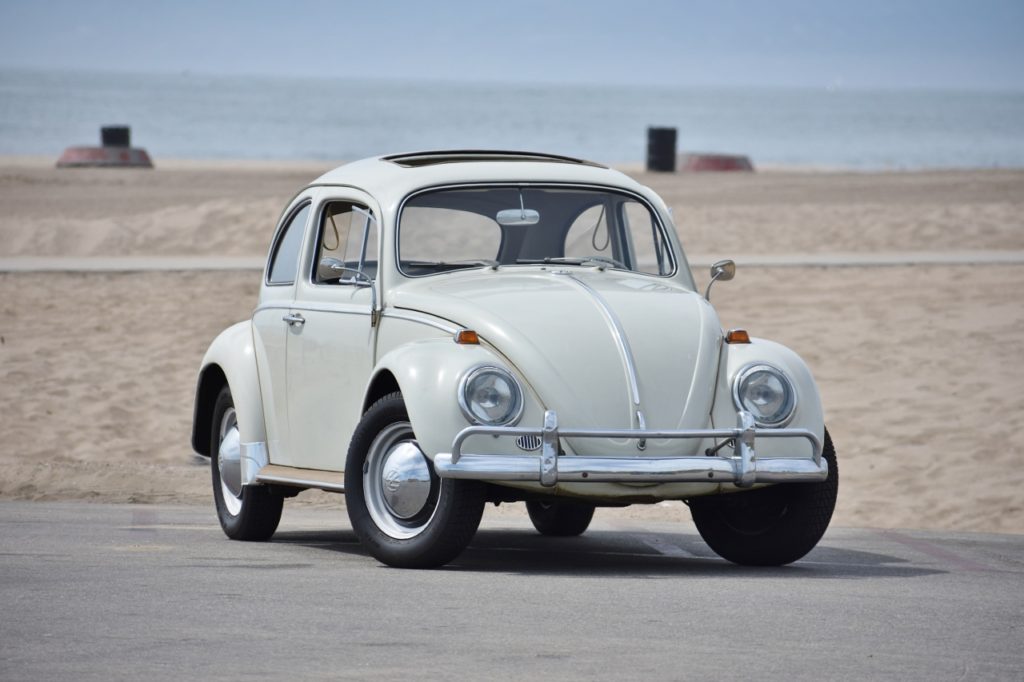 (Sold)
Indisputably the most iconic automobile worldwide, Volkswagen's Beetle has a starry reputation for its reliability and charismatic aesthetics. By strictly adhering to its original design, Volkswagen successfully embedded it as a counterculture icon and kept model-year prices competitive. Although the exterior design was relatively unaltered throughout its lengthy production run, many mechanical advances kept it relevant and desirable. Coming on sale today we have a 1964 edition that has been meticulously maintained and cherished by its first owner until 2015. The auction is live and here are the Bug's attributes.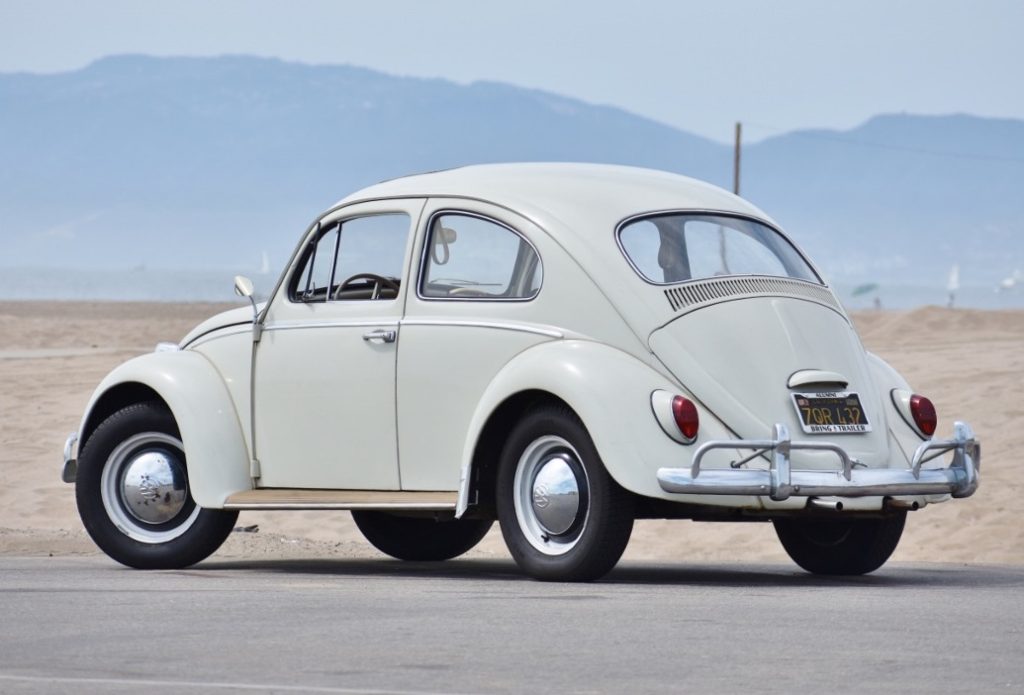 As intended from conception, the Beetle defied contemporary automotive trends of 'planned obsolescence' by instituting only minor appearance alterations. As such, this sixties Beetle wears turn signal pods instead of semaphores, has moderately more significant tail lights, and a wider license plate light housing. Overall, the body is still painted in its original Pearl White (L87) with chrome accents and bumpers. The bumpers have been additional augmentation via dealership installed overriders. Found on the engine and trunk lids are several spot paint areas and throughout the entire car, light scratches are apparent.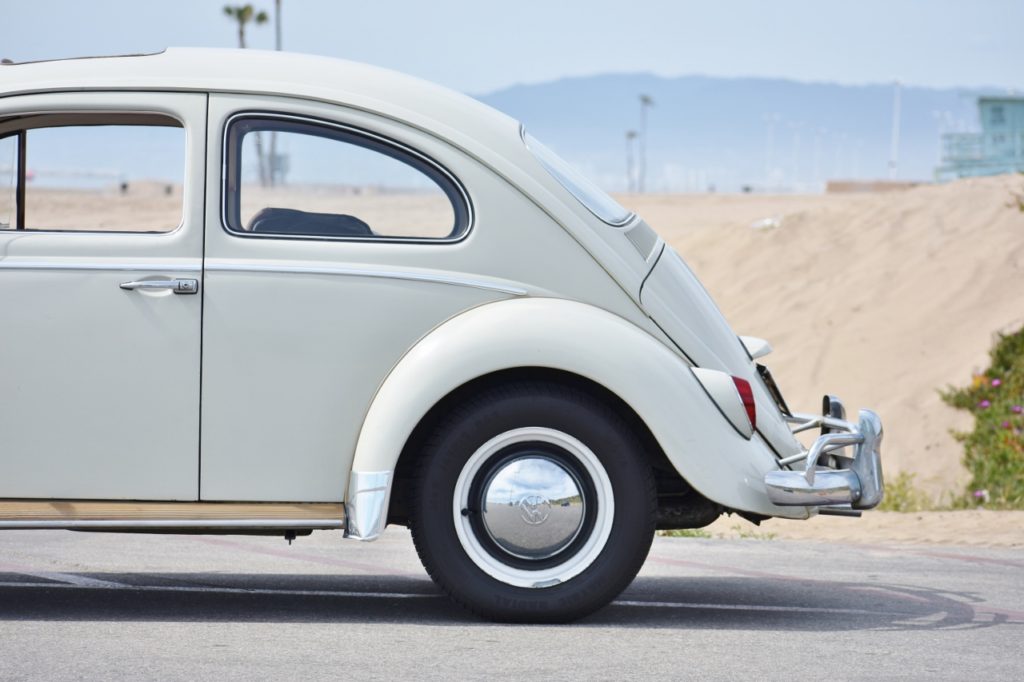 Aside from the paint erosion, there is a single point of corrosion located on the passenger door adjacent to the weatherstripping. Below the front bumper is a dent that can be professionally removed if desired. The Beetle rides on 15" steel wheels with polished metal hubcaps. The whitewall Nova metric radial tires which are attached are in fine condition. Throughout the body, the rubber seals are in used condition but remain attached and water resistant.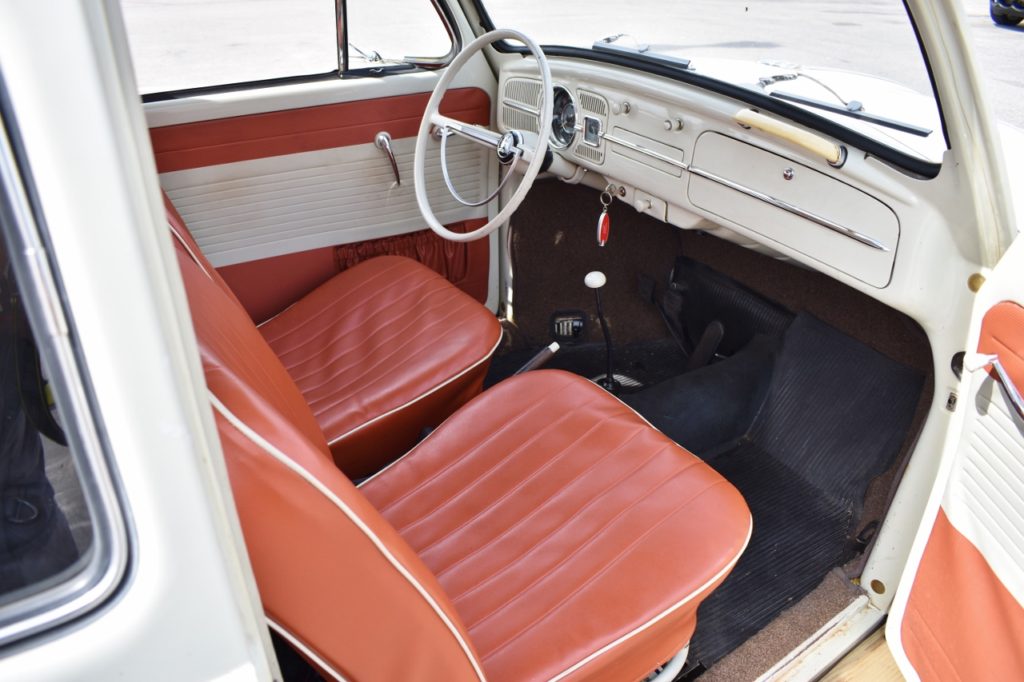 Inside, the front and rear passenger seats have been reupholstered in red vinyl then accented with white piping around the borders. The new red vinyl continues on to the door panels and their map pockets. A white, ventilated vinyl headliner with pull straps has replaced the original material, and our example also features an integrated sliding sunroof. Meanwhile, the floorboards are covered with protective black rubber mats. Although the cabin is composed of entirely new materials, they have been kept in compliance with the styles and colors initially used by Volkswagen.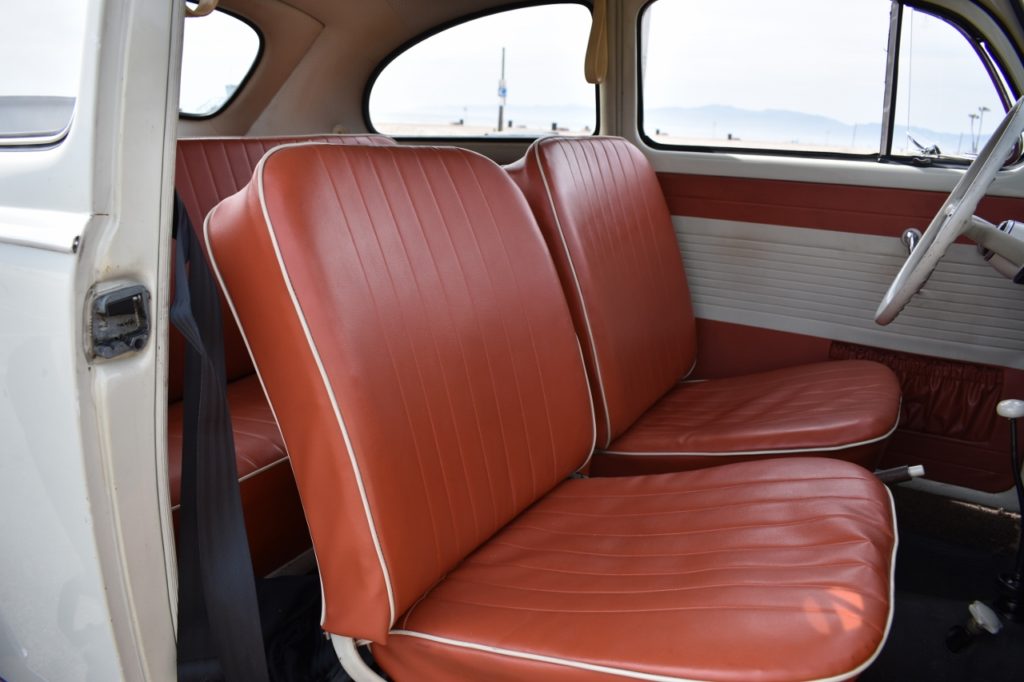 As with the exterior, the dashboard paint remains as it has been, including the passenger Bakelite handle above the glove compartment. First instituted in 1962 models but only on above-standard trims, this example features a mechanical fuel level gauge embedded in the dashboard. Adjacent is a chrome-ringed and recessed 90-mph speedometer with an incorporated five-digit odometer. On the clock is roughly 30,000 miles, although it is known that the mileage has rolled over. Completing the interior is the original steering wheel, replete with the acrylic Volkswagen emblem and chrome horn hoop.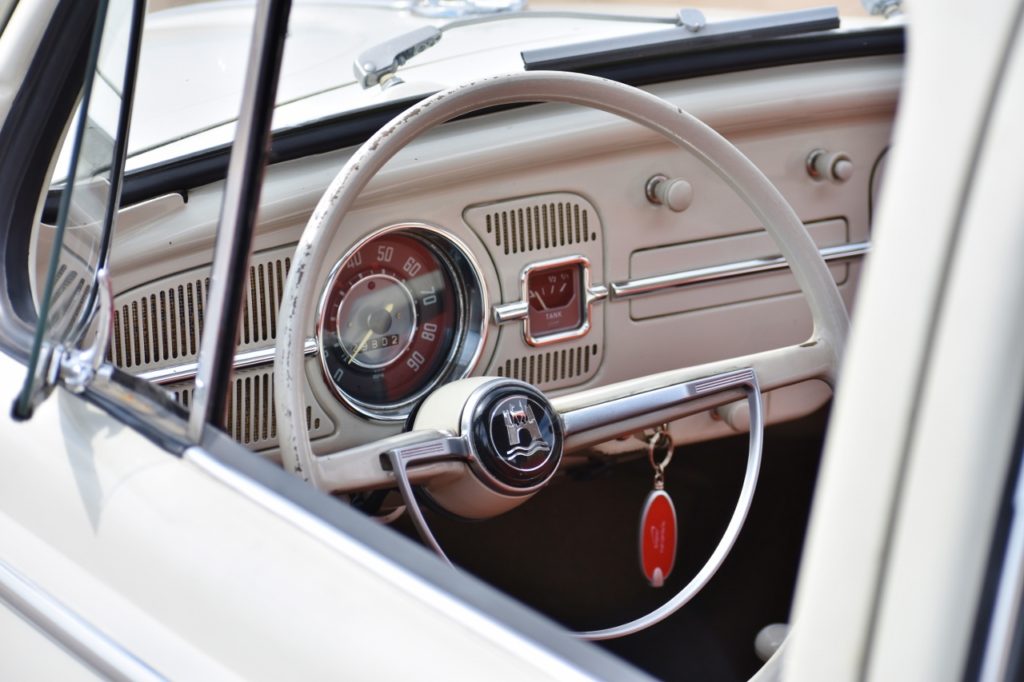 A 1.2-liter air-cooled flat-four engine rests upon the rear axle and provides power through a four-speed manual transmission to the rear wheels. At 121,000 miles, this motor was rebuilt with an upgraded 40 horsepower capable engine case. During this procedure, the transaxle was also rebuilt. Under current ownership, a factory-style air cleaner with an updated breather hose and cooling ducts was installed on top of the single carburetor. Furthermore, a 12-volt alternator and electrical wiring system were installed. In preparation for sale, the shift linkage has been corrected, the chassis was lubricated at all points, and an oil and filter change was performed. The sixties Beetle also benefits from a front anti-sway bar, hydraulic steering damper, and compressed air assisted windshield washer.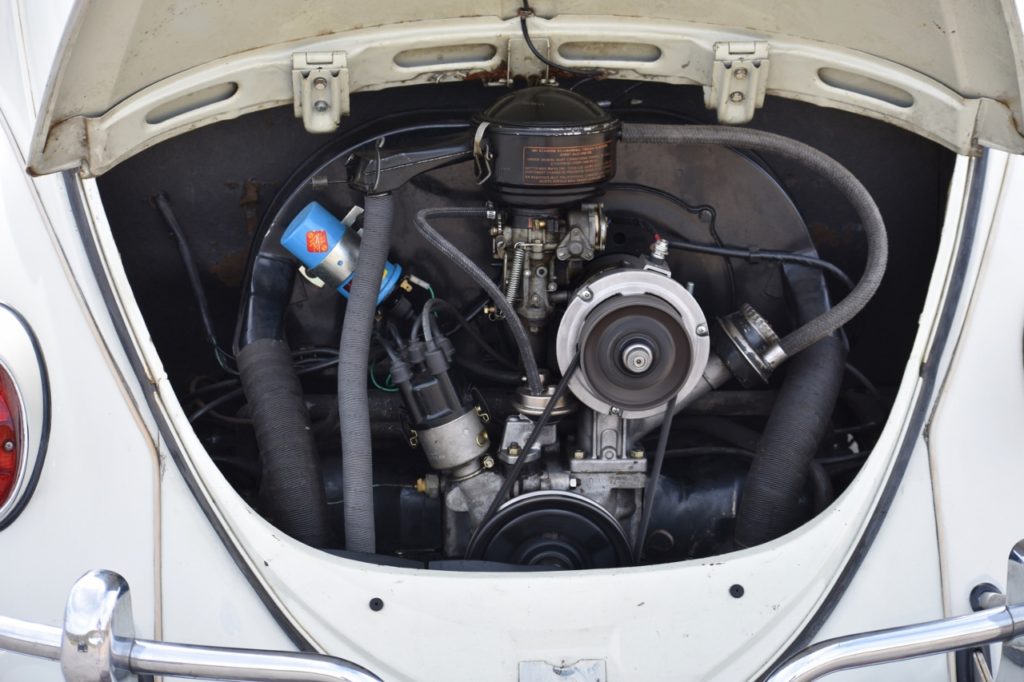 Our example was initially sold to the first owner by the Evergreen Motor Company in Bellingham, Washington. In 2017, they sold this Beetle through Bring a Trailer after it had moved to California two years earlier. That first owner has supplied the original sales invoice stating a $1,859 base price plus additional charges for seatbelts, whitewall tires, undercoating, a mirror, and deluxe wheel trim rings. This original owner has kept a hand-written record of maintenance in a logbook since 1970 and service records from subsequent owners are also provided.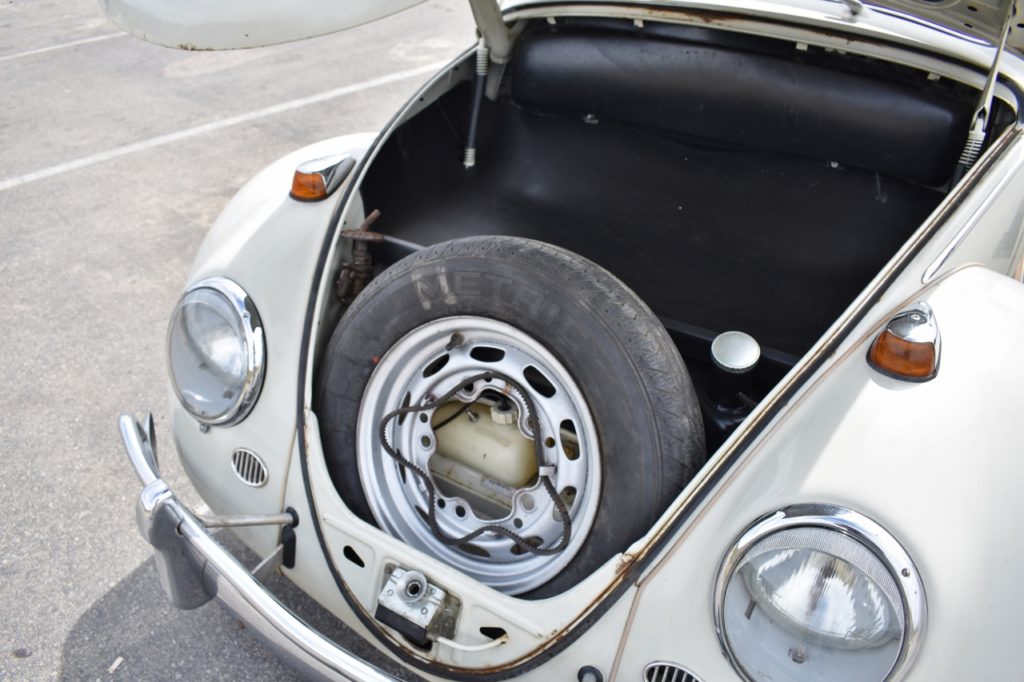 Included with the sale are a new trunk liner, a Porsche 356 spare tire, a good fan belt attached to the spare tire, factory manuals inside their original VW blue vinyl portfolio, the tool roll-up, and a vintage Johnson & Johnson first aid kit. A clean California title perfectly coincides with this classic, well-kept Beetle that looks forward to its next adventure!