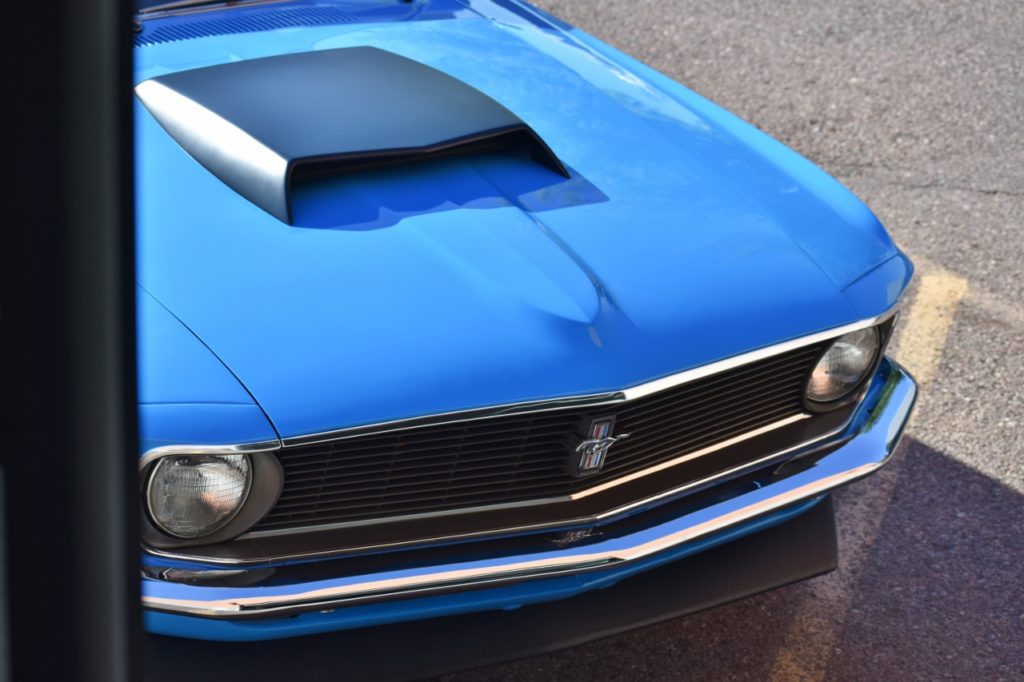 (For sale, if interested please contact us)
Caught in the conflicting crossfire of the all-dominating performance campaign of the sixties and the incipient corporate reinvention of the Mustang as a luxurious grand touring sports car in the seventies, the 1970 model year resides directly amidst an extremely titular time for the preeminent pony car. However, as they say, "adversity begets greatness," and in 1969 Ford launched its final hurrah – the mythical Boss 429 Mustang. Ambitiously conceived to indoctrinate their newest 429ci "crescent" (hemispherical) head V8 engine into NASCAR's Grand National competition, the Boss 429 was overtly abounding with rival-decimating performance modifications. Responsible for these implementing these enhancements was Ford subcontractor Kar Kraft of Brighton, Michigan, who hand-built each "Boss Nine" from 1969 to 1970.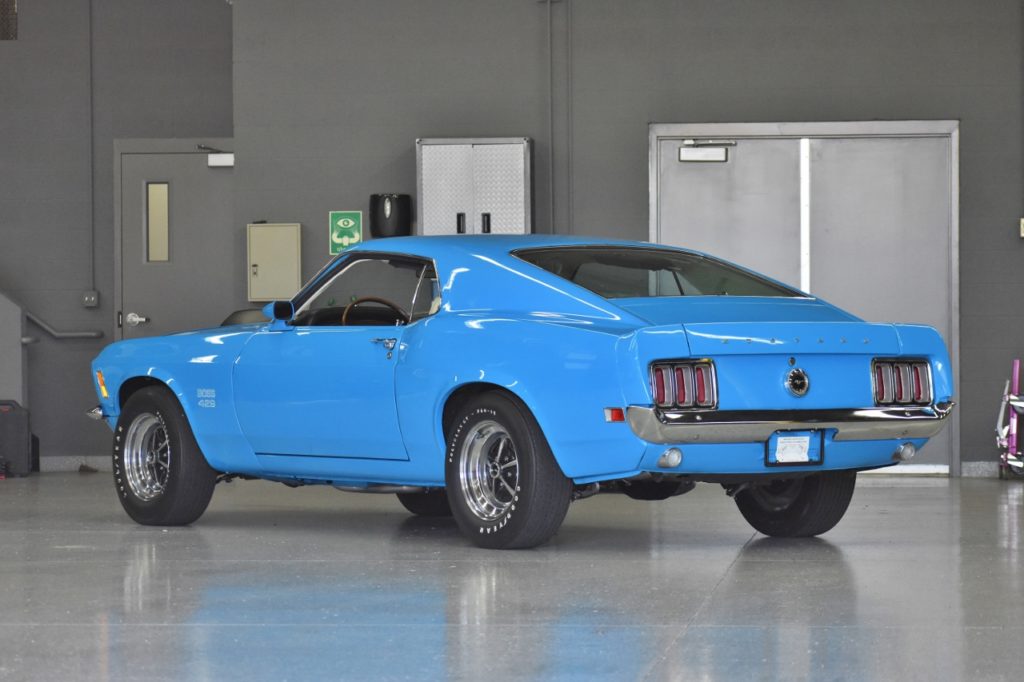 As the final year for the sports car oriented Mustang, 1970 Boss 429 were constructed by Kar Kraft in far fewer numbers than the prior year. In addition to ranking highly among other collectible cars for their performance and volume exclusivity, these NASCAR homologation Mustangs command some of the most premium market prices of any fast Fords. Coinciding with the launch of Bring a Trailer's exclusive services, we are auctioning an extraordinarily rare and immaculately kept 1970 Boss 429 Mustang today. Continued below are the in-depth details on this astoundingly historic automobile.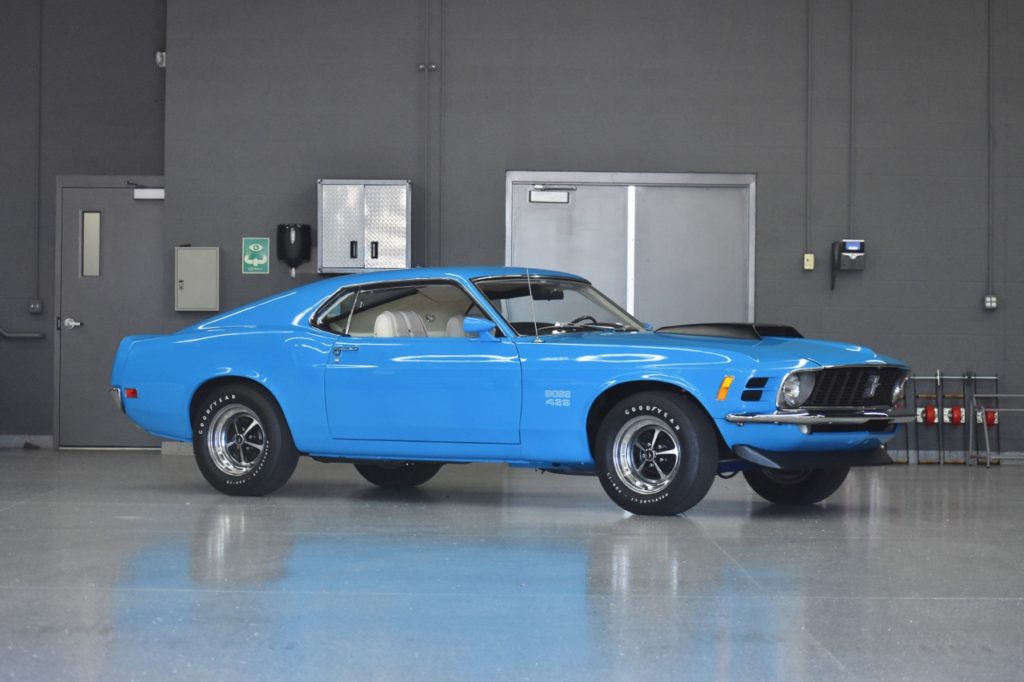 Beginning in 1969, exterior body revisions resulted in the most aggressively styled Mustangs to date. Although these styling elements were reigned in for 1970, the pony car still possessed a sharply angular prow, muscular hips, and all around assertive body lines. To brightly showcase these accents, Ford made available a mere five color options for Boss 429 models, and ours was chosen to receive the now illustrious hue of Grabber Blue (Code: J). To further distinguish them from subordinates, all 429 received downforce-generating front lip spoilers, a functional matte black hood scoop, painted side mirrors, and pronounced "Boss 429" fender decals.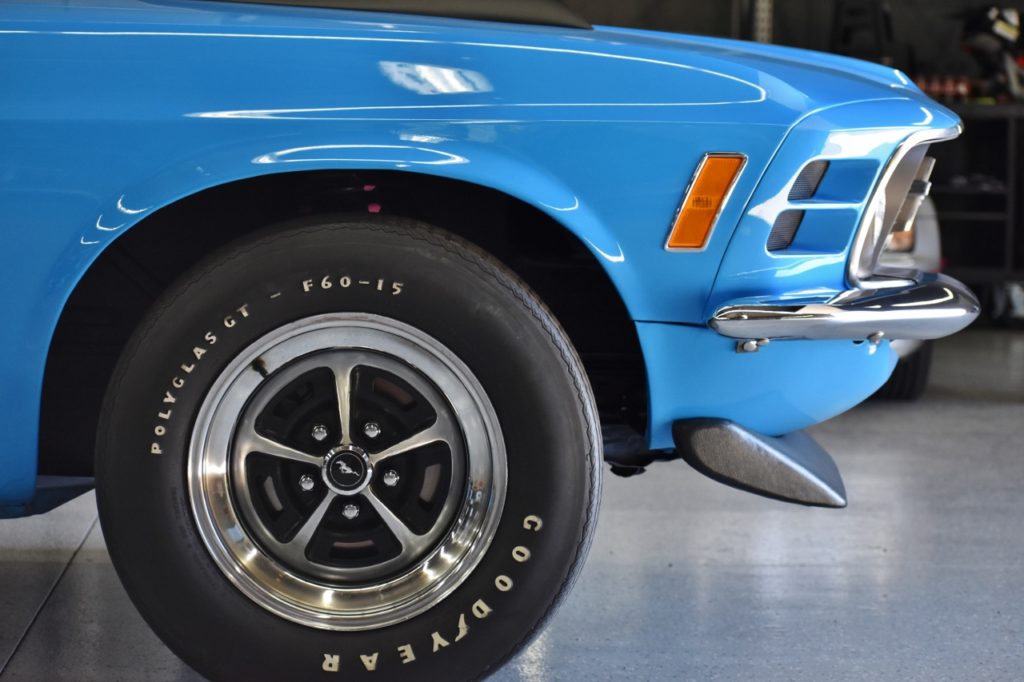 In 2012, our example underwent a comprehensive, Concours-level rotisserie restoration at Mid Cities Mustangs in Dallas, Texas. Work was completed in 2013, and the renovations included keen attention to details right down to the reapplication of the grey primer undercoat and factory work-check markings. Standardly equipped, the Boss rides on bespoke Magnum 500 five-spoke chrome wheels that wear period-correct Goodyear Polyglas GT F60-15 white letter tires attached by 429-specific lug nuts.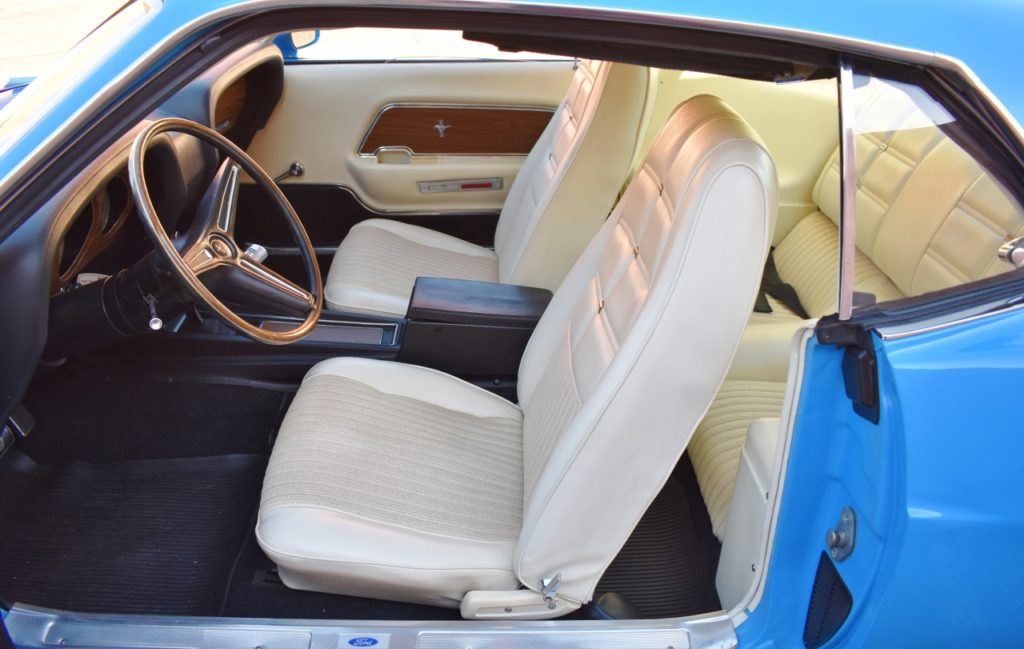 Inside the Boss' office is an all original interior comprised of White Clarion knit seat inserts and Corinithian vinyl overtop of the sporty hi-back bucket seats, which, like the rear, feature combined block and tuck-and-roll patterns. Furthermore, the vinyl gracefully extends deep into the rear passenger section, across the side paneling, and up to the roof. Contrasting the chalky white covers are black pile carpeting below protective rubber floormats featuring Mustang pony emblems in the front footwells. Wood veneers centrally located amidst the door panels, compliment the usage upon the dashboard and center console.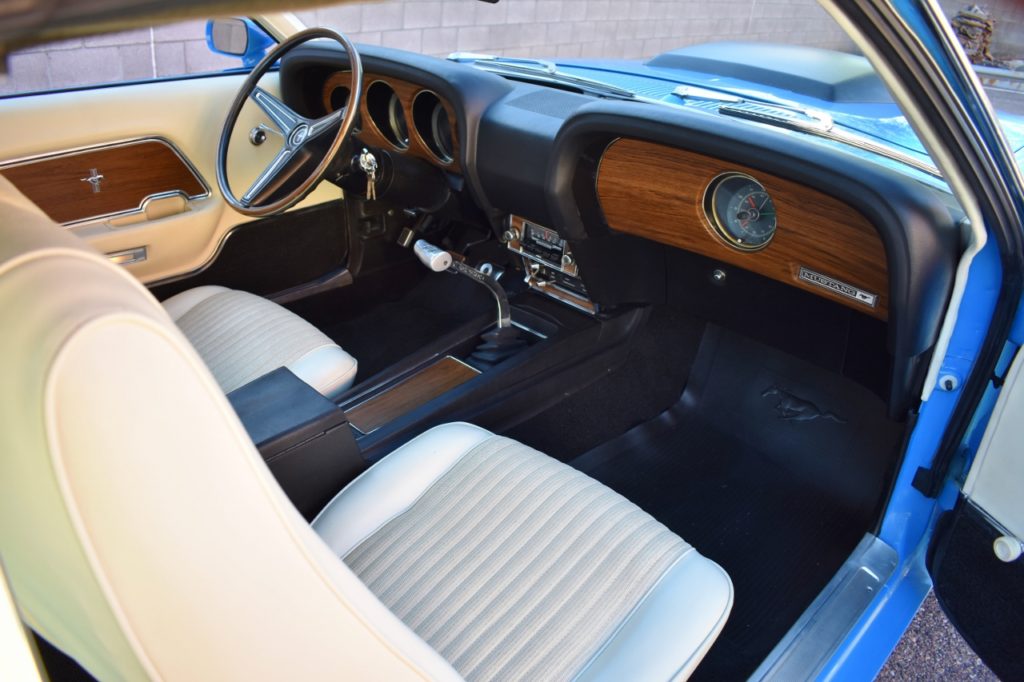 The instrumentation on our Boss 429 models is specialized. Situated behind the optional tri-spoke Rim-Blow deluxe steering wheel are a 120-mph speedometer, the optional 8,000 rpm tachometer, a fuel meter, and coolant temperature gauge. Embedded into the passenger side dashboard is an electrical clock which was not a part of standard equipment. Furthermore, around the cabin, trunk, and inside of the glovebox are supplementary lights. These lights were courtesy of the optional convenience package that also furnished Mustangs with a headlight and parking brake warning buzzer, remote controlled mirror, and seat folding latches. Finally, an AM radio resides above the internal heating controls and in front of the hand-molded metal Hurst shifter.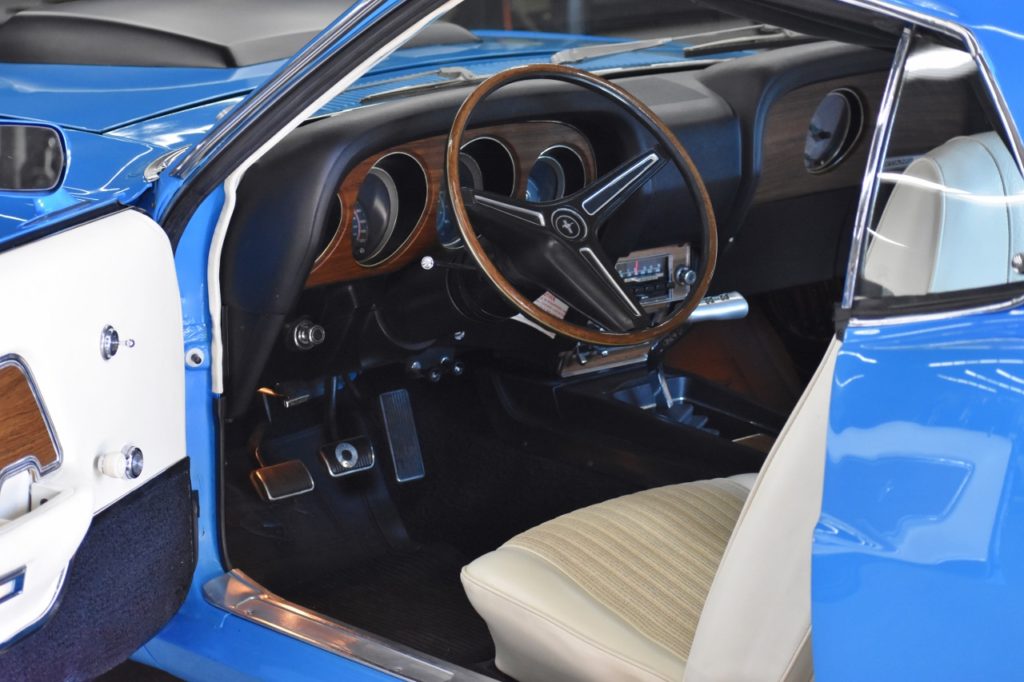 Derived from Fords 385ci engine, the 429 motor was a genuinely premier powerplant. A forged steel crankshaft was accompanied by forged connecting rods set inside of a hemispherical combustion chamber below Boss 429 branded aluminum cylinder heads. This unique, dry-deck engine design utilized no gaskets and received air through a Holley 4-Barrel carburetor inside of the hood scoop. Ford marketed the Boss as a 375 horsepower capable car, but enthusiasts resolutely acknowledge this number to belie the actual figure. Moreover, our example is intensified by the Drag Pack, which furnishes Mustangs with a 9-inch Traction-Lok limited slip differential, 3.91:1 final gear ratio, and an engine oil cooler to make acceleration times faster while maintaining safer motor temperatures.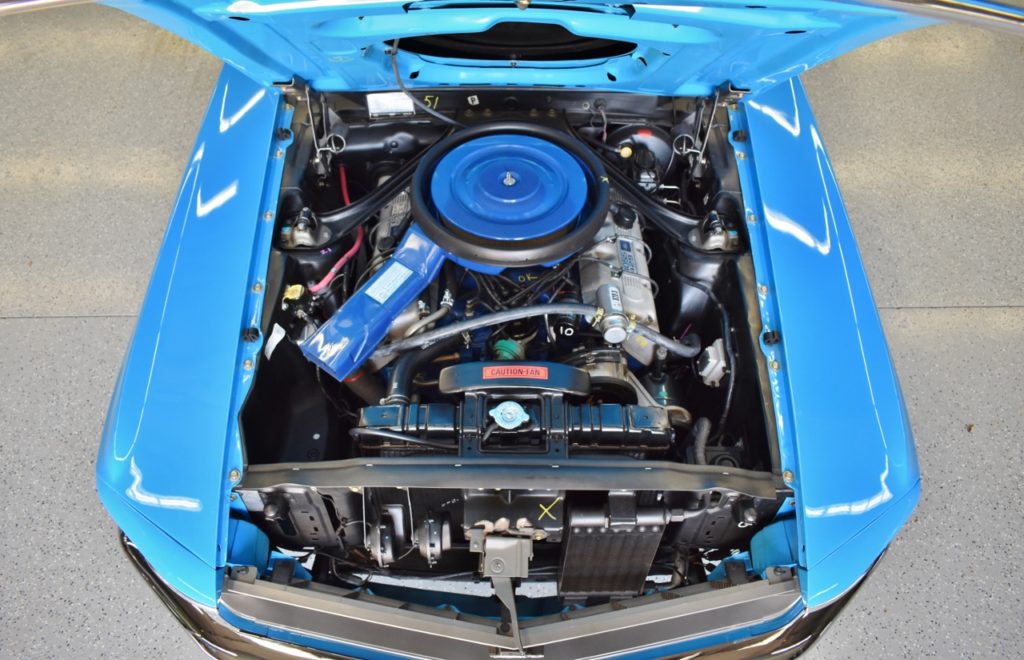 Aside from the Drag Pack, the Boss was generously endowed with peak performance parts from the factory. As part of their construction process, subcontractor Kar Kraft reconfigured 429 frames by relocating the front strut assemblies which ensured that the competition-grade suspension components could maximize their handling capabilities. A close-ratio "Toploader" four-speed manual transmission was standardized, as were large disc brakes, and a trunk-mounted battery for improved weight distribution. Thanks to checked option boxes, our Boss has its front brakes and steering rack hydraulically powered. As expected of any vehicle receiving such a high-level restoration, our car – KK (Kar Kraft) number 2131- maintains its factory-original T-Code engine and drivetrain, which now has approximately 48,350 miles on them.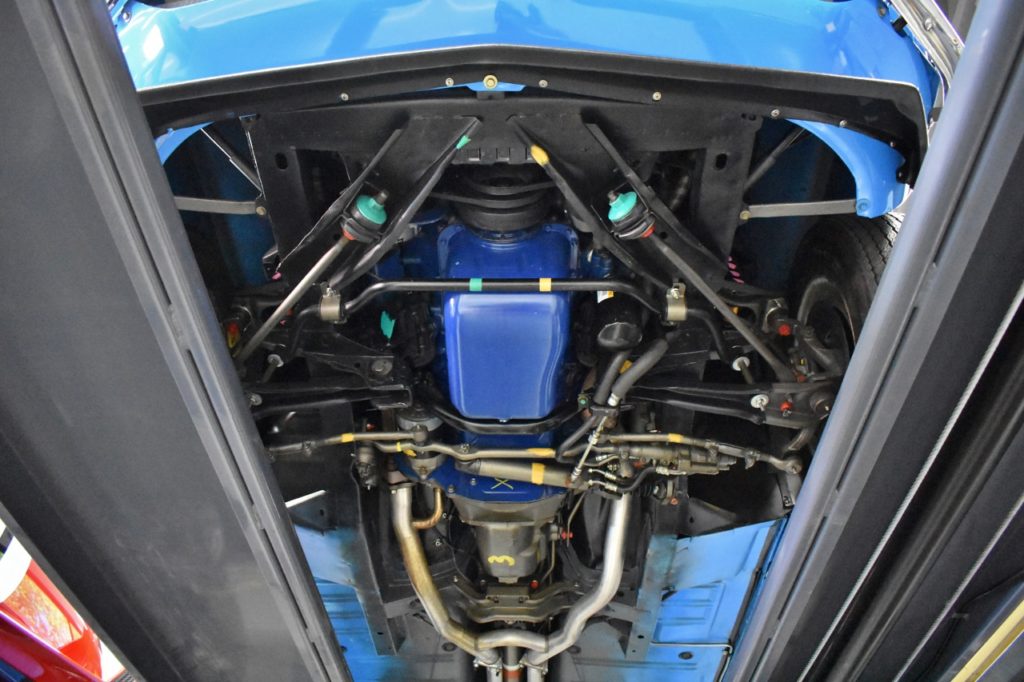 Regarded as one of the most complete and well-kept Boss 429 on the planet, KK 2131 is one of only 285 cars configured with its particular options in Grabber Blue. In total, only 500 Boss 429 were produced in 1970, handily making them one of the scarcest Mustangs ever created. When first sold in Littleton, Massachusetts, it retailed for a price of $5,107.95 as shown on the authentic window sticker. Furthermore, our Mustang is being sold complete with the original tool kit, spare tire, and several other extra parts (belts, extra battery, light bulbs). Moreover, a complete set of photographs documenting the restoration will be handed over alongside the invoice and Deluxe Marti Auto Works report. Solely owned for the past twenty years, this Boss 429 not only exudes Ford's high-performance prowess but also embodies the cumulative engineering potential within the company at the end of the 1960s. Without a question of doubt, KK 2131 represents itself as an unforgettable icon from the final year of an era of motorsport exceptionalism at Ford.


As part of Bring a Trailer's new Premium offering, we will be extending this auction beyond the typical seven days running. Accompanying this sale, we will also be featuring an hour-long live stream video presentation which will be held during the concluding hour of the auction listing. As that time draws closer, the link to this live stream will be publicized here.
Meanwhile, the Boss can be viewed here on Bring a Trailer!