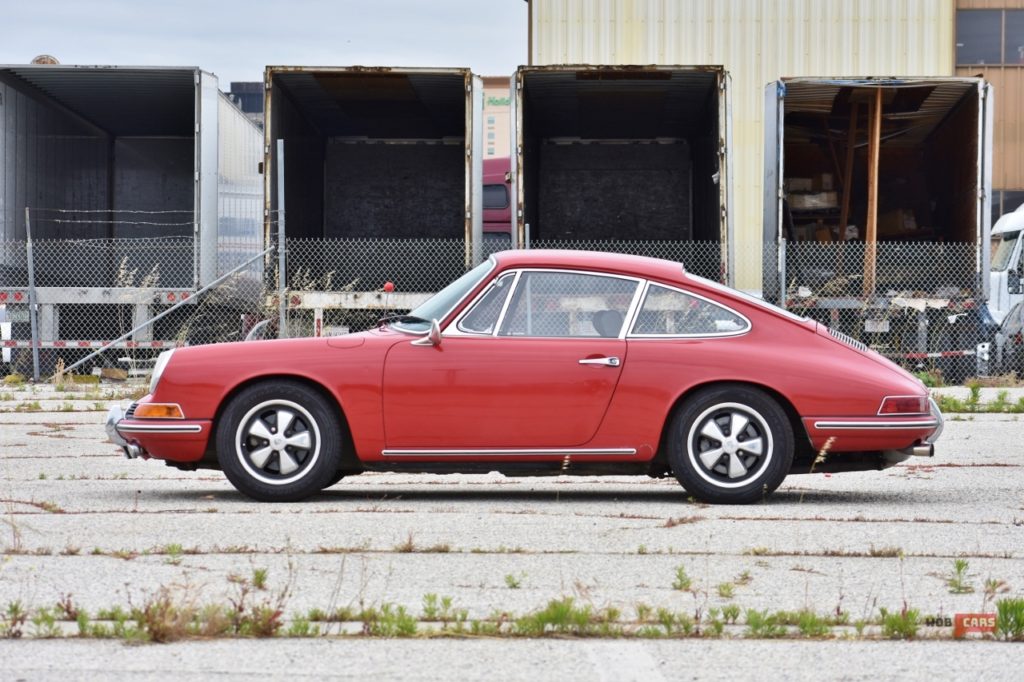 Sold – $85,000 (plus fees)
Given its long production life and venerable performance reputation, little needs to be said about Porsche's 911. First produced in 1964, up until 1968 there were relatively few changes instituted that drastically differed from the initial idea. However, in 1969, the chassis was lengthened by 57mm (2.24 inches), which has engendered the preceding A-Series cars with their short wheelbase (SWB) appellation. Although slightly more troublesome in regards to handling, these SWB 911s have become the most desirable of the early air-cooled cars because of their balanced design proportions and true-to-conception adherence. Finding one of these early 911s that has managed to escape the ravages of time and molestation by short-sighted owners is onerous, in any case. Nevertheless, we have one such survivor that has remained in an almost unbelievable state of authenticity, and it is on auction by us now!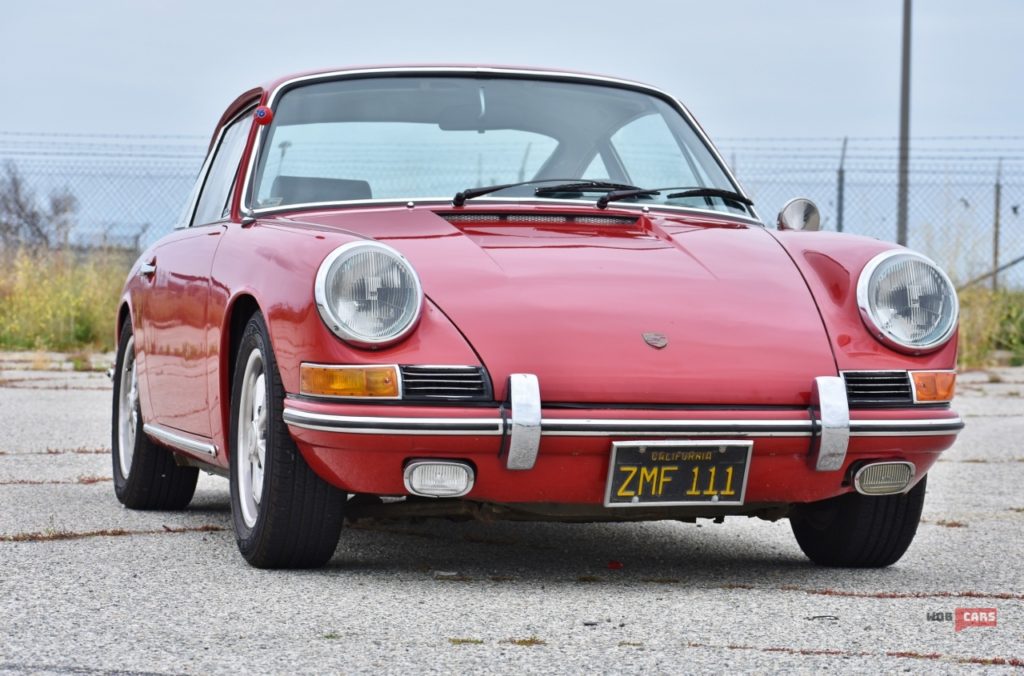 Initially sold in Europe, this 911T was almost immediately placed on a boat and sent to California. Upon reaching the west coast, it was registered and has since retained its state-issued six-digit black license plates. The body is painted in Polo Red (#6802) and is confirmed to be factory-original by the Kardex and a report by professional Porsche appraiser, Bill Kelley of Techweenie. In his release, which accompanies the sale, Kelley denotes that although the paint has faded, there are no color shifts, texture changes, excessive paint depth variations, or evidence of fender removal on the 911. Furthermore, the original weatherproofing seals and "bullseye" door plugs are still installed. That being said the Porsche's patina includes minor dents, some scratches, small spots of rust, tiny bumper bends, and area of factory visible primer on the roof due to years of use.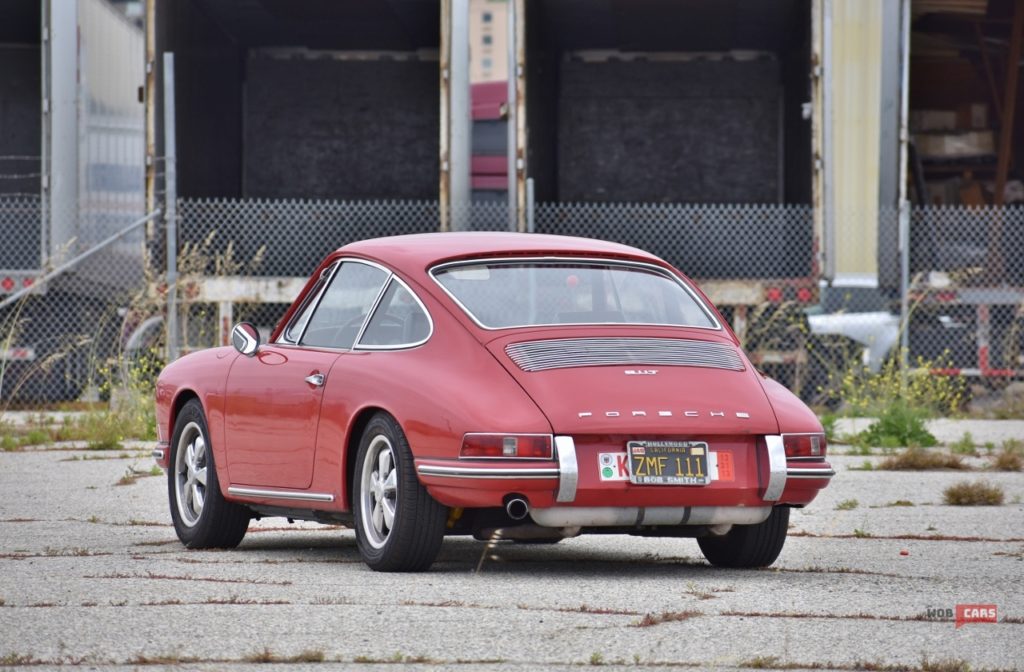 Moreover, the brightwork has developed oxidation pits, yet the front pan is abnormally free of corrosion, and the fuel tank is original and in exceptionally good condition. While the exterior largely remains true to its sixties state, the Fuchs wheels (15×6") it now wears were not fitted from the factory. Regardless, they are nearly period-correct, and each Fuchs wheel is wrapped in newer all-season Goodyear Assurance 185/65 size tires. Additionally, the front horn grilles were painted black at one point, and that finish has now begun to exfoliate. A set of genuine foglights resides inside of the front bumper.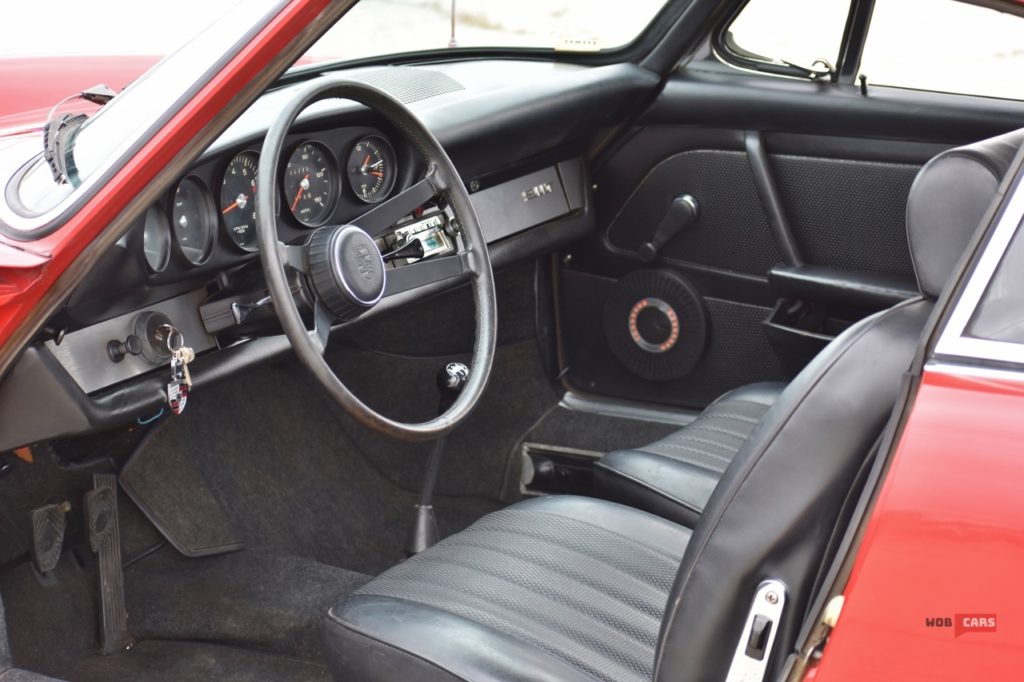 The cabin is completed in black with the correct brushed aluminum dashboard fascia adorned with a 911 emblem. The front seats have been reupholstered in leather that has period-accurate center design thatching. The door panels, which have basketweave style map pockets and aftermarket speaker housings, are replacements for the original assemblage. Additionally, the headliner was exchanged for a fresh piece of perforated white vinyl.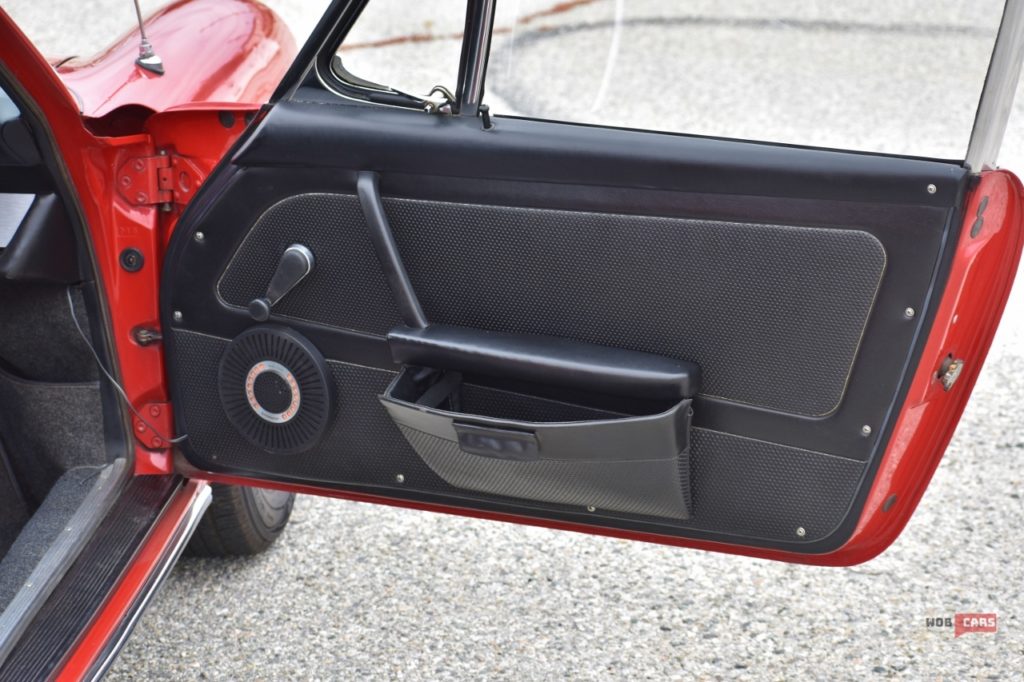 Introduced within the dashboard is a working, vintage eight-track player. The dashboard panel itself is free from cracking or sun warpage. Factory-installed was a wood-rimmed steering wheel; however, this was supplanted by a black leather-wrapped unit. Behind the wheel is the standard 911 five-instrument set up. Included among those units are a centrally-mounted 8,000 rpm tachometer, a 150-mph speedometer with an integrated five-digit odometer, a clock, and two combination auxiliary gauges. Registered on the odometer is 95,000 miles, which is known to be correct.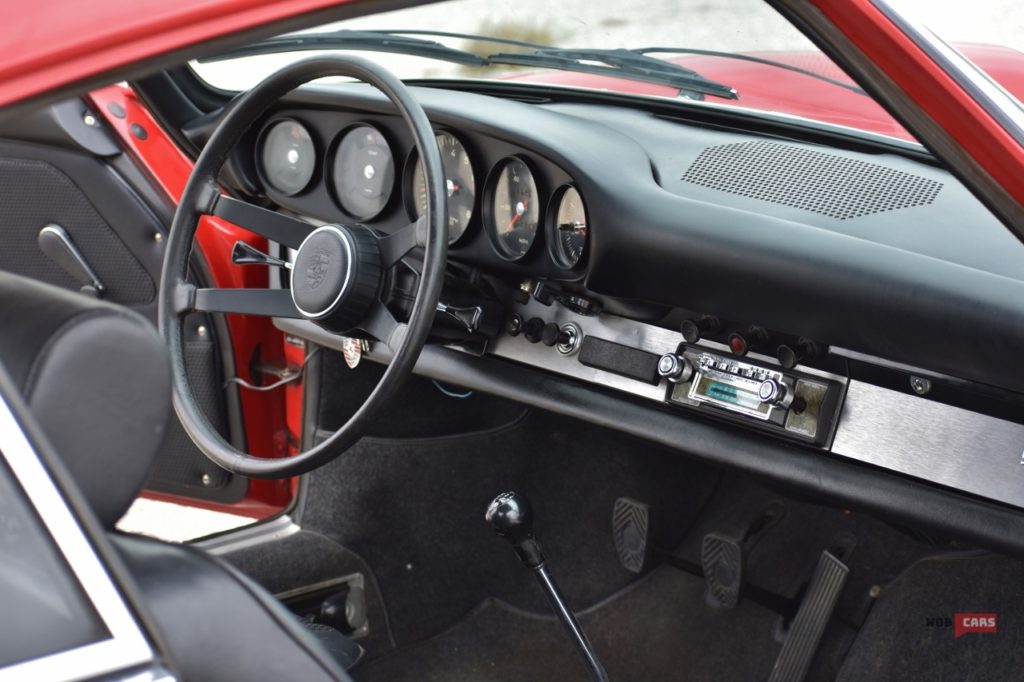 From Stuttgart, 1968 911T's air-cooled flat-six motor produced 110 horsepower from its two-liter displacement. Our example features a magnesium case and Weber carburetors that still have their factory smooth-crimped fuel lines attached. Furthermore, the original sound pad is still glued inside the engine bay, and rear foam defroster tubes are still in position. The carburetors were cleaned and tuned in preparation for this sale. A valve adjustment, exhaust gaskets, and engine oil with filter change were also undertaken during this preparatory service.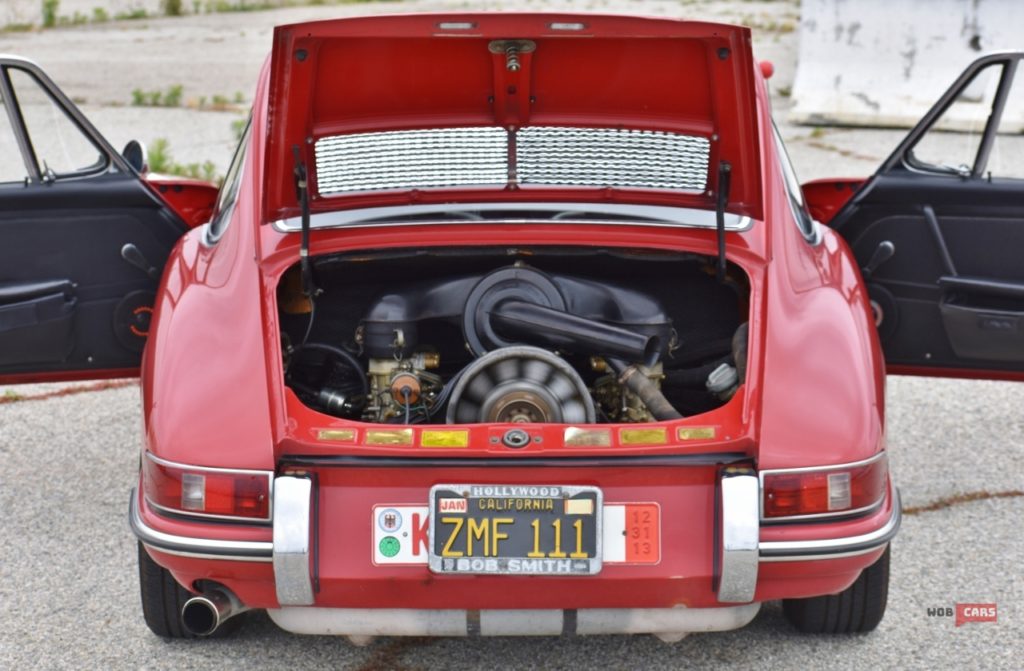 At the same time, a compression test revealed each of the six cylinders to be operating between 120-125 psi, which is ideal. Not original to 1968 are the spark plug connectors, a later-model Bosch Capacitive Discharge Ignition (CDI) unit, and the ignition coil which is installed in a functional, but incorrect location. The motor has a minor oil leak from the rear main seal but starts and operates smoothly. Wearing engine number 2081530 and transmission number 2281531, the Kardex report confirms their companionship to the chassis from the factory.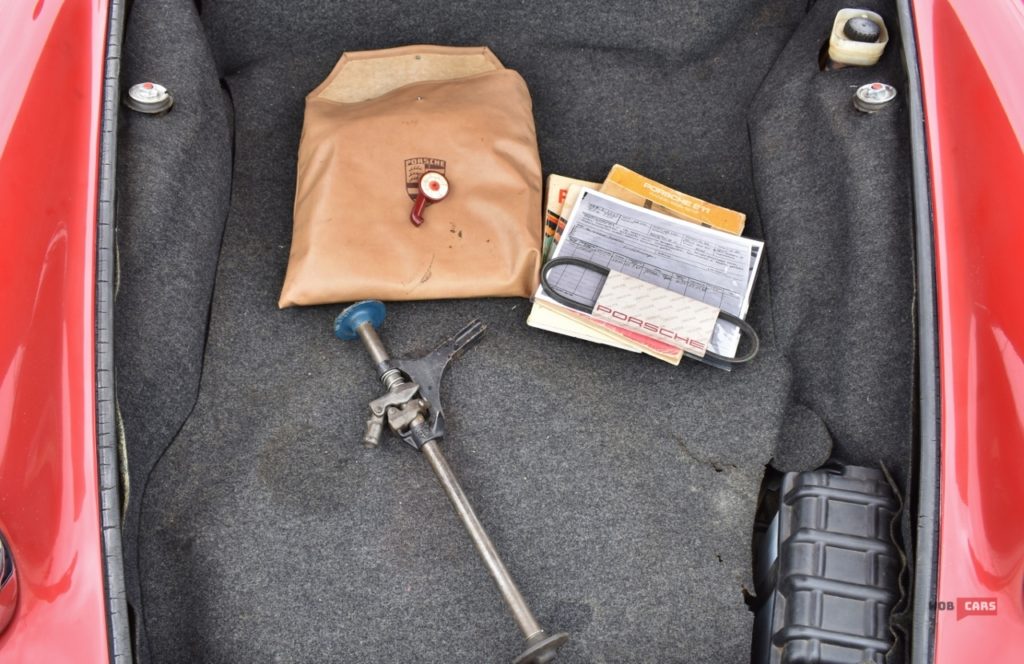 Inside the front trunk is the correct Perlon carpeting and below it is the factory tool set inside of their bag, spare tire, and battery tie down equipment. Espousing the sale are the Techweenie report, the Kardex documentation, recent service records, and mechanical pre-purchase inspection (PPI) sheet. A clean California title is also guaranteed. When it comes to these early SWB 911s, the reality is that their low production volume and progenitive design have made them extraordinarily desirable. This fact is especially accurate in the cases of well-kept, authentic examples such as ours. Like a nostalgic time capsule, this 911 is capable of bringing passengers as close to an authentic sixties experience as you can get in the new millennium.
To get a glimpse of the 1960s, click here for the live auction!