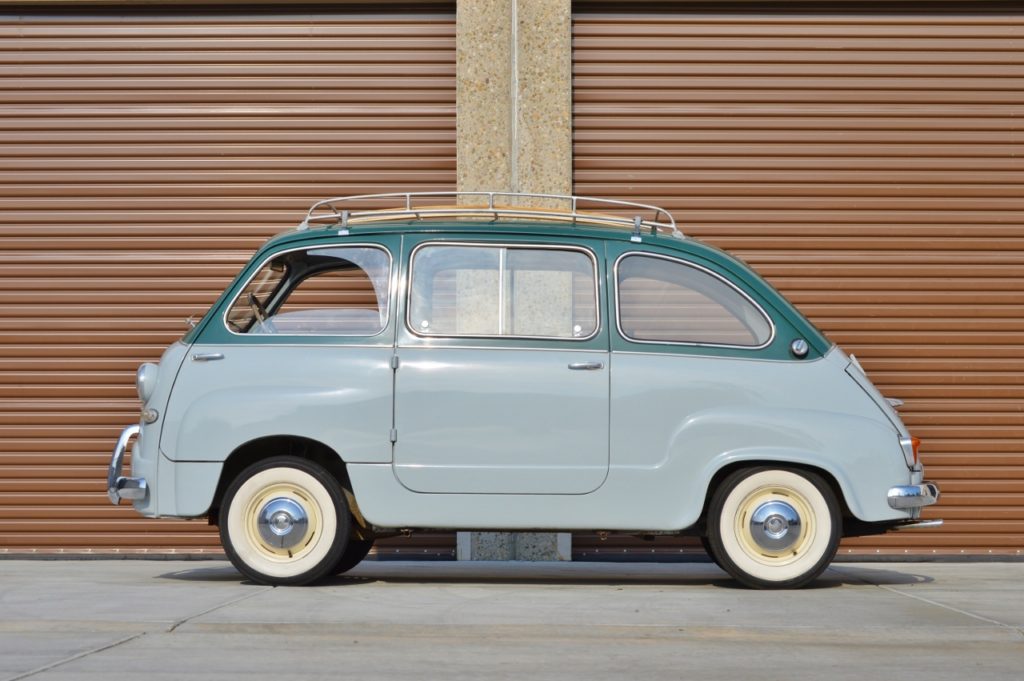 France made the 4CV, Germany had their Beetle, and not to be outdone, Italy entered the fray with the Fiat 600 in 1955. Inexpensive, economical, slow, and spacious enough for four, the 600 was no different than its continental competitors in its identity. A million were sold before the seventh year and adding to the available configurations was the unique Multipla. Launched in 1956, the front trunk was deleted and the front suspension altered for an entirely new body shape designed to seat six passengers as a van.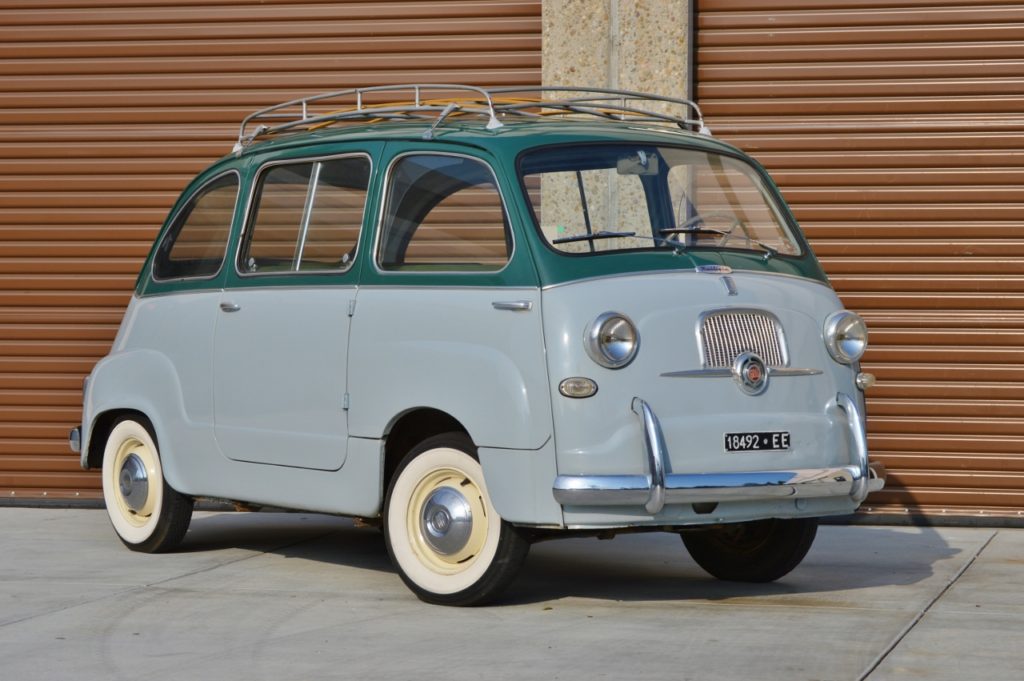 The Multipla demonstrated great aptitude in this role, specifically as taxi transportation. While well over one-hundred-thousand were produced, given their typically commercial responsibilities few have survived into the modern era. As such, values for well-preserved Multipla have soared higher than nearly any of the other 600 variations produced. A few years ago, WOB was fortunate enough to bring an extremely orderly first-year example to auction, and it sold for a likely world-record setting $48,000!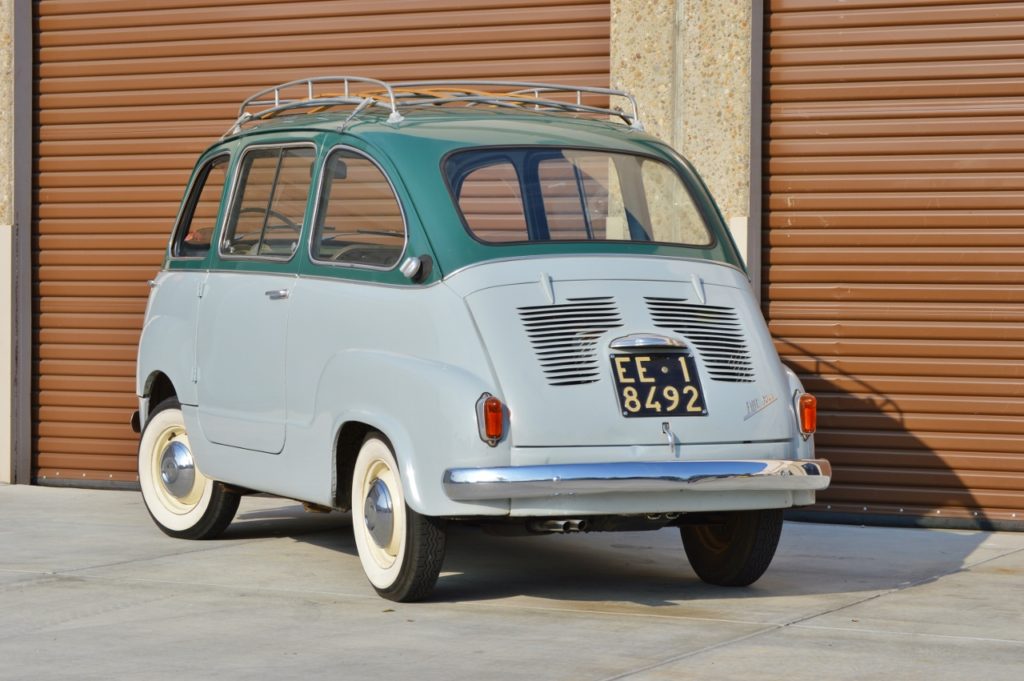 To afford accommodations for six passengers, the front seats of the Multipla were re-positioned beyond the front axle. Furthermore, Fiat consciously toiled with ways to maximize cabin space such as drastically raising the greenhouse, exposing seam joints on the exterior, and relocating the spare tire and fuel tank. The near-hemispherical shape is not only eye-catching but aided with the installation of two additional passengers 'suicide' doors for easier rear seating access. Highlighting this in our example was the light blue and seafoam green two-tone paint scheme that, according to our seller, was principally original.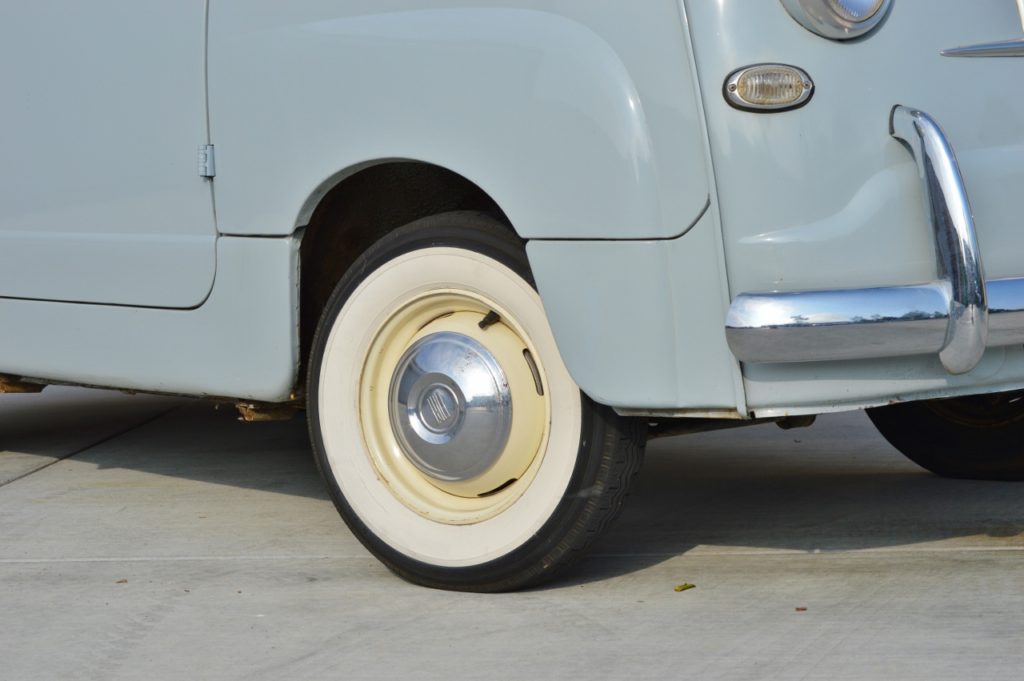 Aside from the correct paint, the panel gap and fitment were precise, and besides some small dents, the body panels were in top condition. Further enhancing the specialty of our Multipla was the rare factory-supplied roof rack. Working well to really set off the exterior were the stamped steel wheels that had been painted light tan, dressed up with factory chrome hub caps, and rode on Michelin whitewall tires. Matching the hub caps was chrome trim and bumpers showing surprisingly little tarnish or abrasions.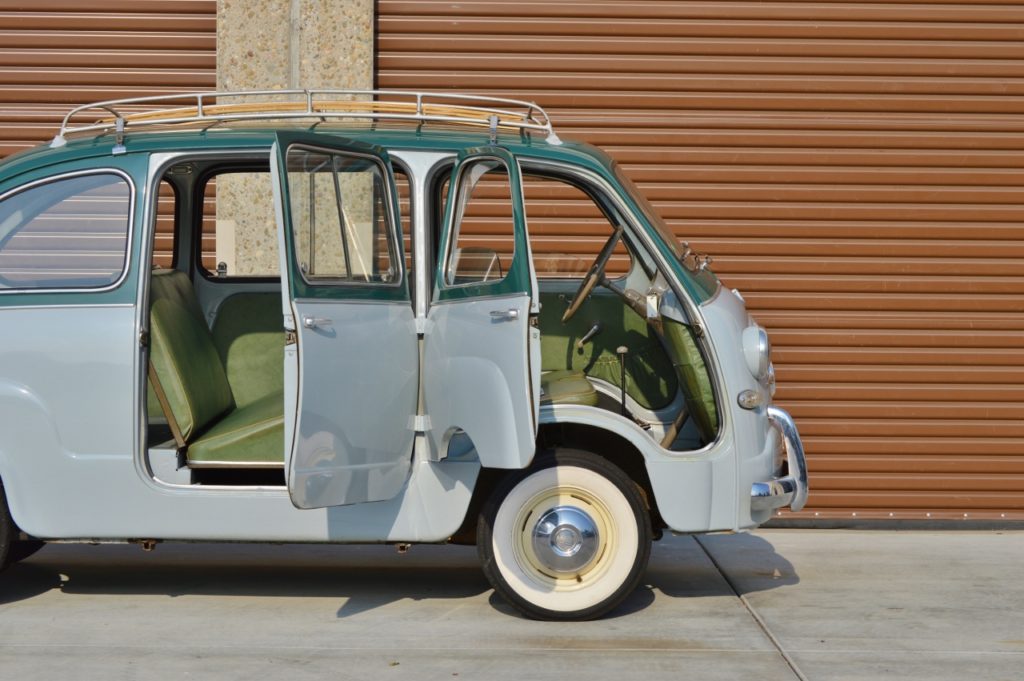 From Turin, Multiplas were available in three distinct interior seating configurations. Our van sported the 4/5 layout that furnished a front bench seat and a middle bench seat that folds down flat in front of a small cargo area situated between the firewall. An austere interior in every sense of the meaning, the light blue painted metal dashboard was occupied solely by an ignition and toggle switch panel and an instrument cluster. The shift-point marked speedometer with integrated odometer, fuel level meter, and oil gauge worked fine with the charming requirement of an occasional hand tap to keep the odometer turning.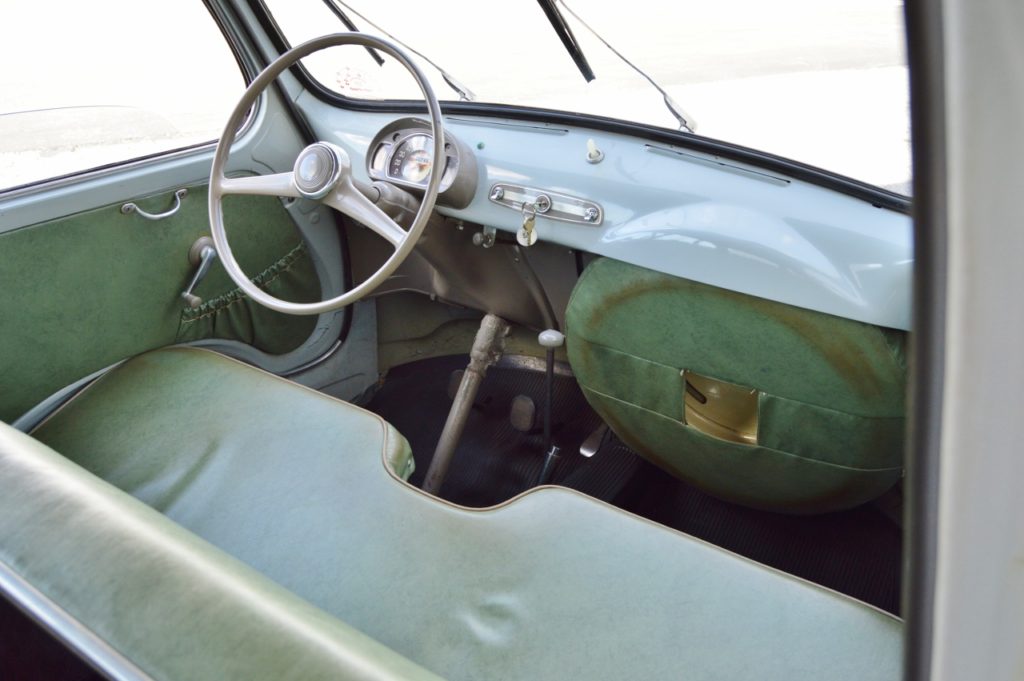 The bench seats, spare tire, and door panels with map pockets were covered with light green vinyl to complement the exterior color treatment. Below, black rubber floor mats protected the floorboards and the original gear shift knob and emergency brake handle was still attached. Almost obsessively utilitarian, the sun visors were made of beige plastic, and the plastic steering wheel went unbranded.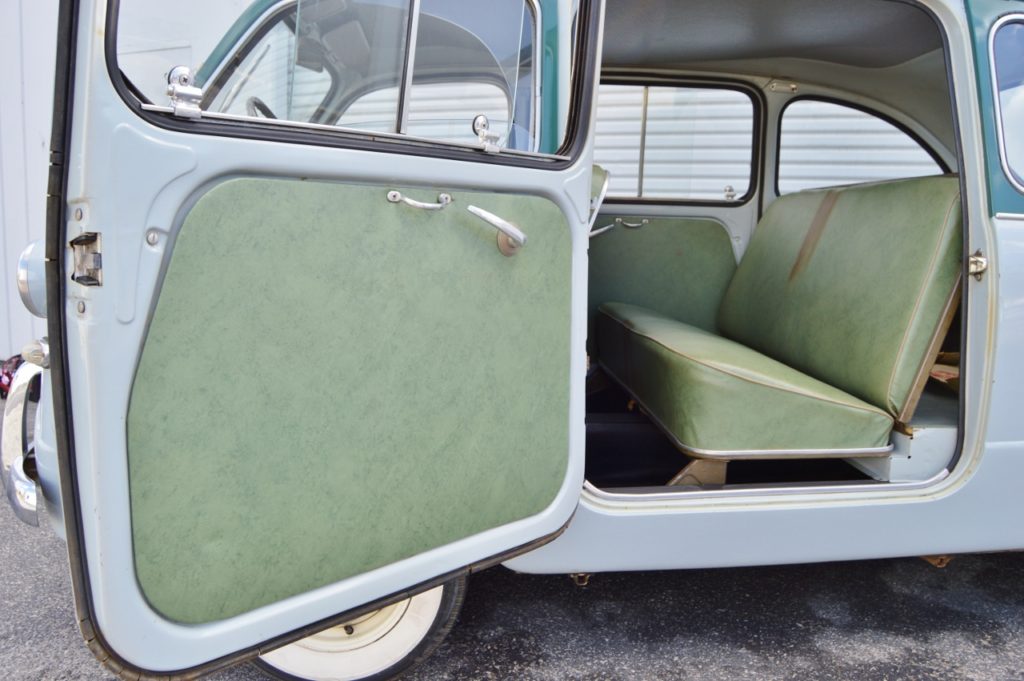 Aligned with the cost-cutting body design, the water-cooled engine was also directly taken from the 600 sedans. An overhead valve 633cc inline-four cylinder, the motor produced approximately 22 horsepower at 4,600 rpm, which made it capable of nearly 60-mph. This power was sent to the rear wheels through a three synchronizer four-speed manual transaxle. Before the sale, our example's powerplant underwent some beautifying therapy. Hoses, spark plug wires, the airbox with a single carburetor, electrical wiring, and engine mounts were all spruced up by thorough cleansing. This cleaning had also freshened up the appearance of the engine bay stickers and revealed there to be no corner or seam corrosion.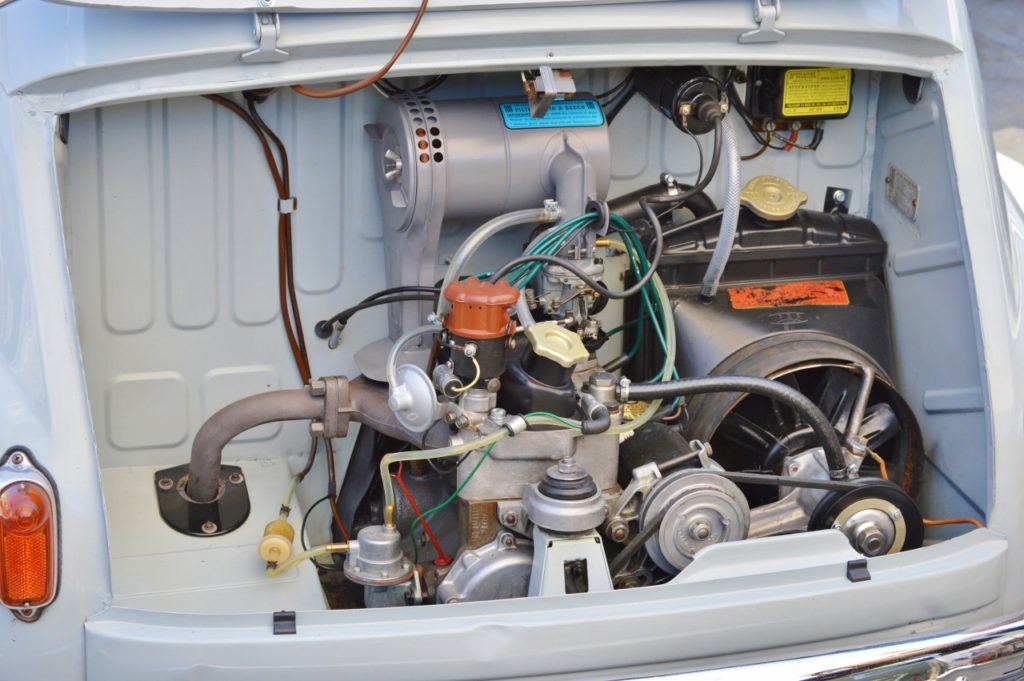 As mentioned above, the Multipla utilized a different front suspension, which was taken from the larger Fiat 1100. This extension meant that there was a double wishbone arrangement up front complete with an anti-sway bar and coil springs. Outback was a trailing arm suspension and all around were hydraulically-assisted drum brakes. Underneath the chassis was oxidization but without rust.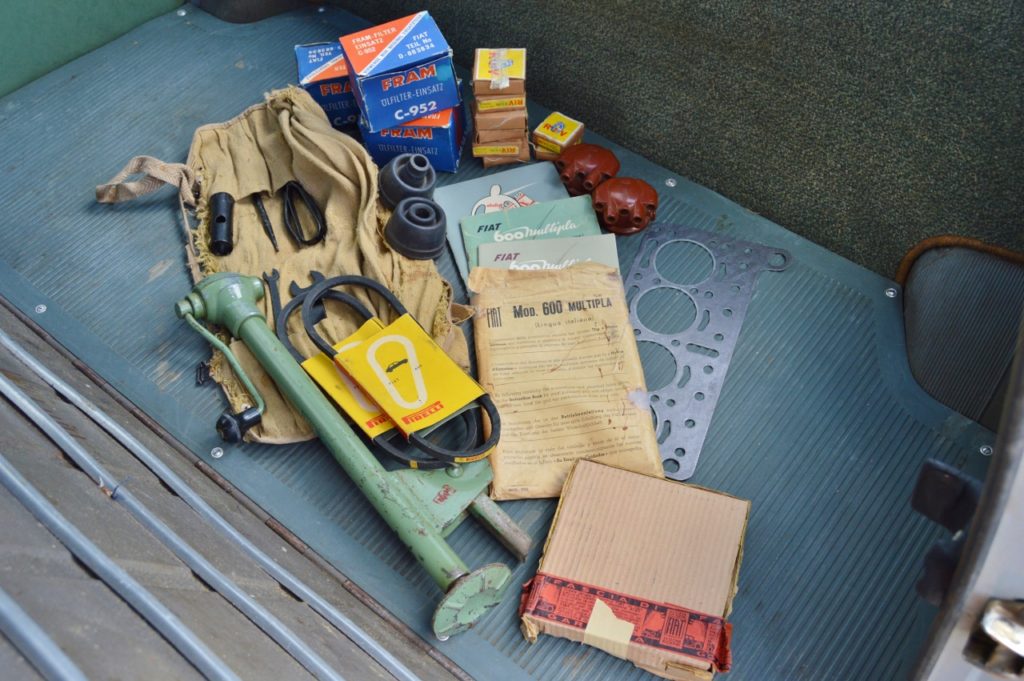 Out of so many thousands made, it honestly is unusual to find a Multipla in such immaculate condition. Moreover, our Fiat still retained its original tool kit, jack, owner's manuals, and period-correct spare part ordering form written in Italian. Plus, a small assortment of spare parts was included with the sale. Reportedly owned by a single person for forty years, the now forth owner absolutely lucked out in finding this precious gem.