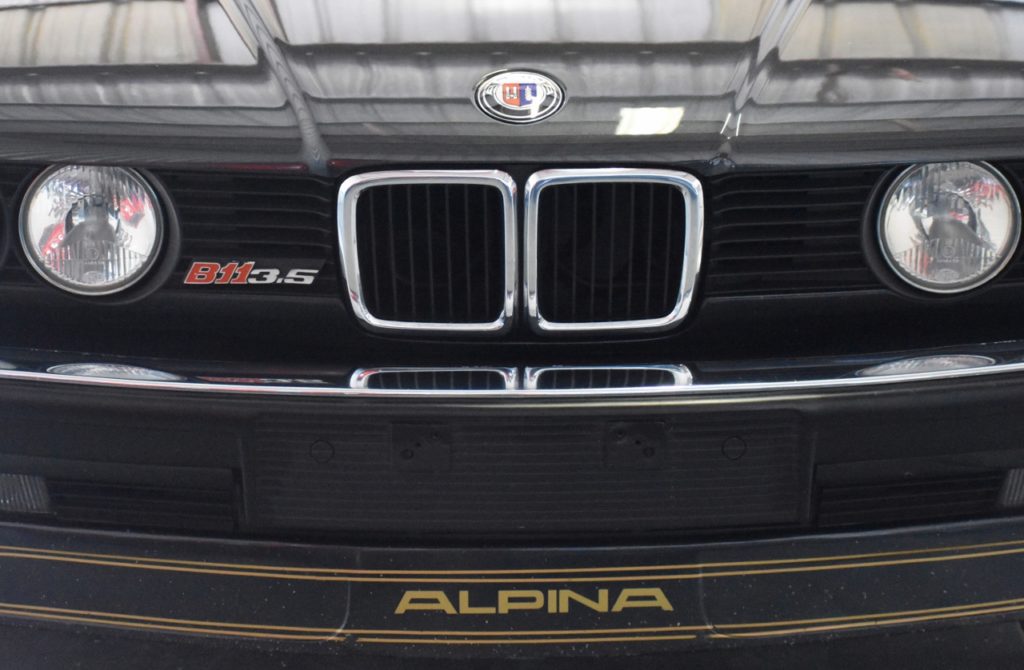 (For sale, if interested please contact us)
An Alpina tuned BMW is always special to see or drive. Aside from the fact that Alpina is unique because they take a pre-existing BMW, which is already designed as an ultimate driver, then enhances it with unique aesthetic and performance upgrades, they do this in exceptionally finite numbers. Yes, their exclusivity and regular unavailability in the United States serve in their favor to distinctively set them apart from the more ubiquitous M-badged Bimmers. Plus, Alpina advanced models are covered by BMW's factory warranties; so owners always felt as though they were among the uppermost echelons of Munich's ownership hierarchy.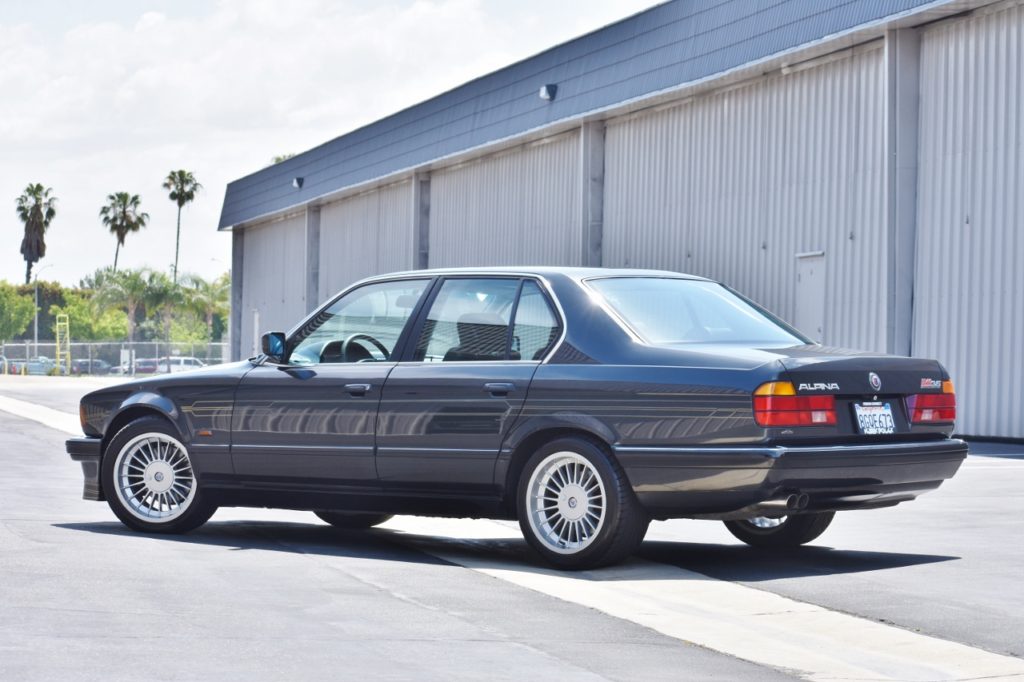 From 1987 until 1993, Alpina took BMW's most prestigious model – the 7-Series (E32) – and converted it into the B11 3.5. As their luxury heavyweight, the 7-Series – even before Alpina's modifications – benefitted from the choicest coachwork and highest-quality materials Bavaria could bring to the buyer. Post-operation, though, the B11 was faster, handled better, and had an individualized appearance both inside and out. Furthermore, Alpina took solely 332 E32 chassis during that five year period, and we happen to be selling number 291 from the batch.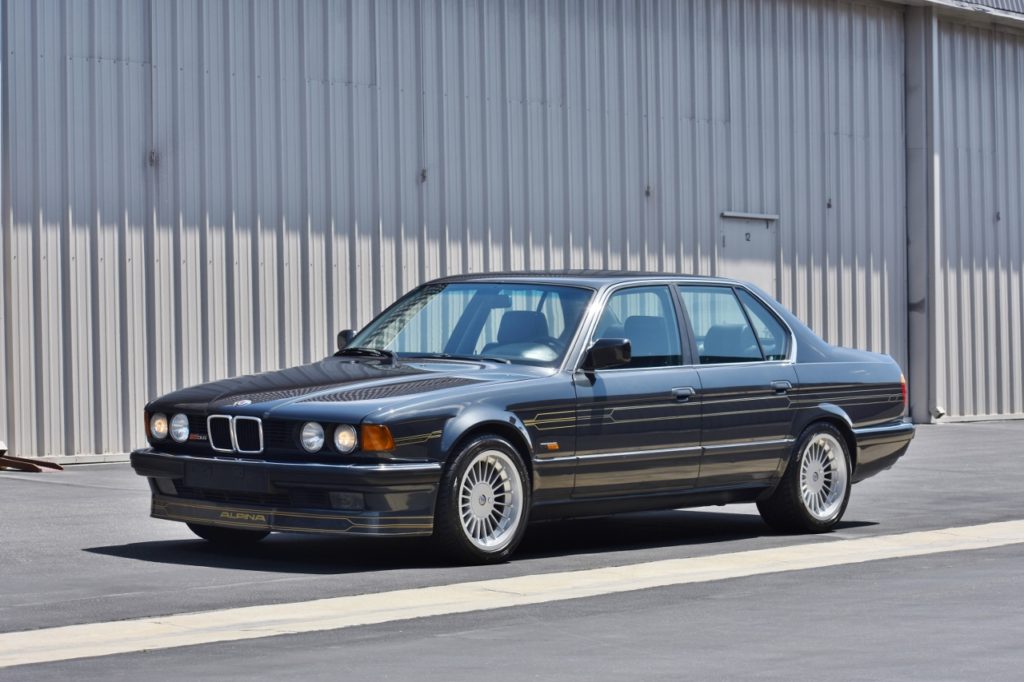 The outside of the B11 is coated in its factory-original paint, Diamantschwarz Metallic. Throughout the paintwork are some small chips and scratches, although most of these are noticeably present along the front dam's surface despite a repainting. Aside from the Alpina-specific front and rear badging, gold line graphics adorn the sides of the 7-Series to distinguish it from lesser variants. It is worth noting that several of these graphics have been exchanged due to damage, so certain areas comparably appear considerably more lustrous.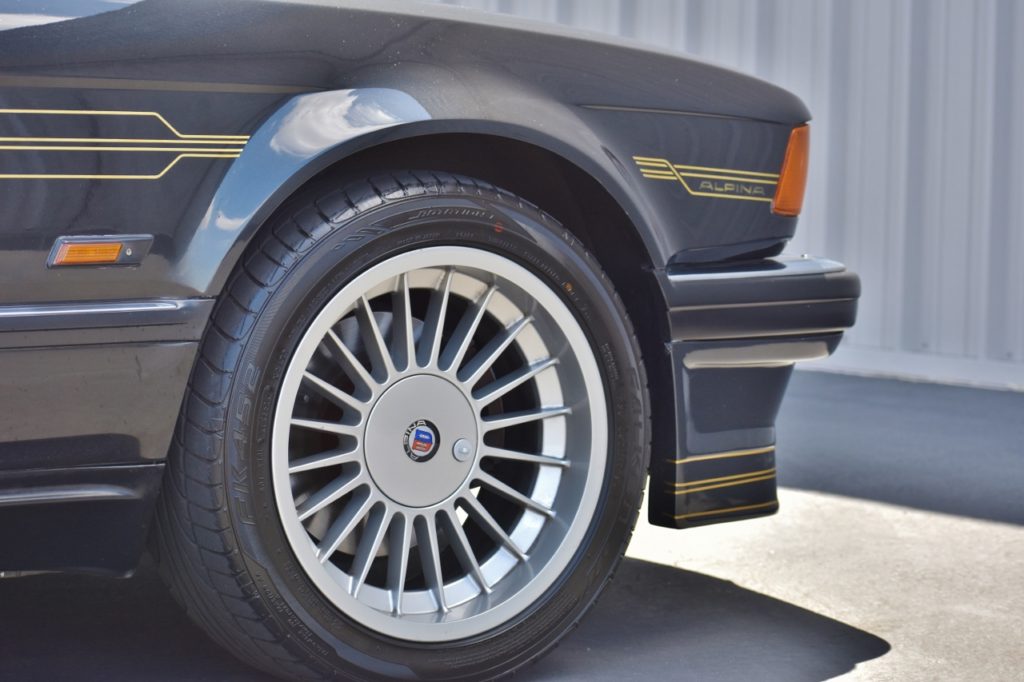 As typical, the B11 rides on Alpina's twenty-spoke wheels, which are 17" on this model. The wheels are wrapped in staggered-width Falken FK452 passenger car performance tires. Partially responsible for the improved handling is the addition of Alpina springs and Bilstein sport shock absorbers. Among these parts, the front dampers are newly replaced. Additionally, the B11's headlights are set to provide continuous daytime lighting since it was previously a Canadian legal car.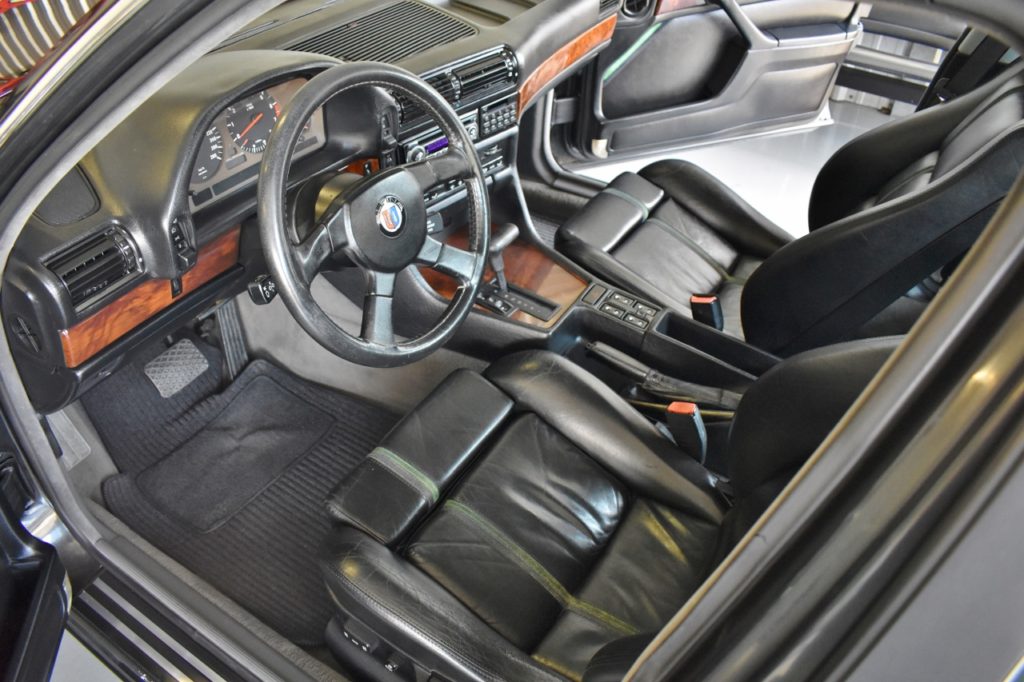 Standard appointments among the interior of a 7-Series are always elegant. To further set the B11 apart, Alpina has enhanced the front and rear seats with dark blue and light green accent stripes. Moreover, as the leather extends on to the door panels, the fabric stripes are diagonally stitched into the paneling. Burled wood veneers outlay across the black plastic dashboard, atop the doors, and surround the gear selector. A placard mounted forward of the gear selector denotes its Alpina heritage, and production number etched into the metal. Standard equipment includes electrically adjustable front seats, dual-zone climate control, an onboard trip computer, Hi-Fi sound system, and electric mirrors and windows.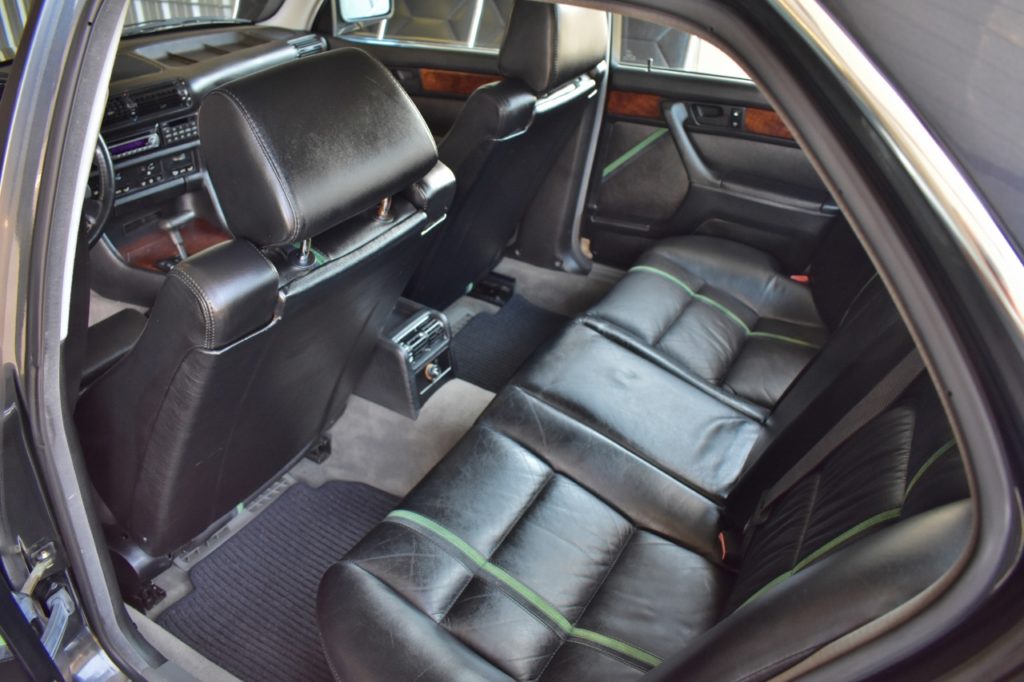 A four-spoke leather steering wheel complete with an Alpina emblem replaces the factory BMW wheel. Beyond the wheel are the standard Alpina-branded instruments that include a 280-km/h speedometer, 7,000-rpm tachometer with integrated fuel efficiency dial, coolant temperature gauge, and fuel level meter. While the interior remains mostly stock, the light colored carpeting is concealed with aftermarket carpeted floormats, and the original stereo head unit has been replaced by an aftermarket system. The owner informs us that occasionally, after engine shutoff, the hazard lights will temporarily turn on.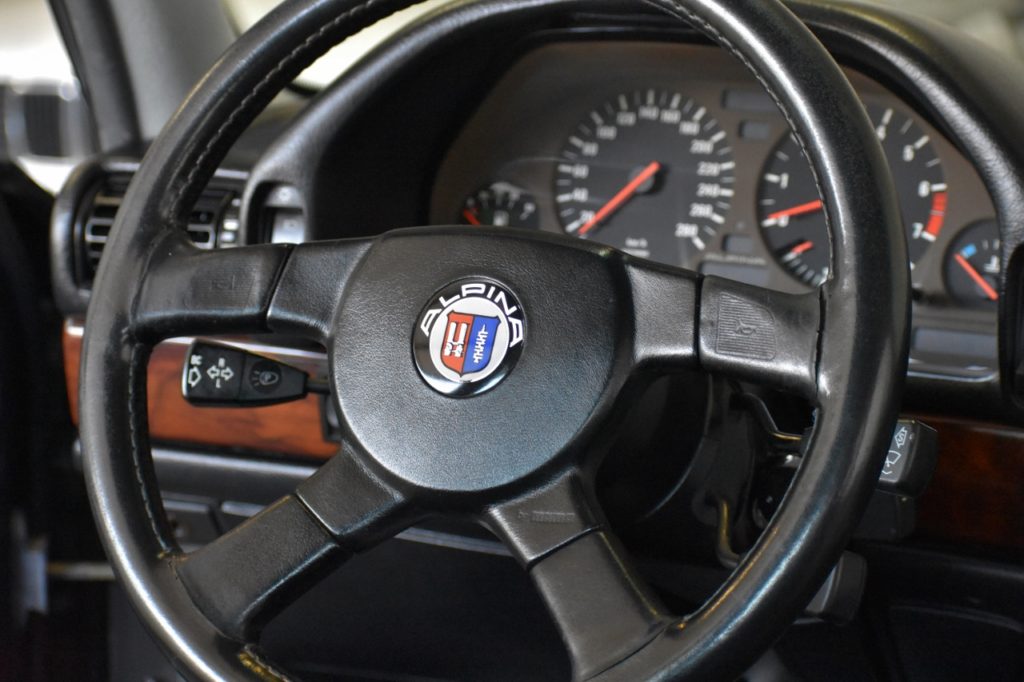 When pulled from BMW for Alpina outfitting, the 3.5-liter M30 straight-six engine was tuned and augmented to produce 250 horsepower with 240 ft-lb of torque effortlessly. From the engine, power is sent out to a four-speed automatic transmission and then on to the rear wheels, this kind of coercive conviction made the B11 capable of toppling the sprint to sixty in 7.5 seconds. Although our B11 came from Canada, a catalytic converter was initially installed from the factory, so it has passed CARB registration in December of 2018.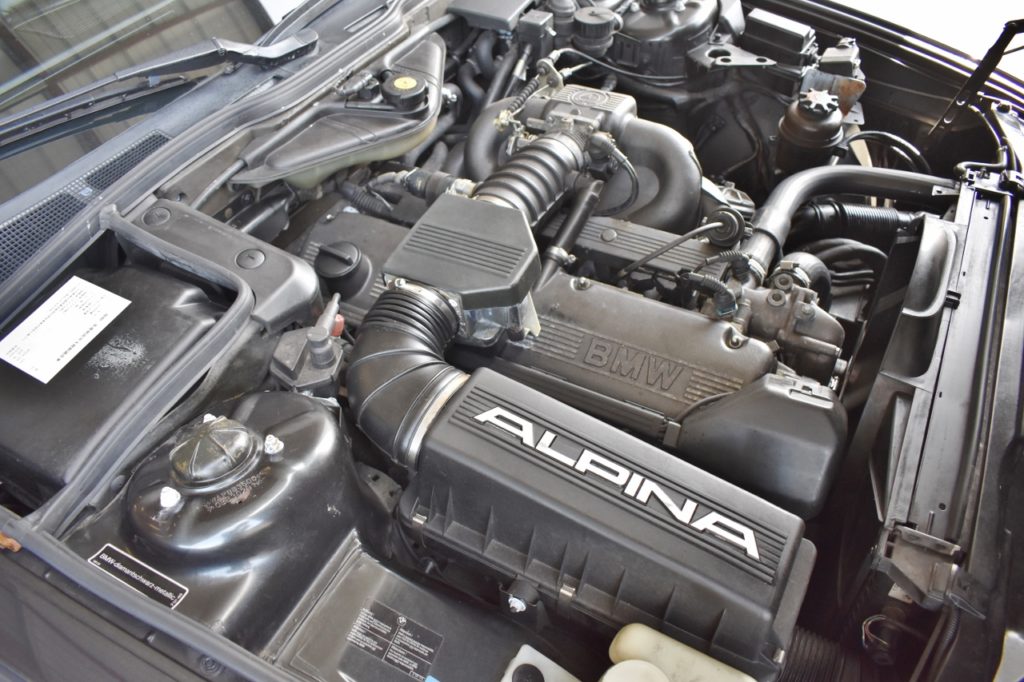 In 2015, the B11 left Canada, and before its departure, the Alpina underwent some extensive servicing. New valve cover gaskets were installed alongside vent hoses, a fuel filter, a new oil filter, a fan clutch, and high-pressure power steering lines. During this appointment is when the front dampers were changed, and the front control arm bushings were also exchanged. Brake fluid, brake pads, brake rotors, the rear differential oil, and the transmission output shaft seal were also brought back up to high-quality standards. Despite this, the seller informs us about possible brake pulsation during rapid deceleration.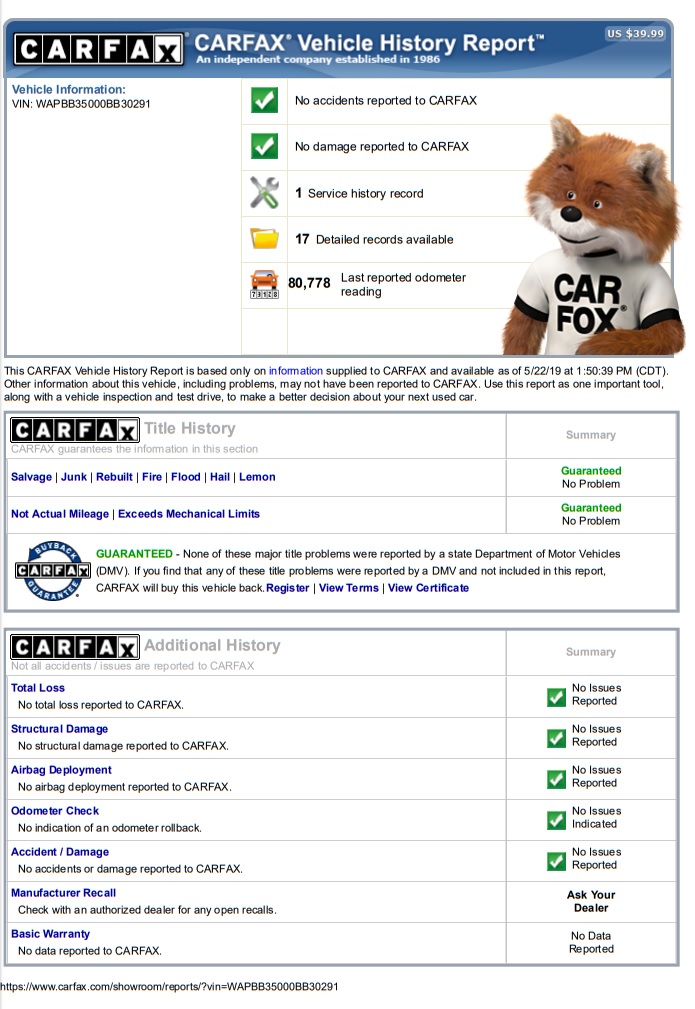 Initially sold in Japan, the B11 lived on the island until 2005 when it was sold then shipped to Canada. Carfax begins reporting a year later and shows no evidence of past accidents or damages. In 2015, the B11 relocated once more to California and had remained in private collections until being purchased by our seller in 2018. Accompanying the purchase of our Alpina are a collection of service records detailing its history and ranging back to its time in Japan. Complimenting those documents are the original tool kit, spare wheel and tire, Alpina-stamped service logbook, and BMW owner's manuals. This spectacularly rare Alpina example of an already aspirational BMW has only 147,000 kilometers (91,000 miles) on the clock. With a mere 332 produced, this relatively low-mileage, almost entirely stock example is absolutely deserving of a position of distinction amongst another collection.
The auction of the Alpina is available through this link here!