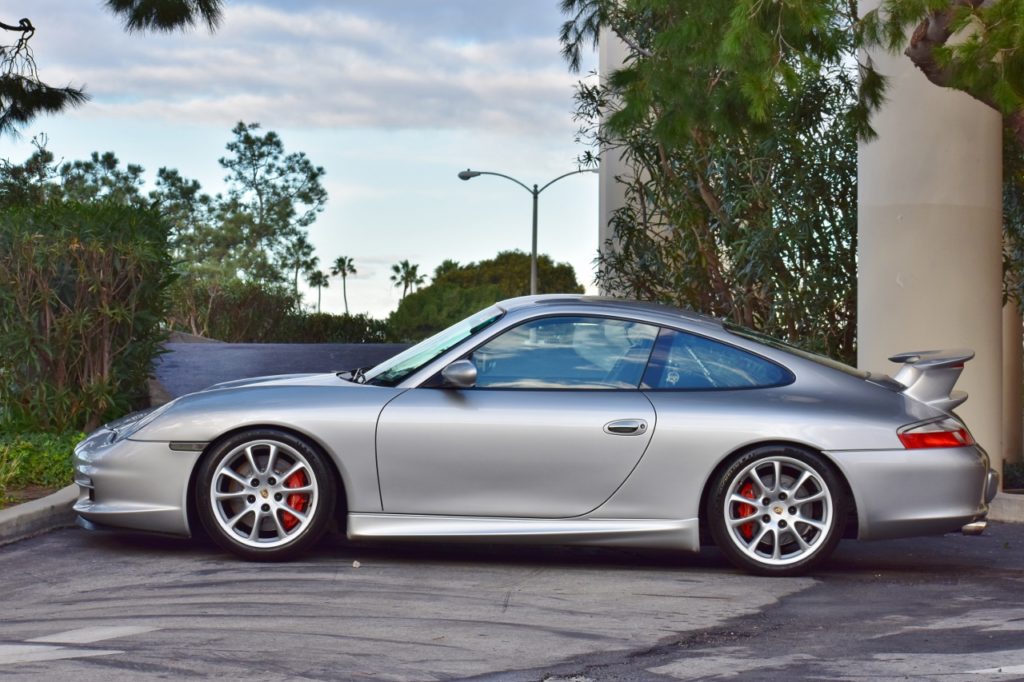 Sold – $61,000 (Plus Fees)
When the GT3 was released to American markets, it effectively silenced the multitudes that bemoaned the transition to the 996 generation. Complaints about the lack of robust, purposeful engineering that standard Carrera models received could not be said about the track-focused, race-ready GT3 variant as its entire drivetrain was effectively an air-cooled evolutionary special. In the past, basic Carrera models lacked truly-dedicated track components, and Porsche realistically offered no middle ground between the standard Carrera and an exclusive GT2 since the RS was not available in America. However, with the 996.2, the opportunity finally arose, and the GT3 was brought to market supplanting customer's needs to use aftermarket parts to get their 911s competitive on U.S. circuits.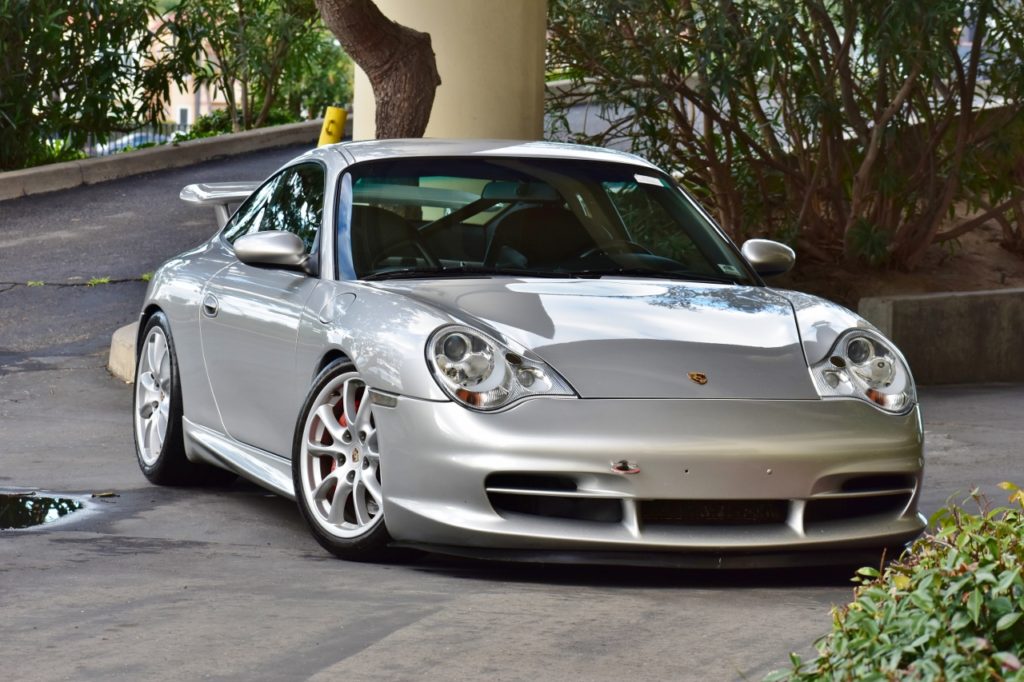 To enhance the 996 to near-racecar levels, the GT3 came locked and stocked with track-day essentials and anything else was optional or put on the wayside. Sound deadening material was stripped from nearly every corner of the car, the rear seats were popped out, as were the speakers, the sunroof, and the air conditioning and radio were only included at the owner's request. In return, Porsche provided a wind-tunnel tested fixed aerodynamics package sporting a large rear wing, aggressive front spoiler, and low side skirts. The motor was a Mezger unit, with dry-sump lubrication but was now utilizing water-cooled heads and cylinder jackets – effectively making it similar to a 959 and 962. The gearbox, also taken from the air-cooled era, was touted to use interchangeable gear ratios and was strengthened for track use. Moreover, arriving today on our auction block is a 2004 model year GT3 ready to tackle any raceway around the U.S.A.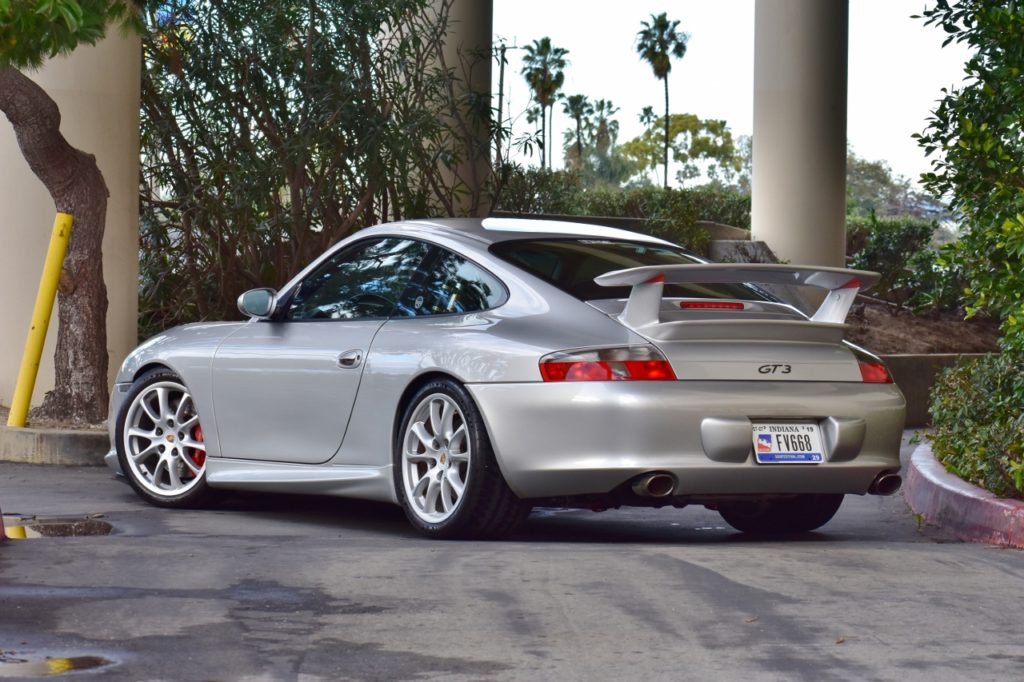 Painted in the pure, crisp color of Arctic Silver Metallic (an $825 option) the color is in excellent condition but has numerous stone chips front bumper and a scratch on the front fender. The paint is original throughout the whole 911, but the hood was taken from another GT3 in the same color after a garage door accident damaged the original in 2013. Attached below the front spoiler is a plastic aftermarket splitter designed to generate further downforce over the front axle. Although hopefully unnecessary, also installed on the front bumper is a Rennline removable metal tow hook. The factory Litronic headlight pods, updated in the 996.2 generation) have been polished and re-sealed to remove any fading due to sun exposure.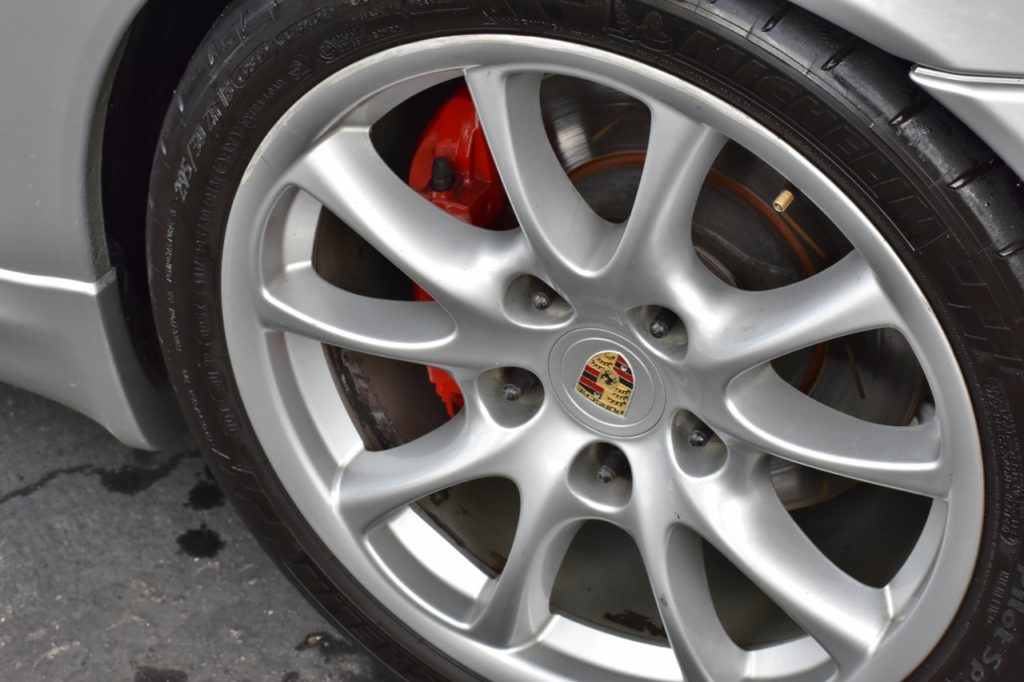 Fluent in what it takes to make a competent race car, Porsche themselves fitted the GT3 with all the right chassis modifications from the start. As shown on our example for sale, 18" GT3 specific ten-spoke lightweight wheels came standard and center caps with colored Porsche crests were elected as an optional extra. Our example's wheels have been slightly modified with studs and lug nuts as well as a new set of super-sticky Michelin Pilot Sport Cup 2 tires installed in June of 2018. From the factory, the GT3 had a retuned suspension arrangement that has been dramatically enhanced under previous ownership. From renown Porsche aftermarket specialist RSS, the following modifications were made: front toe links, rear toe links (with bump adjustment), front and rear thrust arm bushings, rear upper control arms, eccentric lockouts, and solid front and rear control arm bushings. Additionally, Moton 2-way adjustable remote reservoir shock absorbers were connected alongside weight-specialized front springs (550 lbs) and rear springs (700 lbs).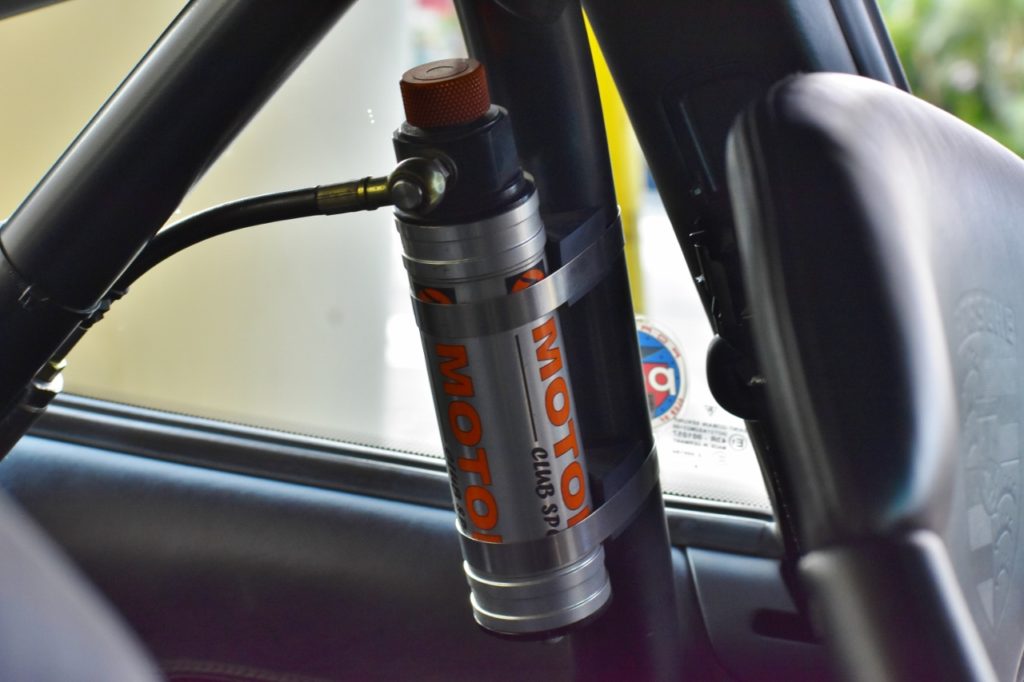 A considerable upgrade for the second generation of 996 GT3, Porsche improved the front 4-piston brakes by replacing them with 6-piston units. Our auction has undergone further improvements via the installation of Essex/AP Racing two-piece full-floating brake discs to eliminate brake pedal kickback under high-temperature performance conditions. Stainless steel brake lines with high-boiling point brake fluid were installed during this conversion along with PFC 08 brake pads.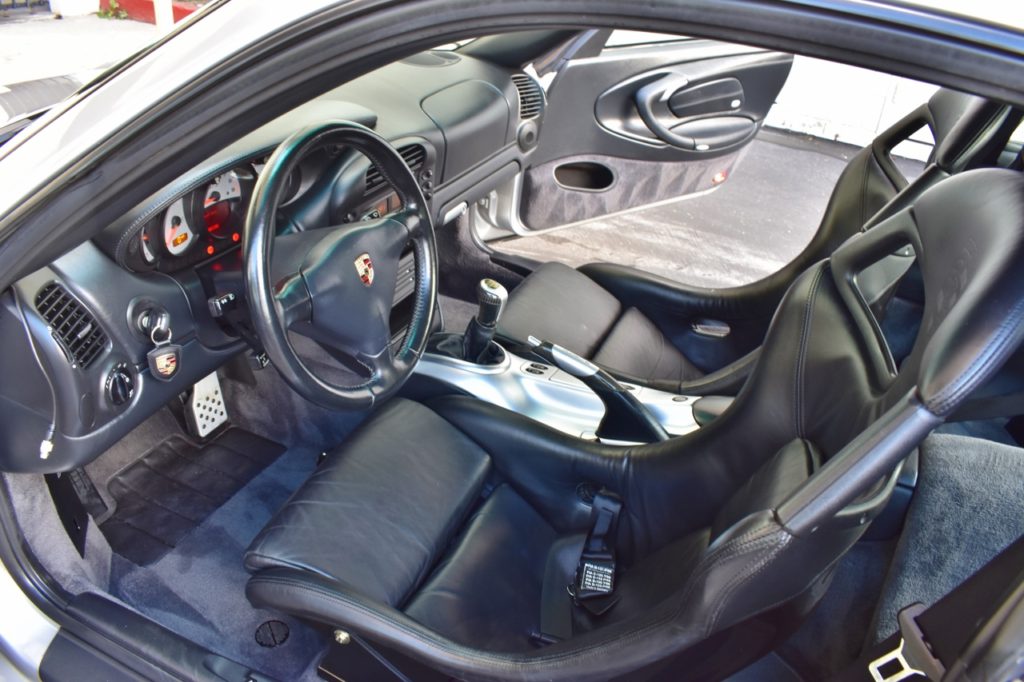 Optioned from the factory was a grey natural leather interior with matching carpeting. However, the original grey leather electric sports seats have been replaced by lightweight European GT3 Clubsport fixed-back racing seats in black leather with headrest embossed Porsche crests. A stitched black leather dashboard and stitched black leather door panels nicely upscale the interior trim along with a black microfiber headliner. The original factory radio and sound system are still installed, along with a CD holder and item tray in the center stack. Other factory options that improve cabin life are cruise control, a thicker black leather steering wheel with colored Porsche crest, and automatic climate control. The air conditioning system was recharged during the replacement of the original condenser in 2017 and blows cold.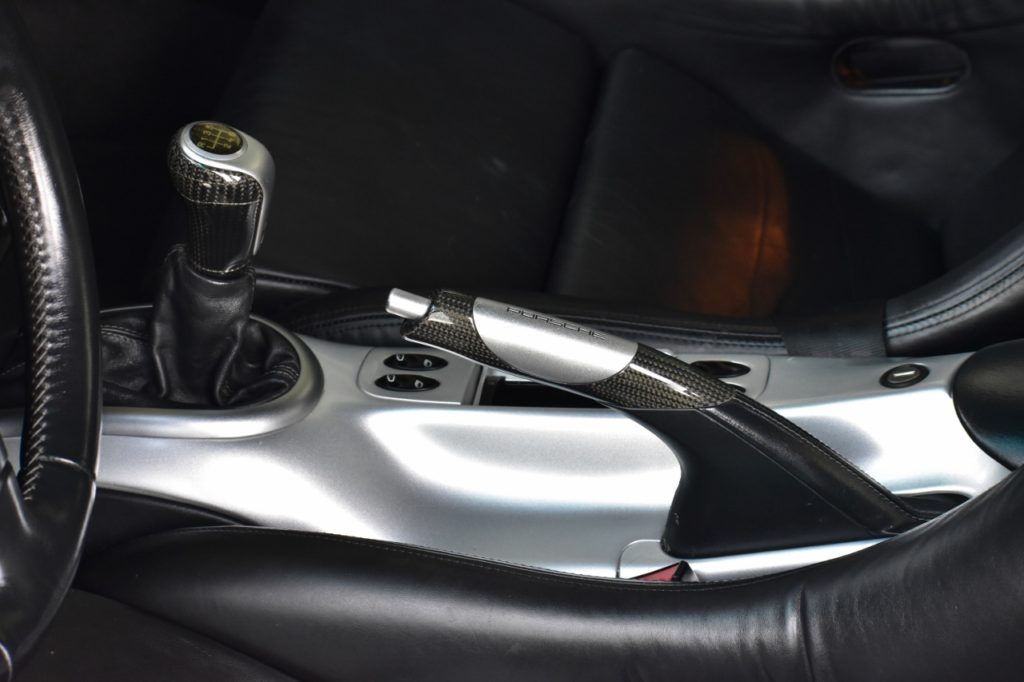 To further complement the Arctic Silver exterior, the center console has been color-matched to the outside paint, and the instrument gauges feature aluminum faces. Hand controls (shift knob and hand brake) were also dressed up with a mixture of carbon fiber and aluminum pieces that respectively bear a colored crest and an engraved moniker. An aftermarket aluminum accelerator pedal with rubber grip points was fitted overtop of the original plastic fixture. For track use, Schroth five-point racing harnesses are equipped and connected to the half-roll cage bolted into the rear of the car.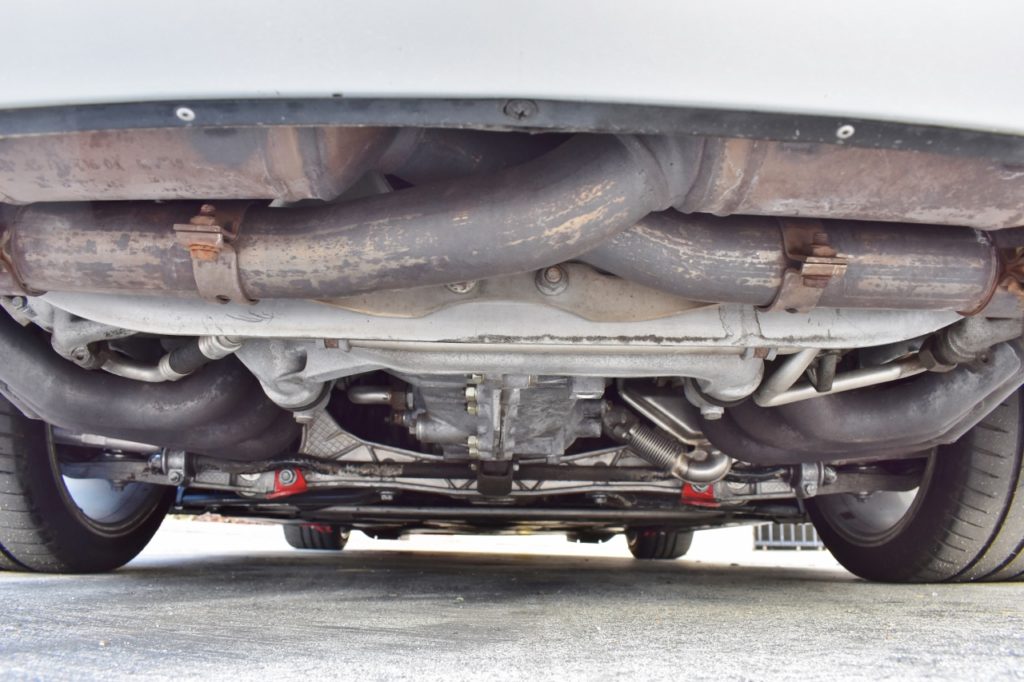 The most apparent accessory to the GT3's fame is the use of a Mezger-derived 3.6-liter flat-six with water-cooled heads and sleeves in the now entirely water-cooled generation. Naturally aspirated, by the second generation of 996, the GT3 was putting out 381-horsepower and 284 lb-ft of torque to the rear wheels through its 6-speed manual transaxle with a factory -provided limited slip differential. Our example has had its motor rebuilt about 3,000 miles ago by a performance shop in South Carolina. During the reconstruction, the cooling pipes were pinned, Torque Solutions semi-solid engine and transmission mounts were installed, and a Fabspeed muffler delete was put in place. In 2017, the clutch master and slave cylinder and more recently an old fuel sending unit were replaced. After the rebuild, the GT3 was placed on a dyno, and the reporting data indicates 346-horsepower and 260 lb-ft of torque is making it to the wheels.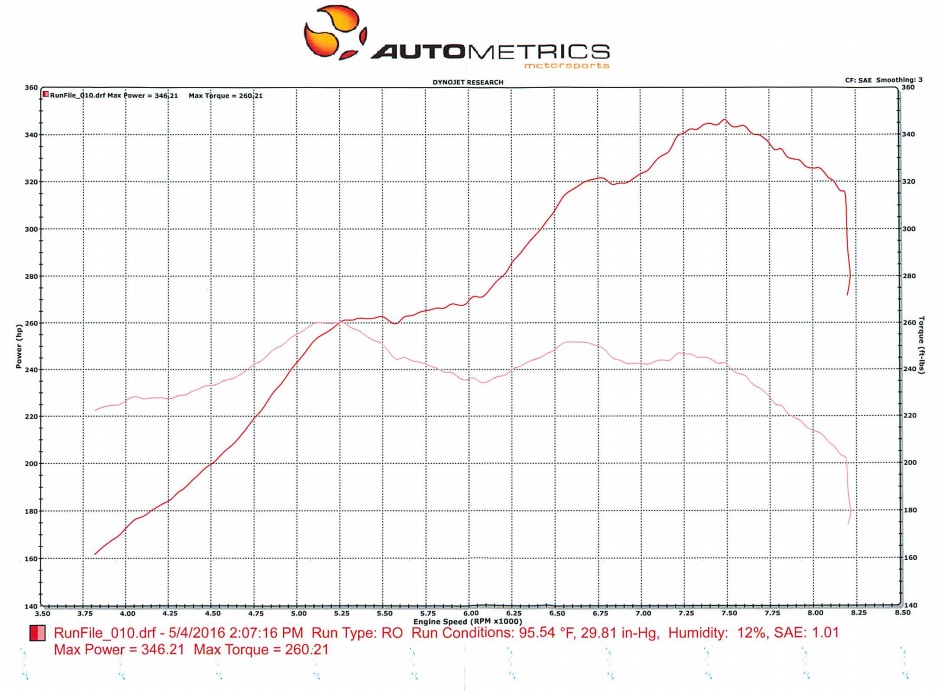 On sale now, this is a GT3 that is smartly track prepped yet still comfortable enough to be a street-legal daily driver. DME tests report no over-revs in range 2, and currently, 98,000 miles are showing on the odometer. Over 60 pages of detailed service records exist and will be provided in the sale along with the original factory manuals and books in their leatherbound portfolio. The original electric sports seats with exterior paint matching hardbacks are included with the transaction. A detailed Carfax report shows no history of accidents or damages in any of the states it has been a resident of (Indiana, Pennsylvania, New Jersey, North Carolina, and California). A clean Indiana title is provided with the sale.