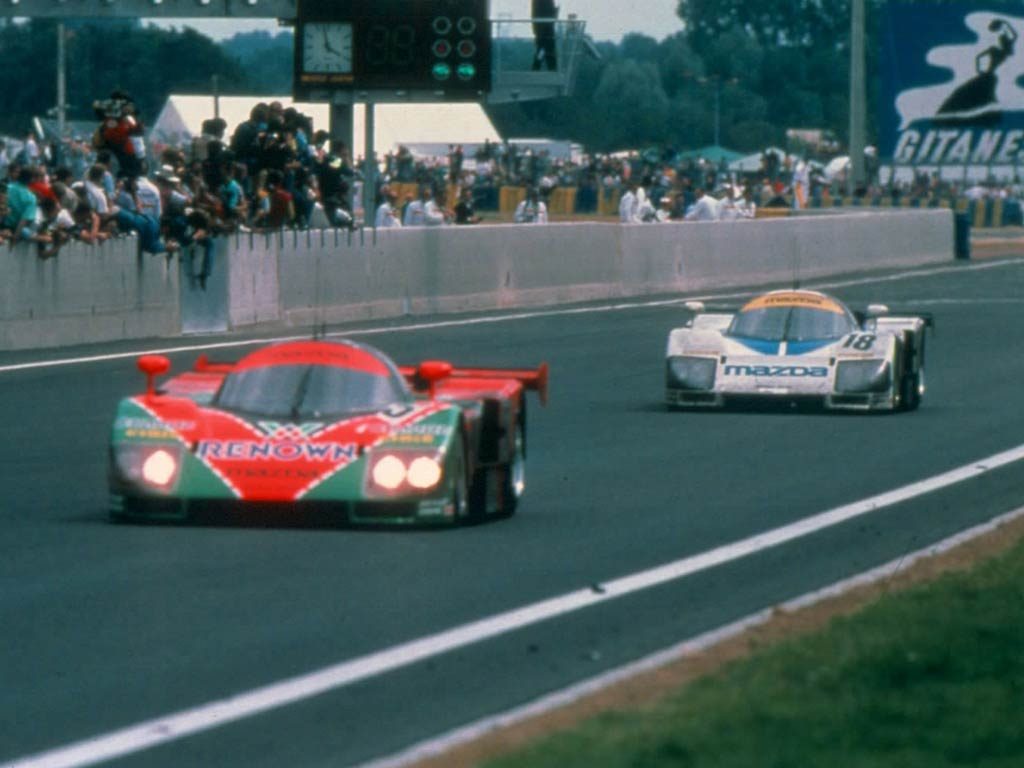 Mazda's factory-supported racing effort success over the years in the 1980s were spotty, as they struggled in competition because of their rotary powerplants. During this time, a distinguishing trait for most of their racing cars was the blue and white liveries that adorned them, now a hallmark of Mazda's performance brand, Mazdaspeed. It is ironic then that their most famous racing car would not be wearing those colors when it won the most famous endurance race of all, the 24 hours of Le Mans.

Continuing Mazda's efforts in the World Sportscar Championship (WSC) and Japanese Sports Prototype Championship (JSPC), a total of five 787's (B model included) would be constructed from 1990 to 1991. The 787 was brought forth into the world as a direct descendant of the 767B, Mazda's premier racing effort in the 1988 and 1989 seasons. Nigel Stroud was the lead engineer behind its creation and brought over many of the mechanical elements from the 767B to the new 787. Aside from its Le Mans victory the 787 would become the last Wankel rotary engine ever used in a top-level World or Japanese race car championship and would be the largest differentiating factor between the two vehicles.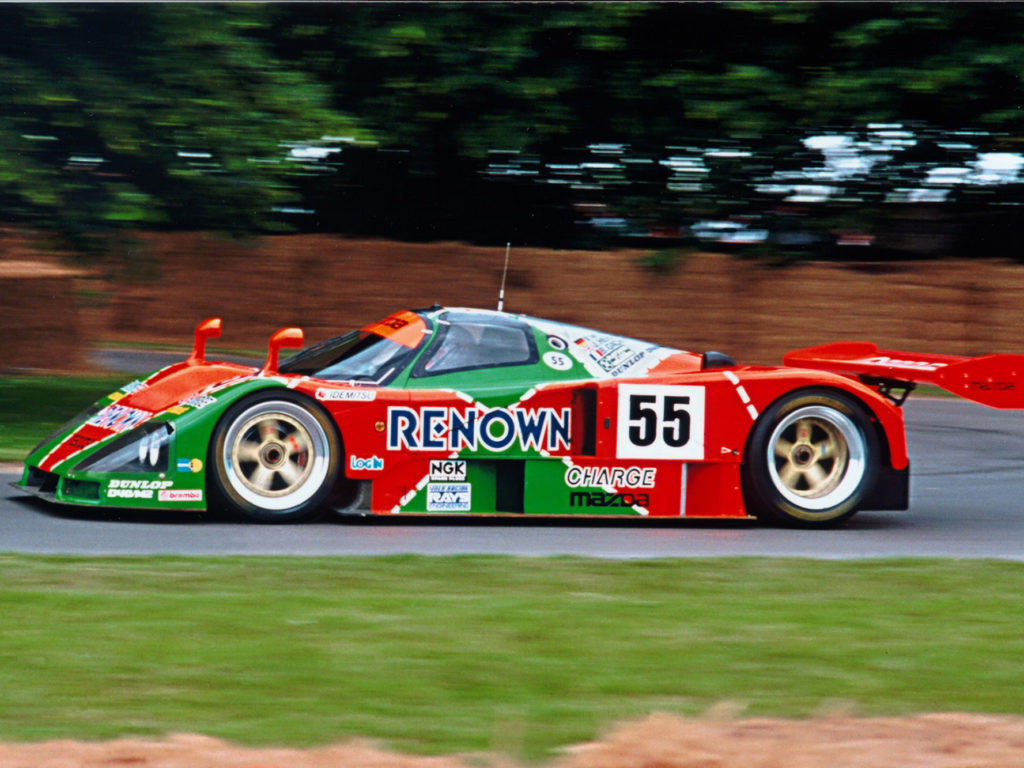 Mazda's R26B was their newest engine design and sported continuously variable intake trumpets, rather than the previous R20B's telescoping design found in the 767. Another advancement was the addition of a third spark plug into the rotary chamber. These changes provided the four-rotor motor to pump out 700 horsepower to the rear wheels when at 9,000 RPM. An astonishing figure for sure, but the real reason for the car's success was from keeping the bodyweight low.

Advanced Composite Technology created a very light carbon/Kevlar body, from Stroud's design, in England and that was then sent to Japan to be fitted to the car. When all was done the car weighed in at 830 kg (1,830 lbs), which was 170 kg (~400 lbs) less than their rivals cars. To keep this advantage, Mazda, recruited racing legend Jacky Ickx to prepare the cars for racing. With Ickx on their side, this gave Mazda an influential insider on their team who would later petition the FIA, on their behalf, to allow their 830 kg weight to stay for racing trim.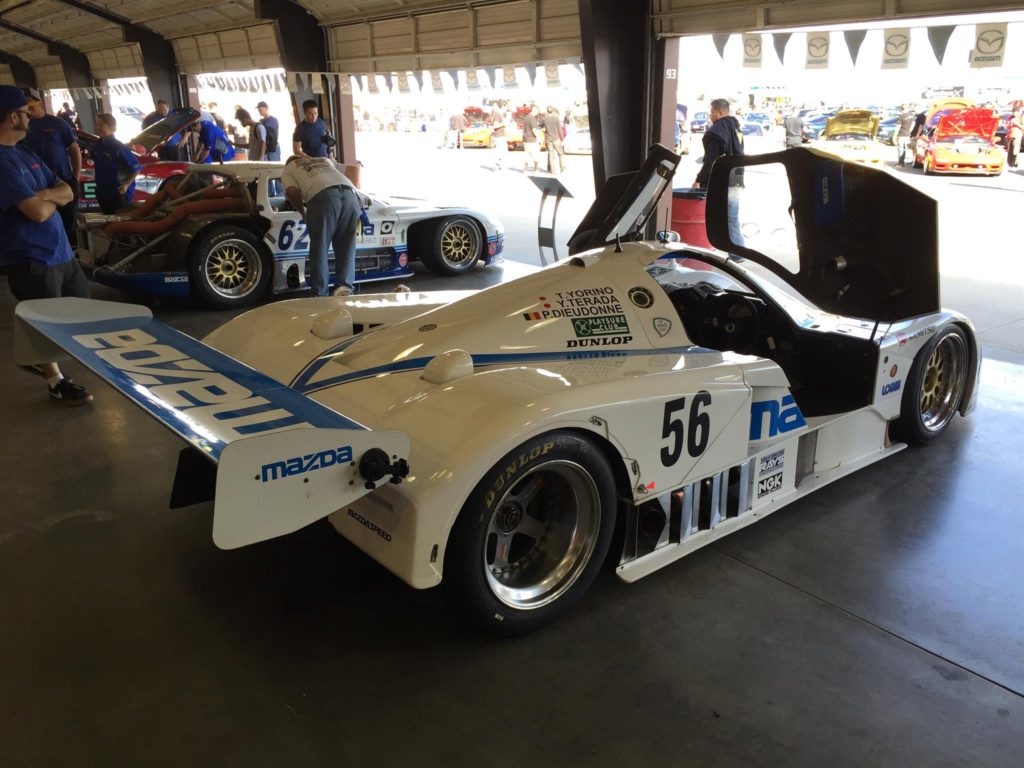 Mazda debuted their 787 in April of 1990 in the Japanese Sports Prototype Championship (JSPC); the car would not finish its first race due to mechanical issues. Undeterred, and with the car's first Le Mans appearance fast approaching, Mazda did not linger on that defeat and soon finished construction on the second 787 and began testing in Europe. With Ickx preparing Mazda's cars, two 787 and a 767B, the FIA allowed their weight advantage to go undisturbed.
Their first Le Mans was short-lived though when both 787  suffered from mechanical failures and were forced to retire. As an added, humiliating, touch the 767B was the only car to finish the race (in 20th place) and Mazda immediately retired it from racing. The remaining races of the season proved even more troublesome for the 787.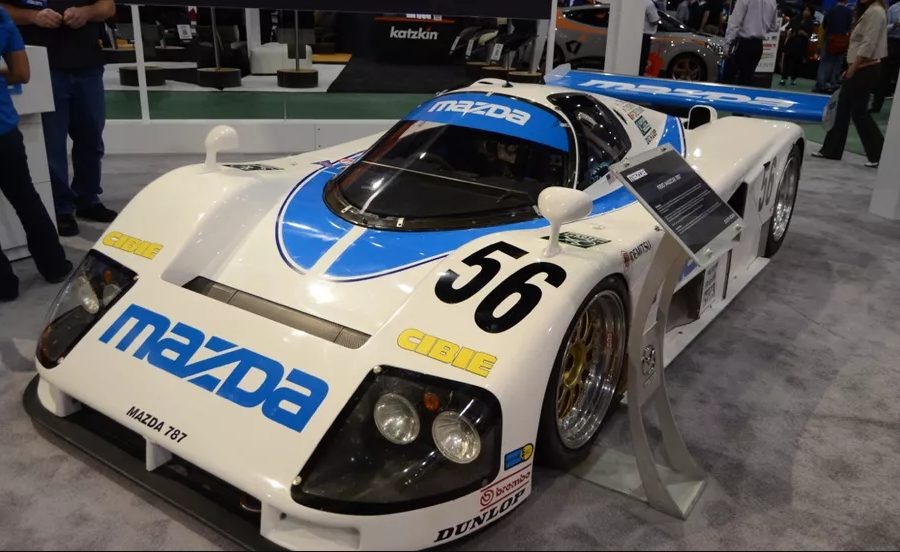 Rampant mechanical failures forced retirement in several races and a fuel cell that was too large led to the disqualification of the highest finish they managed to obtain. Finally, at Fuji, they would achieve a respectable finish by completing the race in 7th place. Unfortunately, it ended just after a 767B that had been brought in solely for that race as another entry – Mazda was displeased.

By 1991, Mazda knew that this was their last year to see success with the 787 and the rotary. The FIA had announced that next year, 1992, all top-level cars would need to field a 3500 cc engine, which would officially disqualify their 2600 cc quad-rotor. So, Mazda set to work on the 787B, which would have uprated power and substantial revisions to the aerodynamics and chassis. They were hopeful this was their year because it was all or nothing now.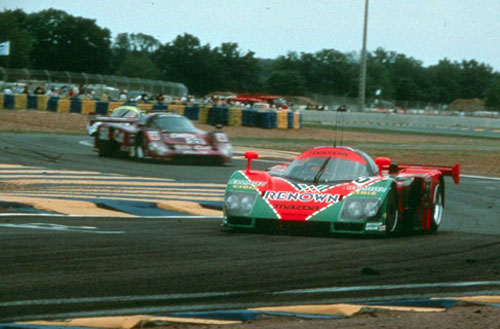 The season began and, unfortunately, progressed no better for the 787 squads than in 1990. With the B variant still being finalized, Mazda had to continue to field the 787. Now a year older it was even less competitive and suffered similar mechanical problems as in the previous season. Ultimately the rest of the seasons, WSC and JSPC, would go on to be rather unspectacular for the 787B, which lacked in pace during the short races. However, Mazda did do something in 1991 that no other Japanese manufacturer had done before, they won Le Mans outright.

Focused and driven from last year they showed up with three cars, a 787 and two new 787B. The 787 and one 787B were painted in Mazda's traditional blue and white livery. While the second B was painted in a vibrant green and orange scheme derived from their primary sponsor, clothing company Renown. Qualifying made it painfully visible to Mazda that their improvements had not been enough as each of their cars were far behind their competitors. However, they had tactics.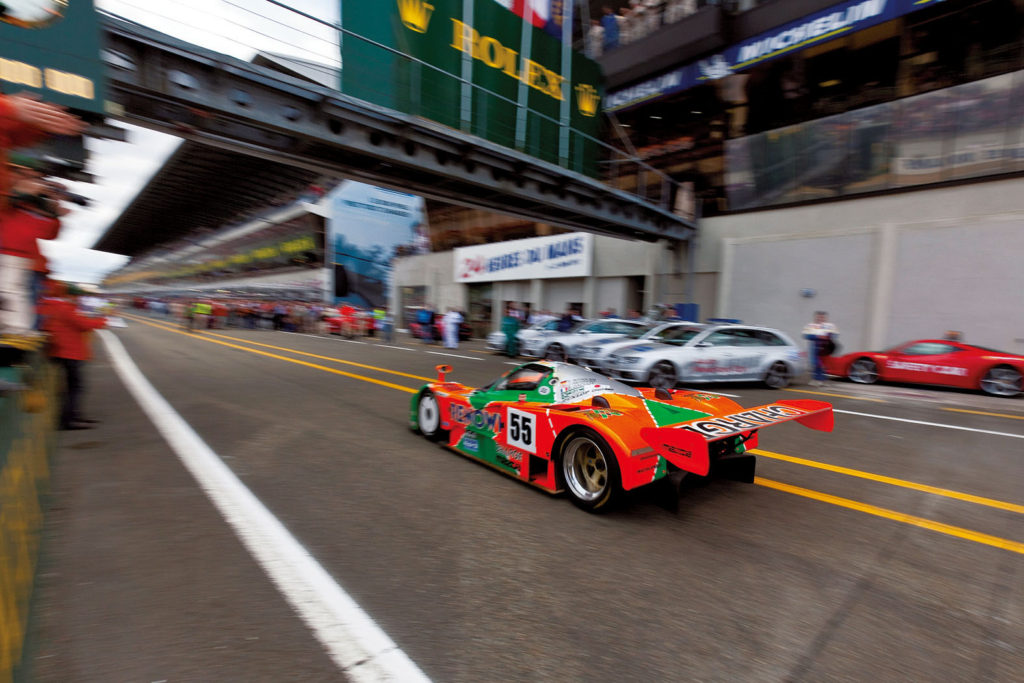 From their testing, they knew that they had superior weight and fuel economy compared to the top runners: Mercedes and Peugeot. After the race began the Peugeots proved the fastest, but soon departed the race early from mechanical issues. Now all that was left were Mercedes' three C11 cars. The green and orange 787B (#55), set sprint race-level laps to catch up to Mercedes, who was seated in first through the third position. Although slower than the C11 their fuel strategy and reliability proved to be spot on and the 787 began taking a toll on the C11's lead.

Soon LeSarthe itself began to wear on Mercedes as one car suffered a gearbox issue and another became damaged. Then, finally, in the last few hours of the race, a mechanical problem resulted in the 1st place C11 to be taken to the pits. Mazda settled into 1st place and after setting a new lap and distance record (362 laps and 4932.2 km) they found themselves where no other Japanese manufacturer ever had been, on top of Le Man's podium.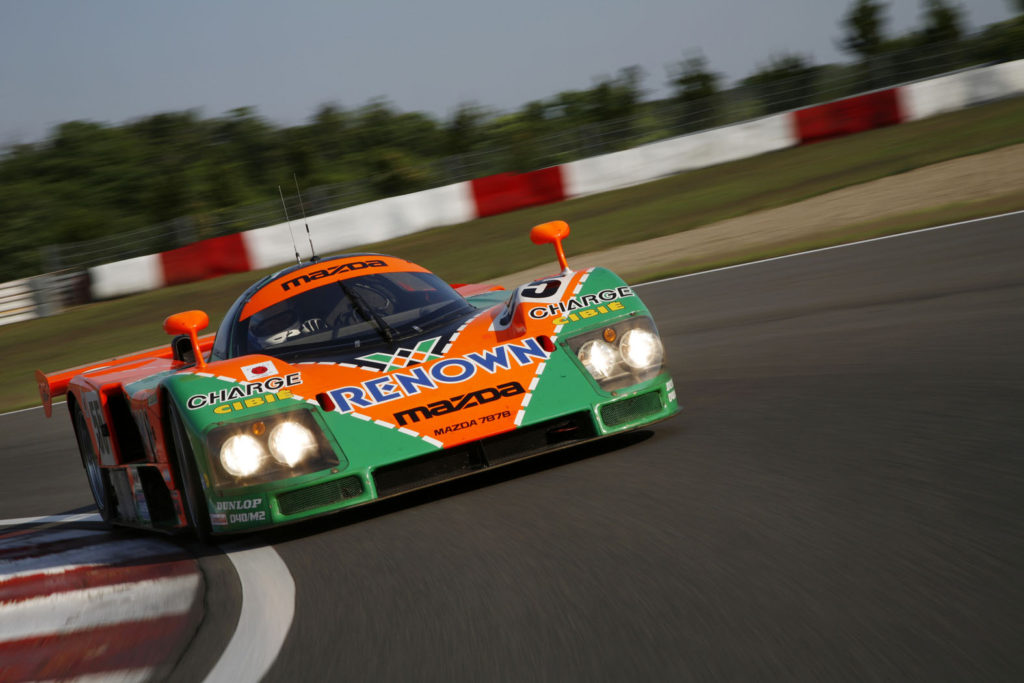 Mazda's victory at Le Mans has cemented the #55 787B into Japanese racing history and is probably the most recognized Japanese racing car ever. Although the 787's over-around performance in competitions was far less than spectacular, their historic win at Le Mans vastly overshadows the troubled past. Just one listen to that quad-rotary engine at full chat will quickly remind you of how unique a car it is, and how unfortunate it is that there are no more rotary-powered cars in top-level racing.

Christopher Fussner is the Editor-in-Chief here at WOB Cars and MotoringHistory.com. He writes at his home in Los Angeles, manages a car collection, has a genuine passion for cars and racing, a love of Star Wars, and his favorite dinosaur is Carnotaurus. Did we just become best friends?