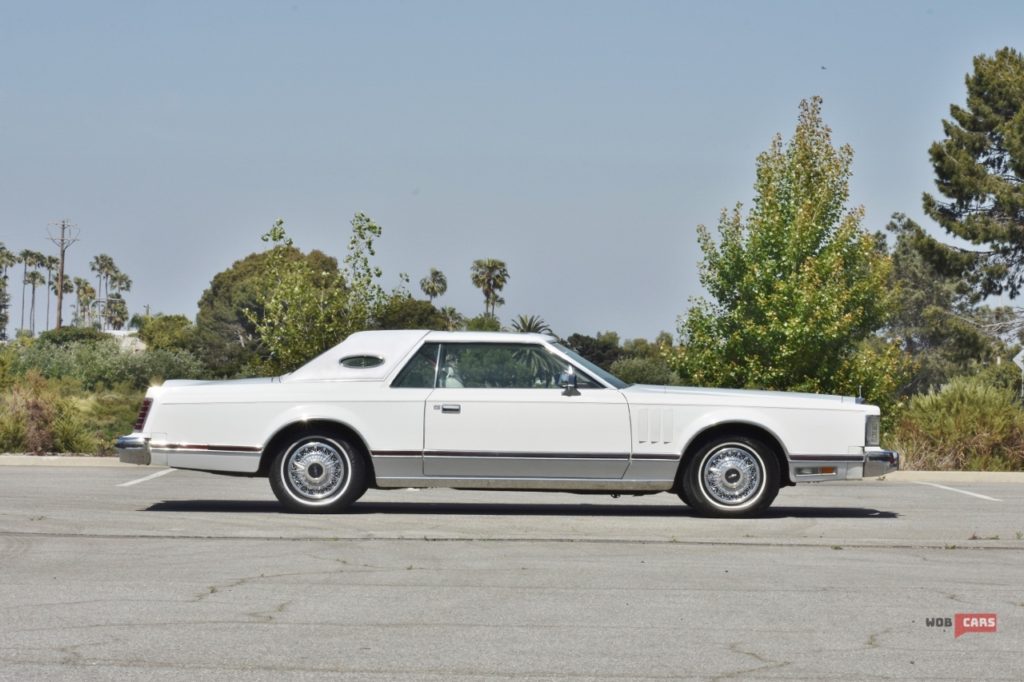 Sold – $9,500 (plus fees)
As muscle and sports car performance suffered due to emission restrictions and styling languished under the weight of new safety mandates during the seventies, one genre of cars flourished – luxury vehicles. Unlike performance cars with excessively fast and powerful motors, which were now struggling to remain relevant, high-end sedans and coupes designed to provide quiet comfort and lavish interiors to passengers went unaffected. Plus their extended wheelbases afforded ample areas to refine the instituted body safety features beautifully. As such, their historically opulent and elegant demeanor went somewhat unobstructed throughout this Malaise period.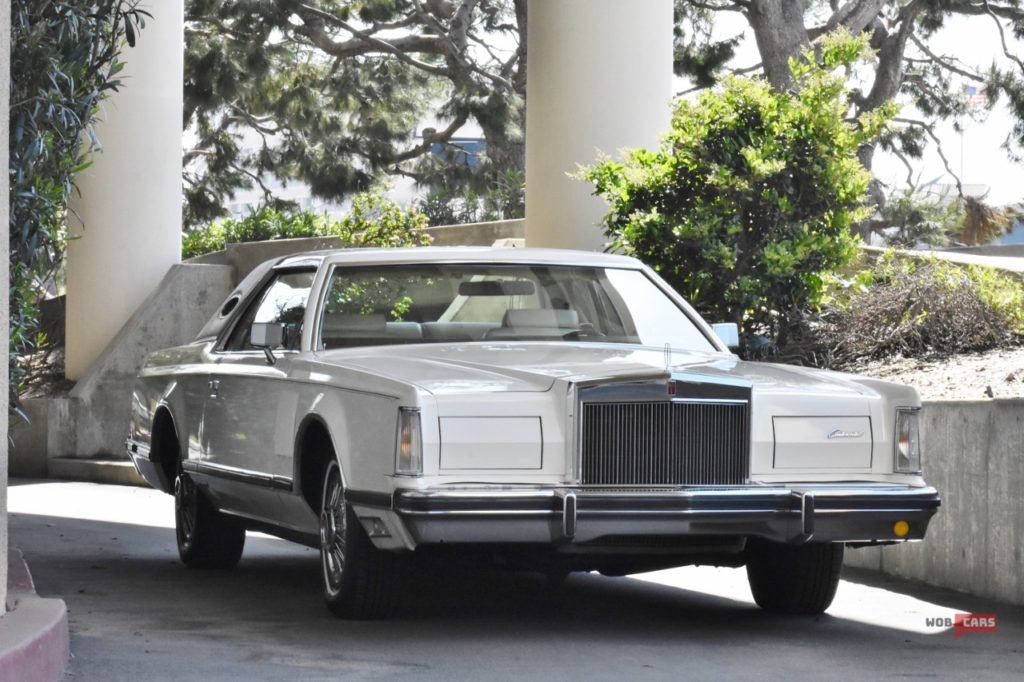 The fifth generation Continental began production at the start of the 1970s and subsequently continued in this form for nine years. Throughout this run, it utilized a body-on-frame chassis construction, was given four-wheel disc brakes, and at 19-feet it became the longest car Ford Motor Company has ever produced. We have the privilege of selling a final year example of the Continental Mk.V on auction today, and it was initially owned by none other than Bozo the Clown performer himself, Larry Harmon.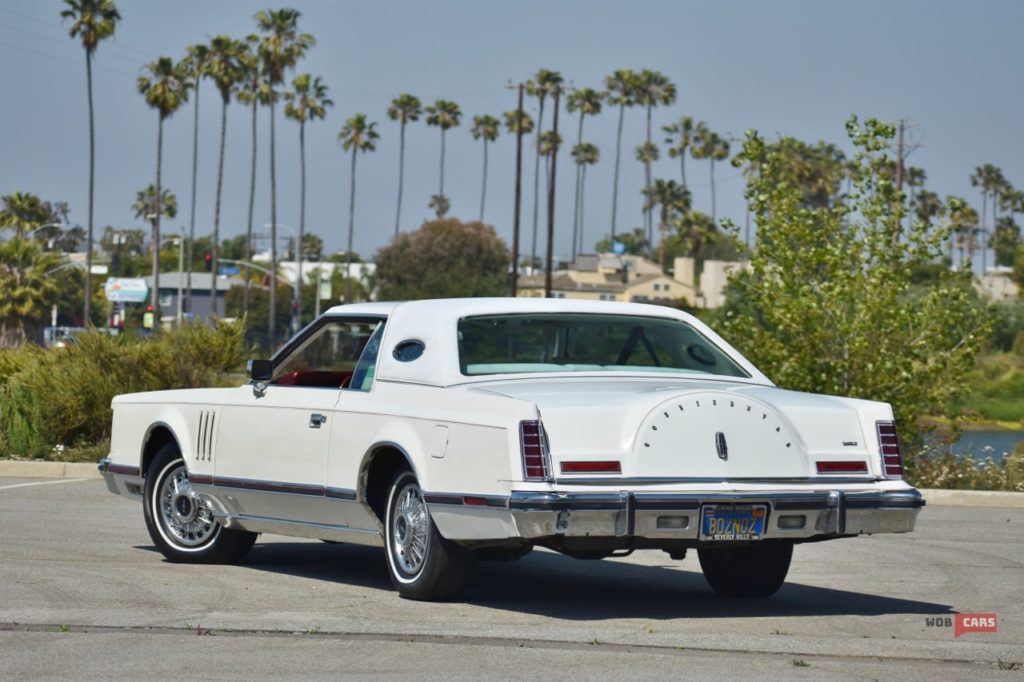 Outside, the Continental has a commanding, monolithic presence due to its massive length and width. The coupe's exterior still wears its factory-original White (9D) paint below a re-dyed white vinyl Landau roof with opera windows. Given the Lincoln's age and usage, its paint's finish has been marred by touch-up points, chips, and the vinyl top has tracts of cracking. Complimenting the vivid white exterior are red and gold pinstripes, red body trim pieces, and chrome brightwork.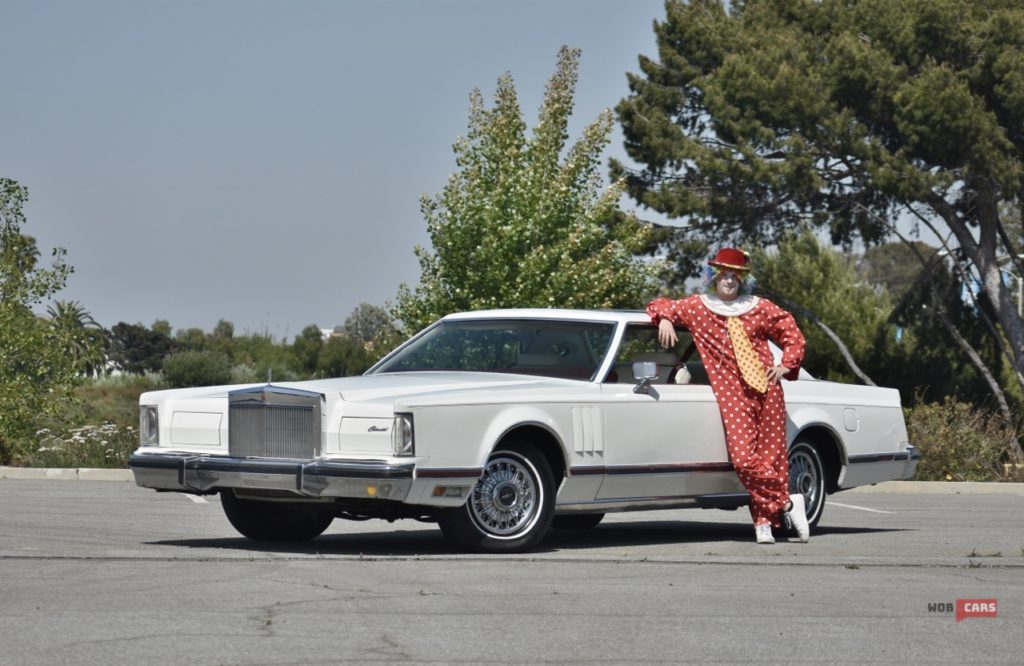 Coil springs at all four corners coupled to 15" steel wheels adorned with imitation wire-spoke wheel covers infuse a supple ride with high-class style. White wall tires are currently fitted to the wheels, and our owner denotes wear marks on the inside of the rear pair. The vacuum-operated hideaway headlights function as expected, as does the power sunroof. Lastly, a small patch of rust has formed on the inside of the driver's door.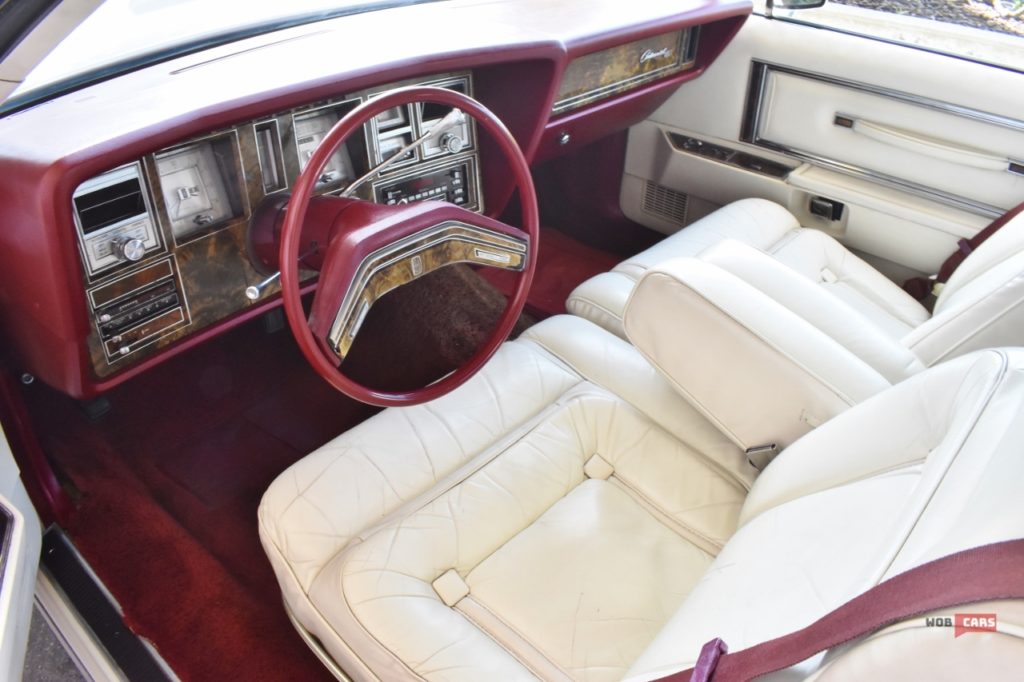 Comparable to an exclusive private suite, the Lincoln's interior accouterments are enough to astound the most snobbish of the aristocracy. Large, plush seats in the front and rear are swathed in white leather upholstery for support and sophistication. Some cracking and a split within the side bolster is evident on the seats and present on both door panels. Offsetting the bright white leather on the seats and door panels is dark red carpeting.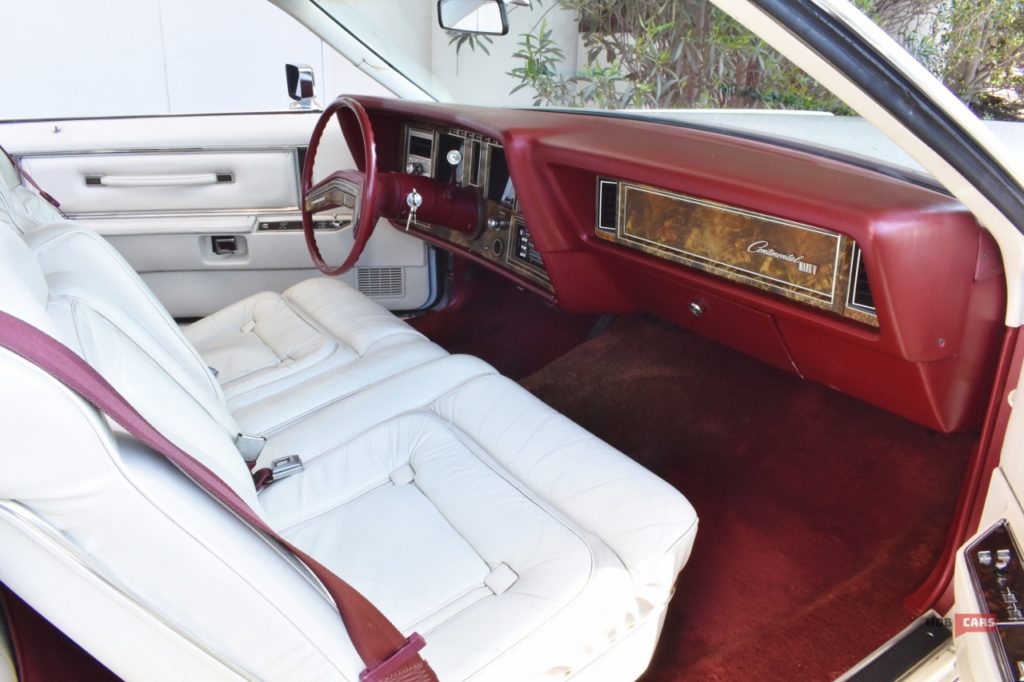 To match the carpeting, the dashboard is covered in dark red plastic that is without fractures. Wood veneers are attached to the fascia and steering wheel center that houses the Lincoln emblem and cruise control buttons. Embedded within the paneling are an 85-mph speedometer, a Cartier clock, digital fuel gauge, digital fuel mileage remaining gauge, and gear indicator. Air conditioning controls and the AM/FM radio are placed below the gauges and are easily within hands reach.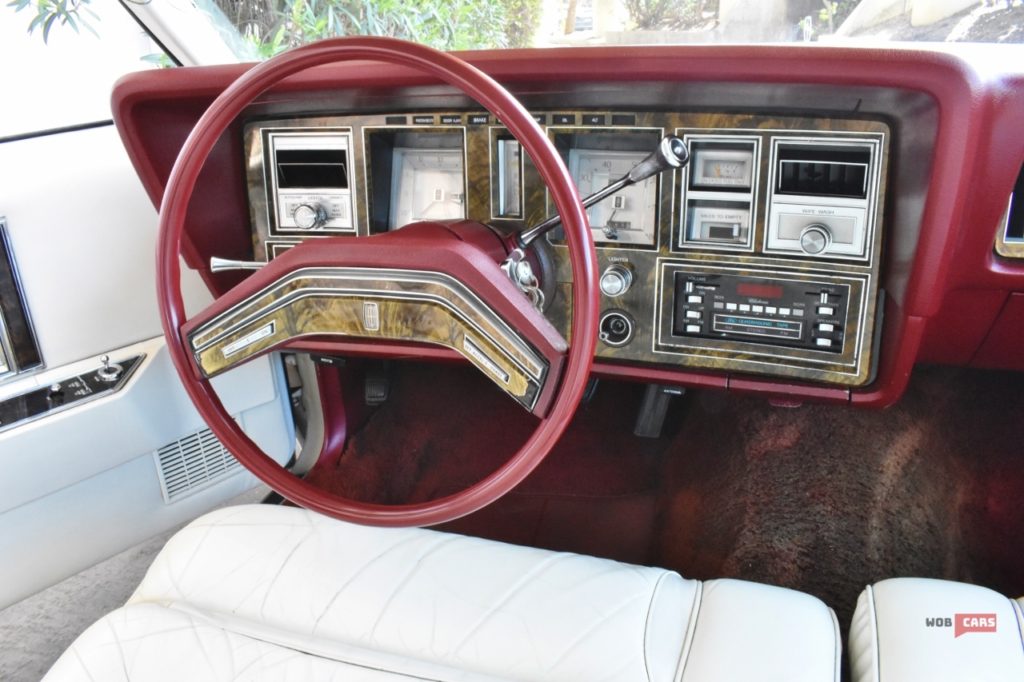 During the final year of the Mk.V Continental, Ford elected to offer only one engine – a 400ci V8. While bulky, power-sapping emissions equipment had rendered performance cars impotent, in the land of luxury, this smooth operating V8 producing 159-horsepower and 315 lb-ft of torque was nothing short of majestic. Married to a gentle three-speed C6 automatic transmission, the Lincoln was lauded for its leisurely pace. In preparation for this sale, the rear brake hoses were replaced as was the passenger window motor.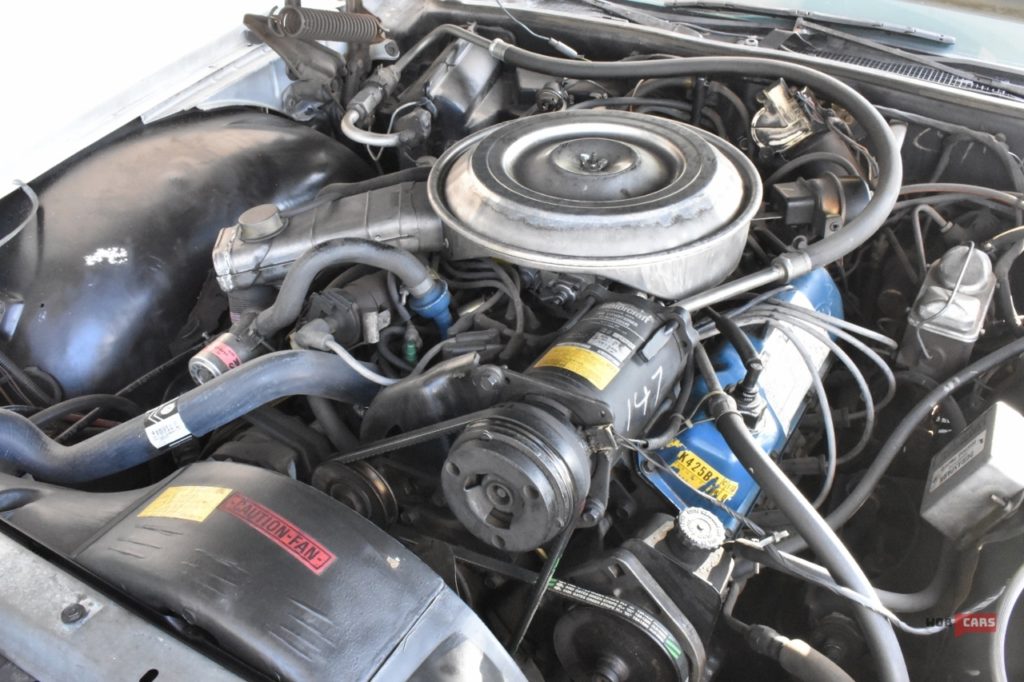 A one owner car, in 2008, when Larry Harmon passed away, he bequeathed this Continental to his long-time mechanic and friend, who is the current seller. A small assortment of memorabilia associated with Harmon's production company and Bozo the Clown accompany the sale. Attached to the car are Harmon's vanity plates (Boznoz) and a clean California title. During an era when automotive companies worldwide struggled to supply American customers with captivating sports cars, high-class luxury vehicles never lost their footing. Even by today's standards of excellence, these land yachts effortlessly float over road troubles and feel as prestigious as ever.
The Bozo car is on the auction here!