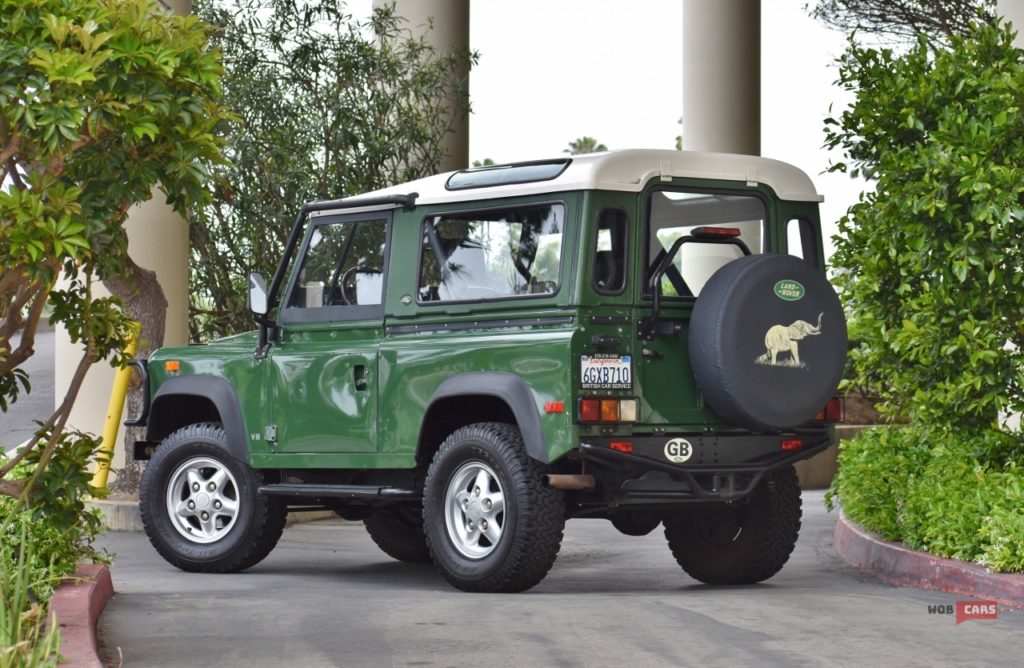 Sold – $45,250 (plus fees)
Exceedingly capable and confidence inspiring across rugged terrain, Land Rover's Defender series (formerly the 90 and 110) has long been held in extraordinary esteem by militaries and off-road enthusiasts across the globe. Chiefly praised are their high tolerances in durability among even the most inhospitable environments. In 1990, Land Rover christened the car as the Defender, and three years later it made its grand debut in America premiering as their first purposefully utilitarian product. One year later, the smaller Defender 90 came to shore endorsing itself an upscale alternative to Jeep's offerings.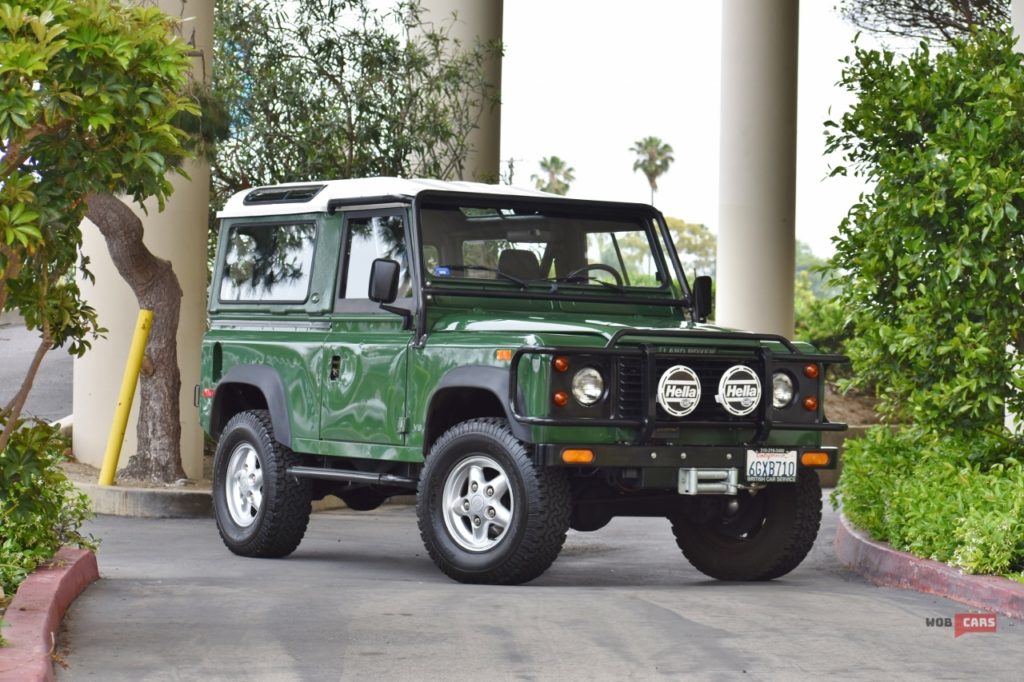 Nevertheless, sales were somewhat stagnant and quickly proved to be a financially irresponsible blunder causing Land Rover to discontinue the Defender lineup in North America's market by 1997 when faced with new safety mandates. However, with the ever-rising popularity of the Land Rover brand and public passion for off-roading, though, these scarce and exceptionally adept all-terrain vehicles have recently surged in price due to desirability. Going on our auction block today is a cherry example from 1994 with smart options, minor issues, and a lengthy list of professionally performed maintenance.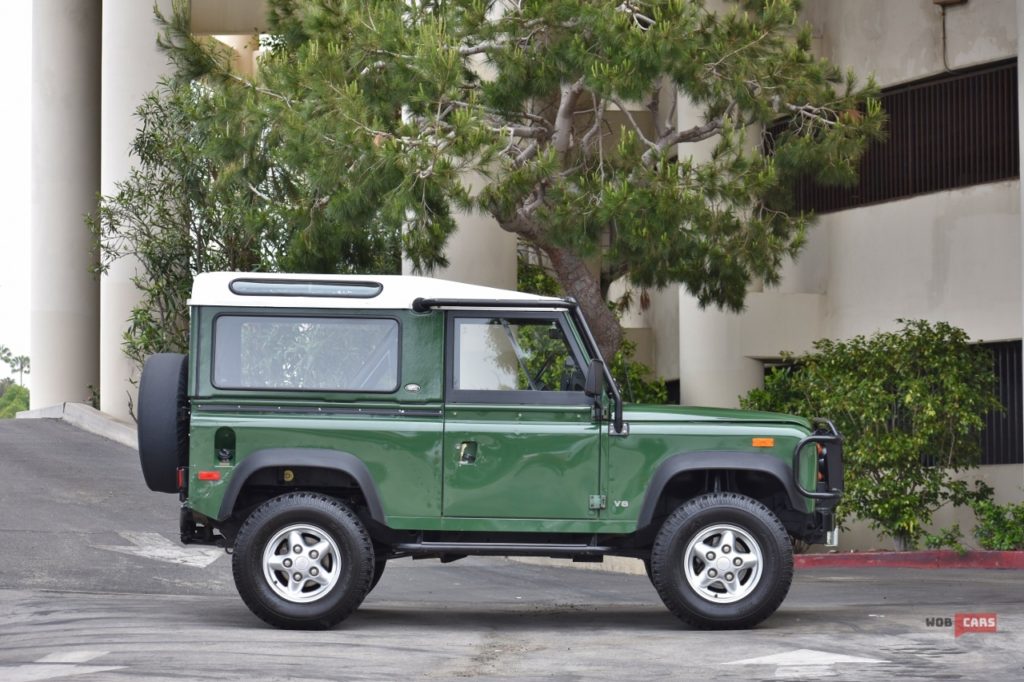 On the outside, the Defender's bulky, boxy body paneling is offset only by its generous glass greenhouse. The body is painted in its factory-applied Coniston Green with an OEM removable white fiberglass roof. It is to be noted, though, that while the top can be taken off, it has currently been sealed with silicone to act as a more permanent fixture. Overall the paint is in excellent condition with only minor chips on the body and roof covering. Aside from the chips, the passenger rear quarter panel suffers from a crease that was heat treated to remove most of the metal folding. Oxidization of the exposed screw heads is common on Defenders and present here. A spot of rust has developed on the lower inner corner of the driver's door due to a crack.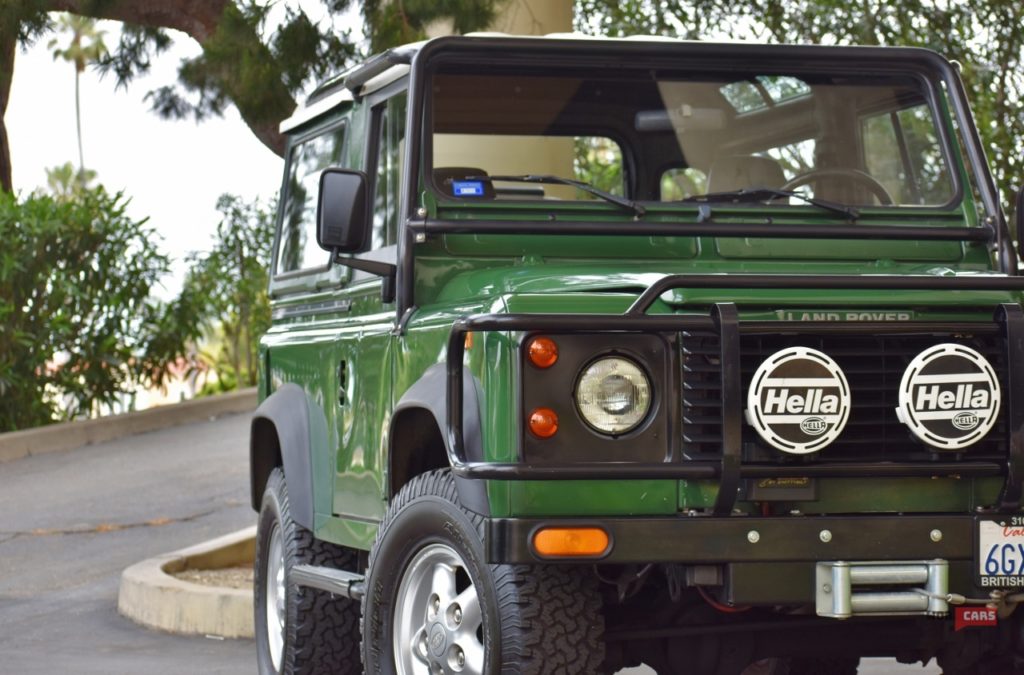 Attached to the front bumper is the standard matte black grille guard that has been upgraded with Hella driving lights. Also added was a WARN electric winch system with a handheld controller located inside the cabin. Mounted to the standard 16" five-spoke alloy wheels are BFGoodrich All-Terrain T/A tires. A Land Rover branded protective cover conceals a full-size spare wheel with a tire and is attached to the rear door. During an extensive service at 134,000 miles, the running board covers were reattached.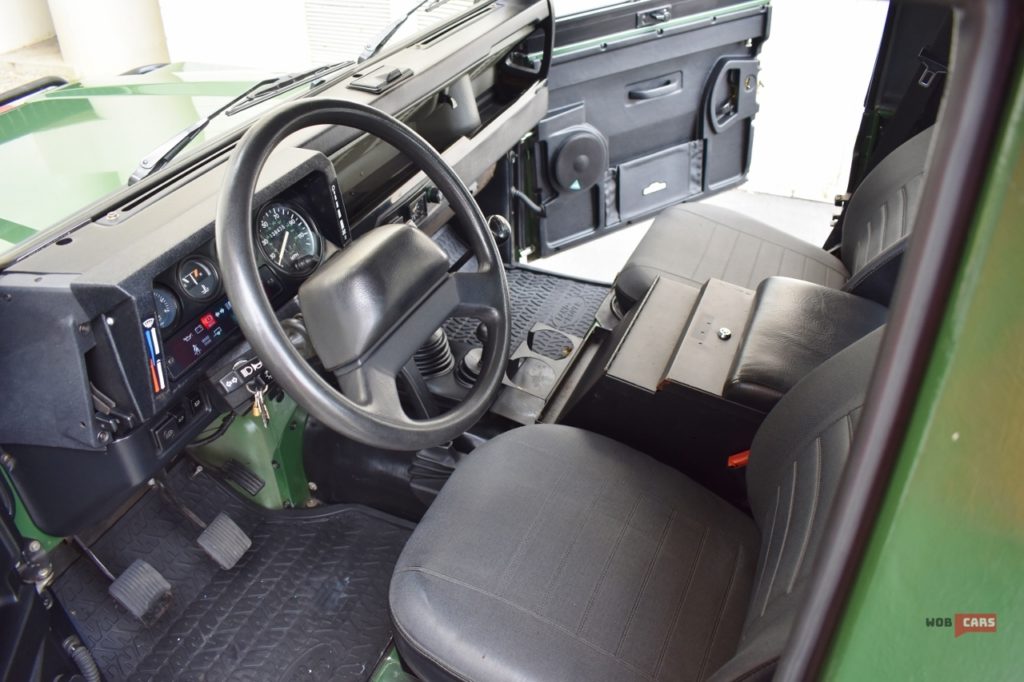 Austerity is the ideal adjective to use when describing the interior. The manually adjustable front seats and rear bench seat are covered in standard grey vinyl upholstery. During that 134k service, the seat recliner finishers and seat mount rods were replaced. Additionally, the seatbelt buckle stalks were supplanted by new units. Below, the floorboards are covered by treaded rubber floormats. Above the rear cabin are the exposed roll bars which are painted black.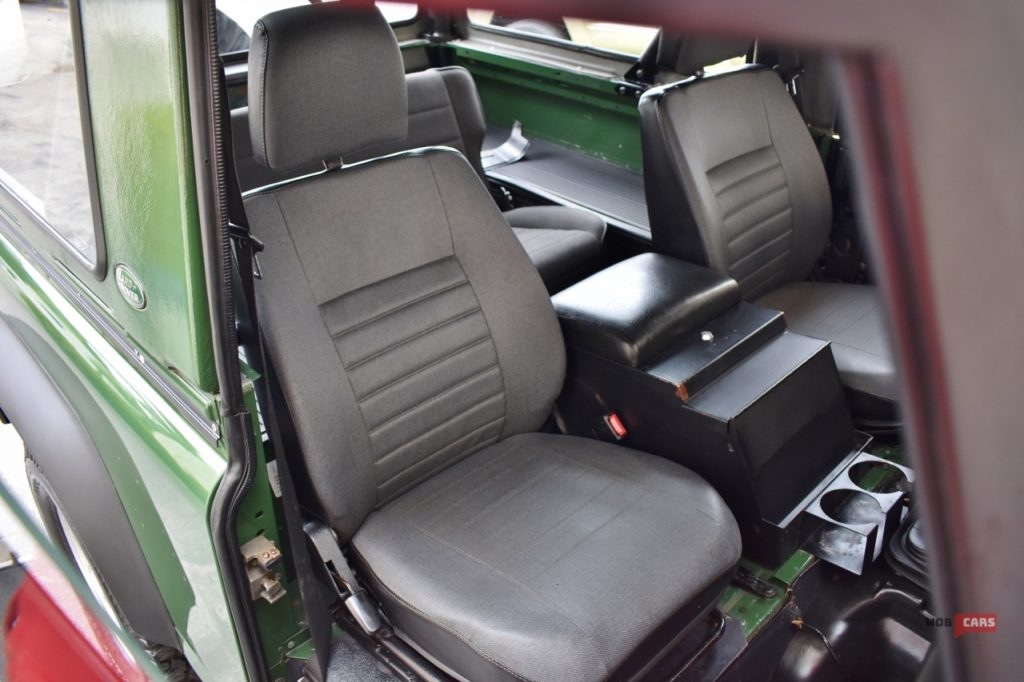 A black plastic dashboard with a new instrument cluster panel gives the driver an engine tachometer, coolant temperature, fuel level, and speedometer via four separate gauge dials. On the passenger side of the dashboard is an analog clock, and the factory-optional heater box can be found here. Black plastic door panels benefit from speakers and aftermarket Rover North map pockets. Connecting the speakers is an aftermarket radio, and a subwoofer has been fixed in the rear. Windows are opened and closed by sliding panels, and air conditioning was not optioned on our example.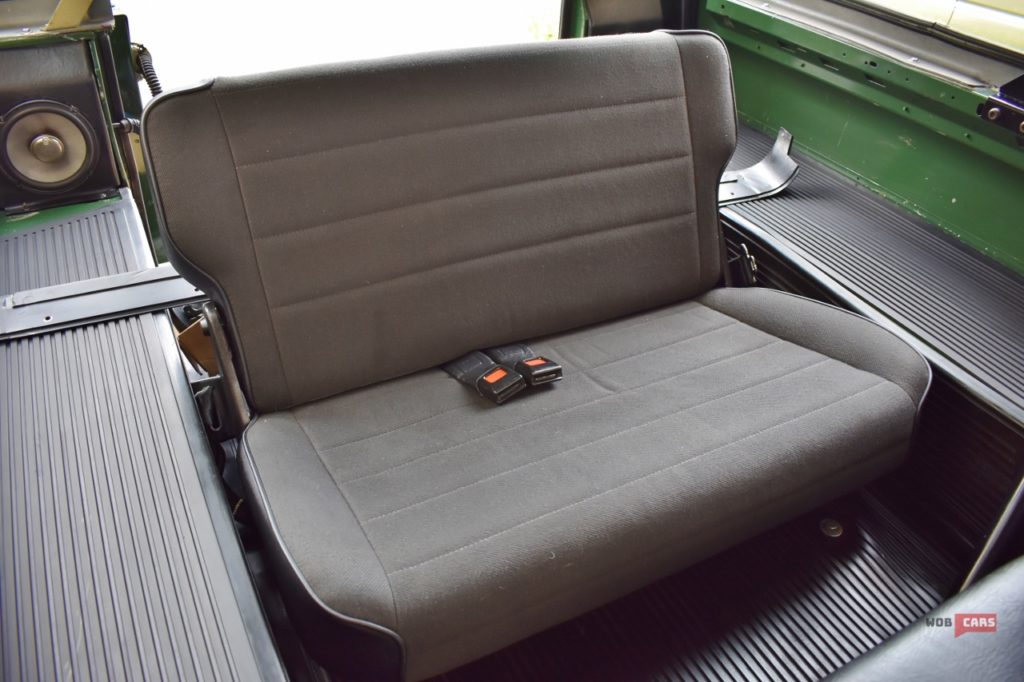 Unique specifically to the American market, Land Rover issued Defenders with a 3.9-liter V8 engine and an R-380 five-speed manual transmission. The V8, when new, produced 182 horsepower and 230 lb-ft of torque. The motor and chassis concurrently have 138,500 miles, and in the last four thousand miles, significant maintenance was documented to have been performed. At 134,000 miles, the engine was rebuilt with all new gaskets, remanufactured cylinder heads, spark plugs and wires, engine mounts, a fresh crankshaft seal, a new pulley, and intake hoses. During this operation, a rebuilt transmission was fitted, and the transfer case was resealed after a new input gear and bearings were installed.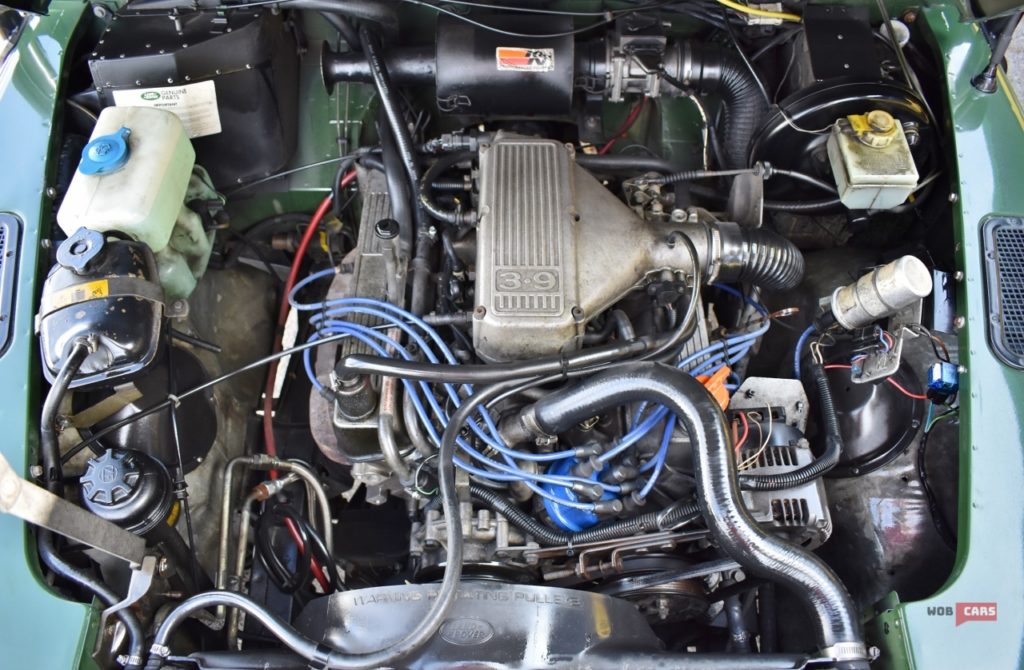 Aside from the engine and driveline, the original fuel cradle had rusted, and a replacement was put in place. Soon after, at 135,000 miles, a new battery was installed, and an interior attached kill switch was rigged. An oil and filter change was done at this point. Also replaced within the last four thousand miles were both axle hub seals and the hood bushings. However, despite all of this work, the engine does have some moisture accumulation as the new seals and heads continue to seat themselves together.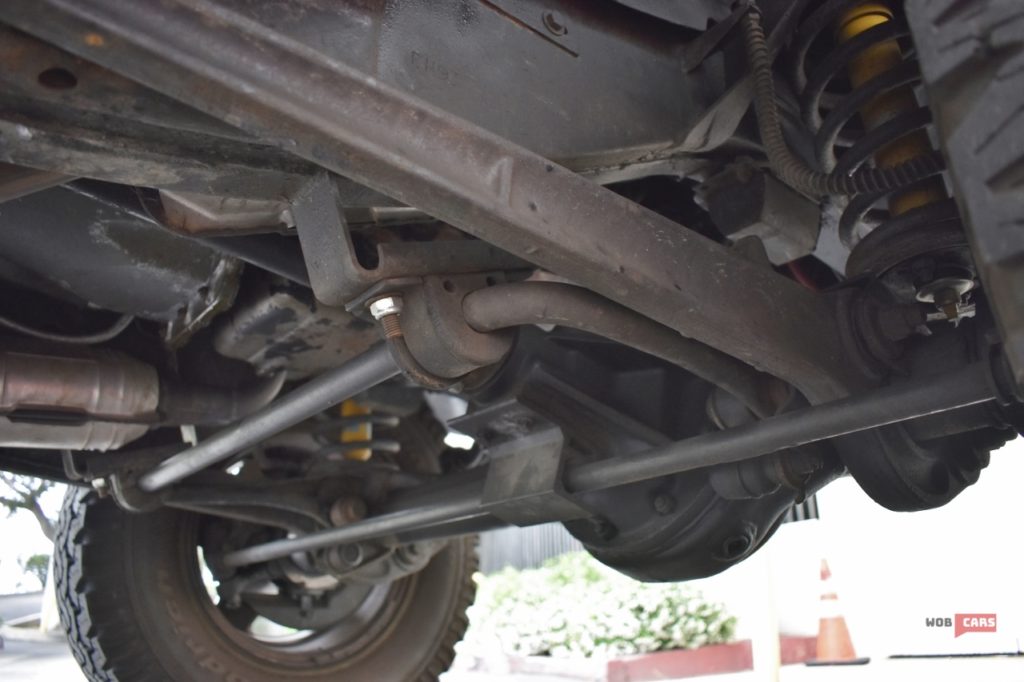 Initially sold in California, the Defender remained in the state until 2008 when at 118,000 miles it moved to Arizona. At this point, it was retitled to Montana and only a year later was sold back into California ownership at 121,000 miles. In 2011, the current owner purchased the vehicle, and it has remained with them since. The Carfax report unknowingly indicates an excessive amount of owners but shows no accidents or damages. Included with the purchase are the factory-original owner's manuals, service records dating back to 2006, and protective cover for the fiberglass roof. Given the depressingly short-lived existence of Land Rover's utilitarian model on American shores, the auction of this near-pristine representation of the beautifully brutish Defender presents the perfect opportunity to welcome a rarely seen off-road hero into your family.

Are you looking to man the Defender? Check out the auction here!