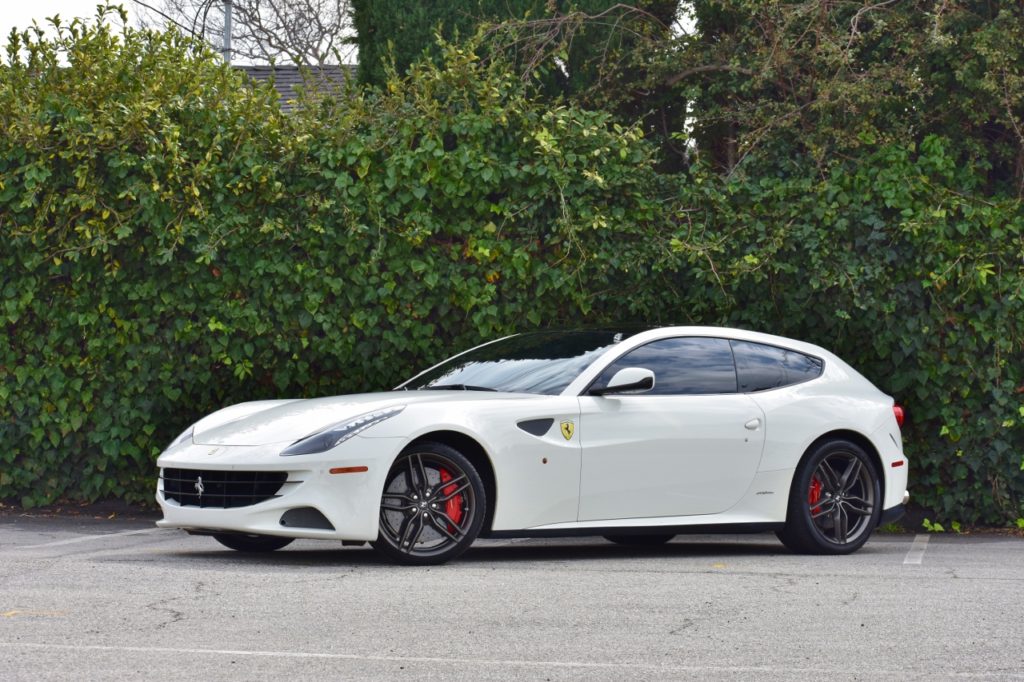 (For sale, if interested please contact us)
Ferrari has a long-storied past with the 2+2 interior arrangement that traces all the way back to 1959 with the 250 GT/E. While each succession was revolutionary in its own right, the most recent addition to their lineage has significantly upped the ante. Brought out to stand before crowds for the first time in 2011 at Geneva's Motor Show, the Ferrari FF (Ferrari Four) was spectacularly distinctive to any predecessors. The overall design pulled strongly from contemporary Ferrari stablemates to keep the aesthetic language consistent but never before had they built a full-production shooting-brake model.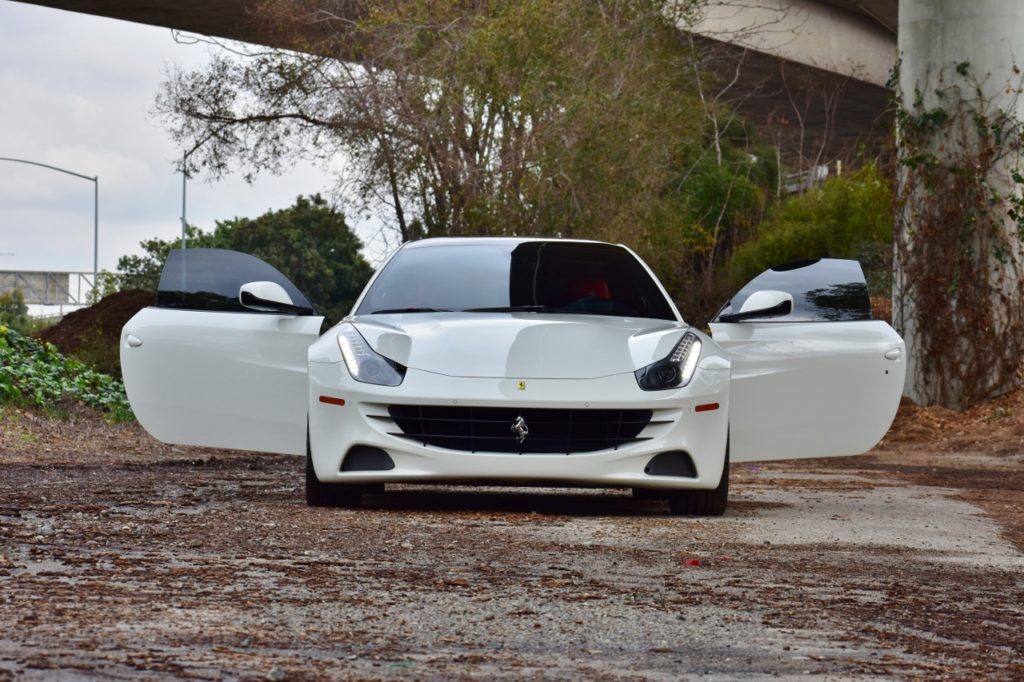 In fact, the only wagons Ferrari had ever manufactured were some exclusively limited-production examples of road cars created from past 2+2 models. As a matter of fact, many preferentially chose to forget those one-offs and favorably agreed to compare its styling to the fabulous 1962 250 GT SWB 'Breadvan.' Regardless, the FF delivered handily on appearance, performance, and delivered numerous Ferrari world-firsts, such as engine size, speed, and driveline. Now that the auction is live, it is possible to own a down-right exceptionally brilliant example of Ferrari's first wagon!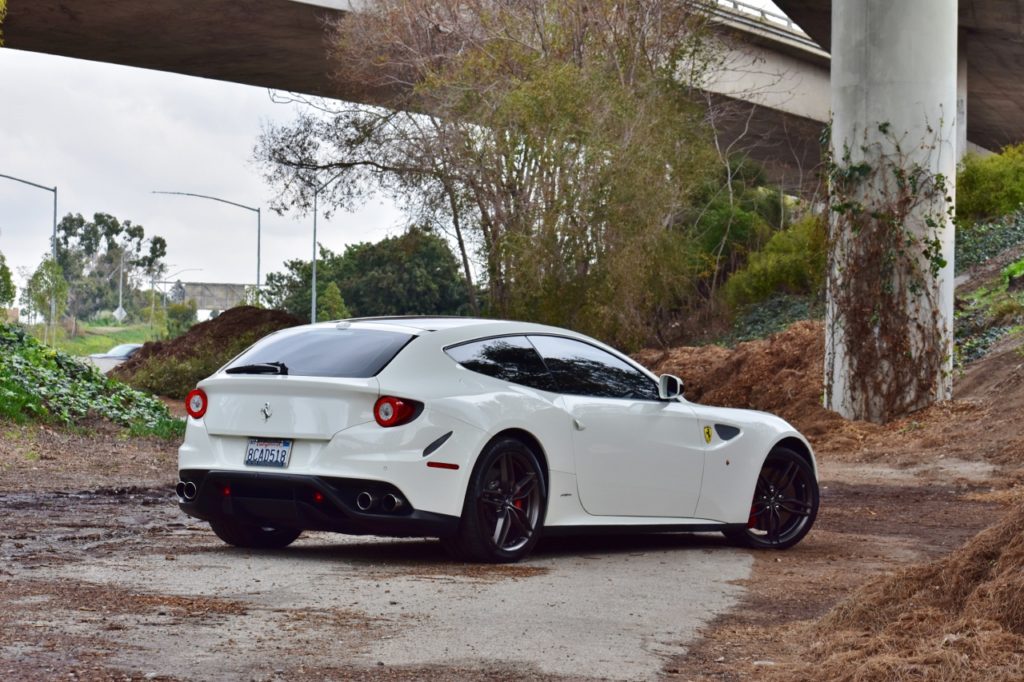 The glossy exterior paint is called Bianco Avus and looks just as pristine as it did the day it was sold. The color indeed is in exceptional condition besides a minor spot on the passenger rear quarter panel that was expertly removed under the supervision of previous ownership. Scuderia Ferrari shields were optioned on to the fenders and gloss black inserts add an aggressive undertone to the side mirrors. A rarely seen panoramic sunroof was optioned at the cost of $18,000 and pleasantly fills the cabin with light while making passengers feel far less imprisoned. Along with other optional additions are a rear windshield wiper, a front and rear parking sensor array, and LED headlights. Finishing out the exterior enhancements are a set of anthracite-colored 20" forked five-spoke wheels that have carbon fiber 'Prancing Horse' center caps. Pirelli PZero tires dress each wheel, and the rear tires have noticeable wear, but sufficient legal tread remaining. Adding a bit of color beneath those dark wheels are a set of big, bright red brake calipers stopping carbon ceramic rotors.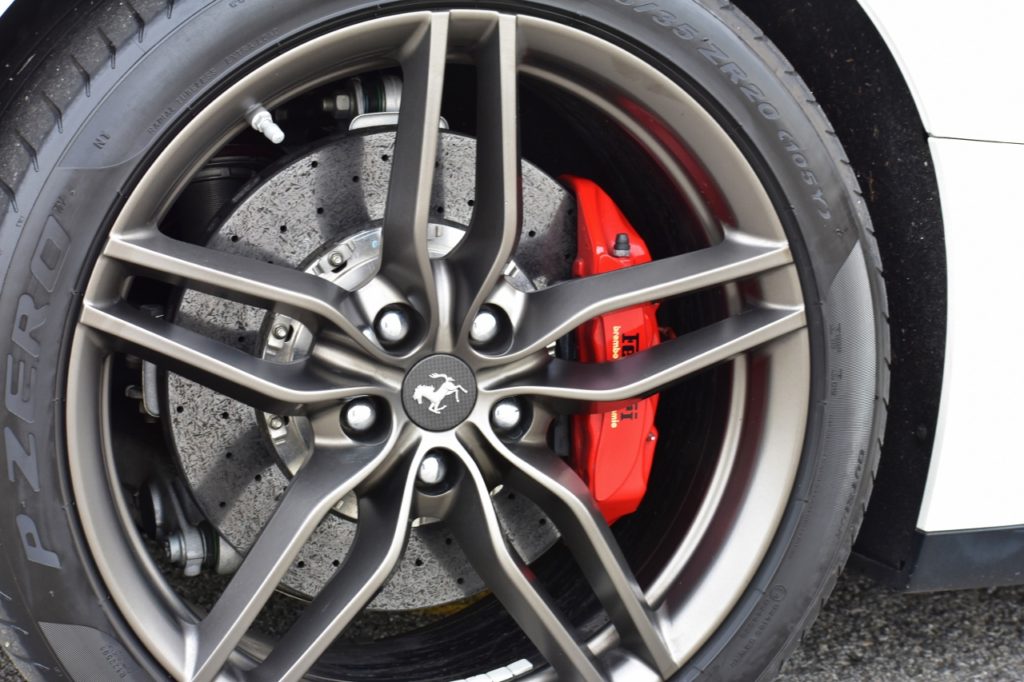 Upon dropping down into the cabin, passengers are greeted by copious amounts of fine-grain Rosso leather. Adorned on the lower dashboard, door panels, center console, and door sill wells even the optional fire extinguisher has a protective jacket of Rosso leather. As expected the front seats are heated and fully electric with three memory functions to save both driver and passenger positions. Both sets of chairs feature diamond-quilted leatherwork with contrasting silver stitching and wear 'Prancing Horse' embroideries upon the headrests. The rear seats are collapsible and in their downward position afford 28 cubic feet of baggage space. A black leather dashboard finished with seat-matching silver stitching and black carpeting with matching floor mats complete the main interior components.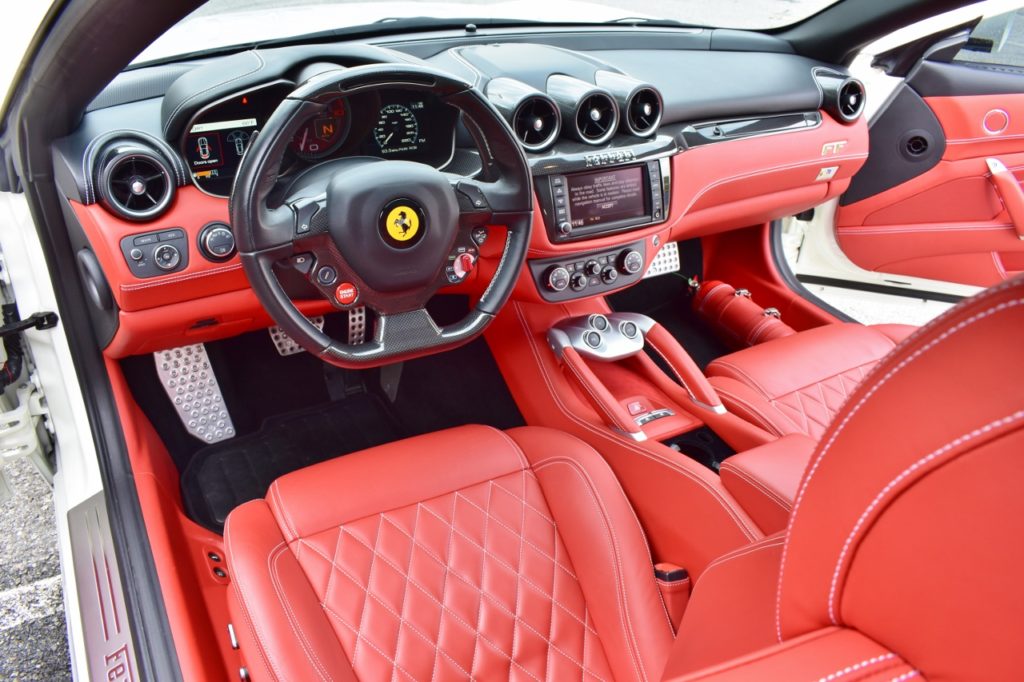 Additional features of the interior include a Hi-Fidelity sound system. The rear trunk liner is carpeted in red Alcantara and has aluminum accents on the luggage retention strips. In order to keep driver hands at the helm, the black leather steering wheel bristles with buttons such as the Manettino driving-mode dial, start/stop button, turn signals, dampening control, paddle shifters, horns, and wiper functions. The wheel was also optioned with carbon fiber inlays that match the central infotainment screen cover and HVAC vent housings. Behind the wheel resides a deep red colored 8,000-rpm redline tachometer that is flanked by two LCD interface screens offering multiple interfaces. An 'FF' badge embellishes the armrest and one on the passenger side dashboard with a commemorative "60 Years in the USA" plaque residing below further give credence to the prestigious nature of the interior space.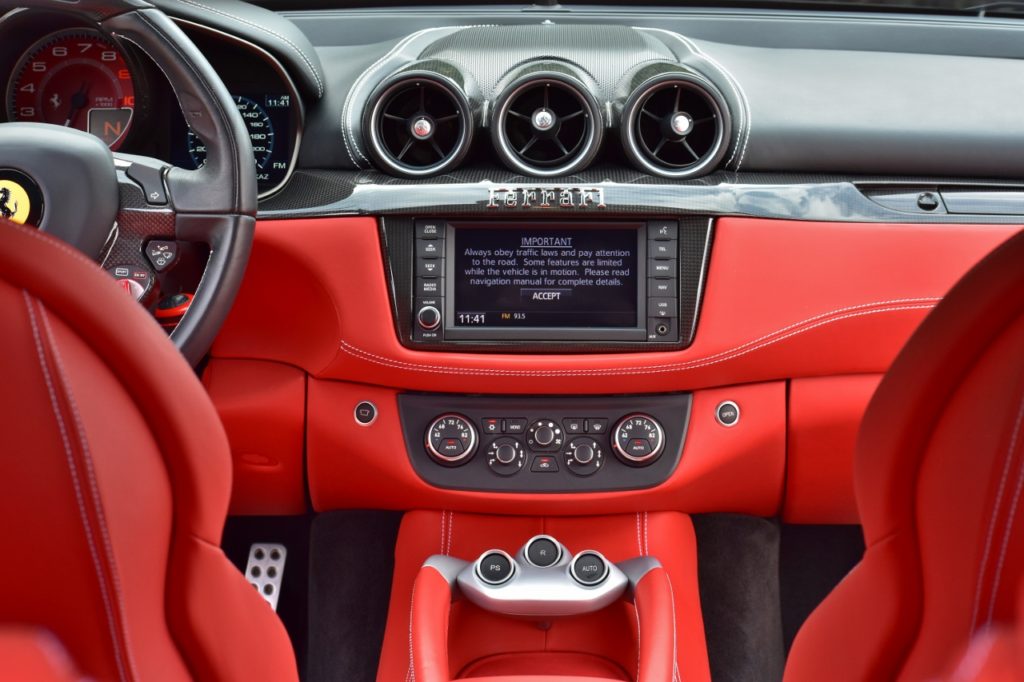 Mechanically, the FF was champion of titanic proportions. The engine, a 6.3-liter V12, laid claim to the title of the largest road-going motor ever fitted to a production Ferrari. It cranked out a planetary revolution reversing 651 horsepower and 504 lb-ft of torque during its journey to that 8k redline. Responsible for distributing the torrent of power is a 7-speed dual-clutch transaxle that contributes energy to Ferrari's first production four-wheel-drive system called 4RM (4 Ruote Motrici). Comparatively the 4RM system is 50% lighter than conventional arrangements, and the Manettino dial only activates it during 'comfort' and 'snow' settings. However, it is capable of sending up to 20% of the available torque to the forward mounted two-speed gearbox which then distributes power to the wheels via two Haldex clutches instead of a differential. This method not only enhanced stability during normal/inclement weather situations but does not prove a hindrance for the FF's top speed of 208 mph, making it the fastest four-seater of its time.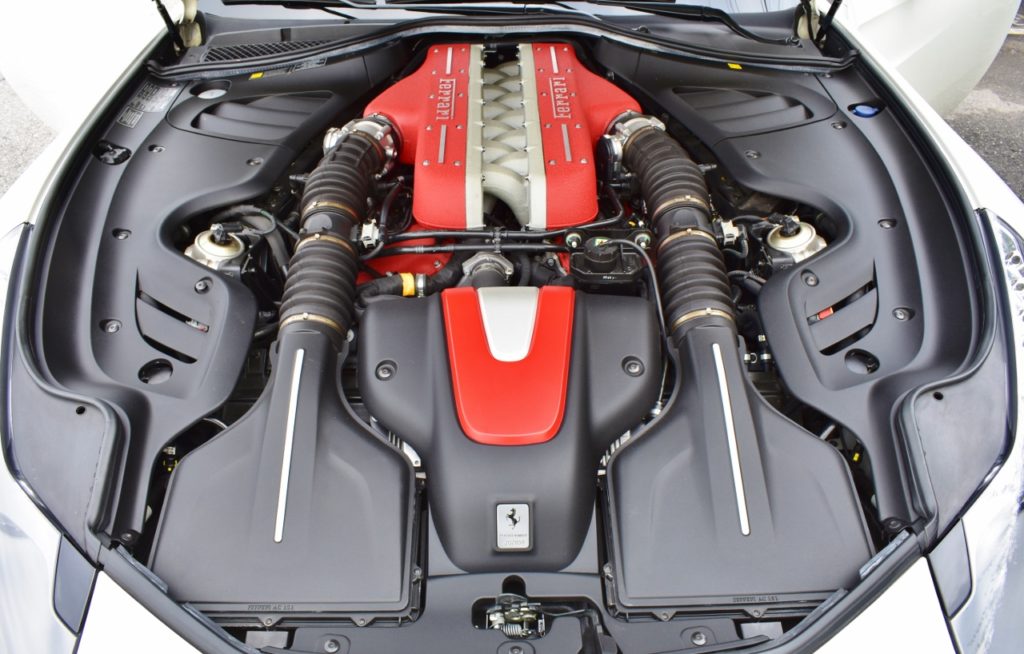 Purchased new in 2014, the original owner was the sole proprietor of the FF for four years. During this time the Ferrari was serviced by AutoGallery in Los Angeles and under the new ownership has been maintained Ferrari Beverly Hills. Prior to the latest ownership, the rear transaxle was rebuilt at the cost of $13,000 and includes a Ferrari factory warranty. Some scuffing and scratching are evident along the foremost aerodynamic underbody paneling. All of the original books and owners manuals are provided inside their leatherbound portfolio along with a list of factory options and service records. A clean Carfax report without accidents or damages and a clean California title accompany the sale.