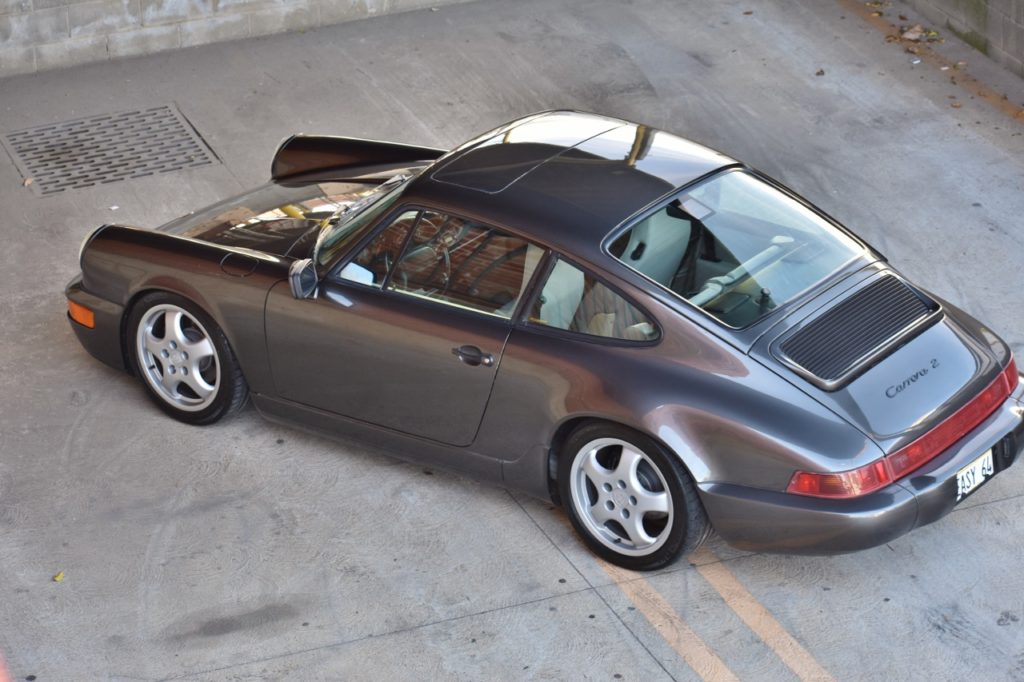 Sold – $49,250 (Plus Fees)
The 964 generation of 911 is a big deal in the Porsche world. For twenty-five years, Porsche made and directly built upon the original 911 platform first available in 1964 but that almost all changed in 1989. At the time of unveiling, much of their stalwart subscription to the sixties ended because the usurper arrived bristling with new components and revisions for the modern age, eclipsing more than 80% of those previous designs. The exterior was archetypal 911, but now unmistakably faster looking and, sure enough, much faster metrically. For the next week, we will be auctioning a superb specimen of the 964 from its slightly improved second year of production with some tasteful modifications.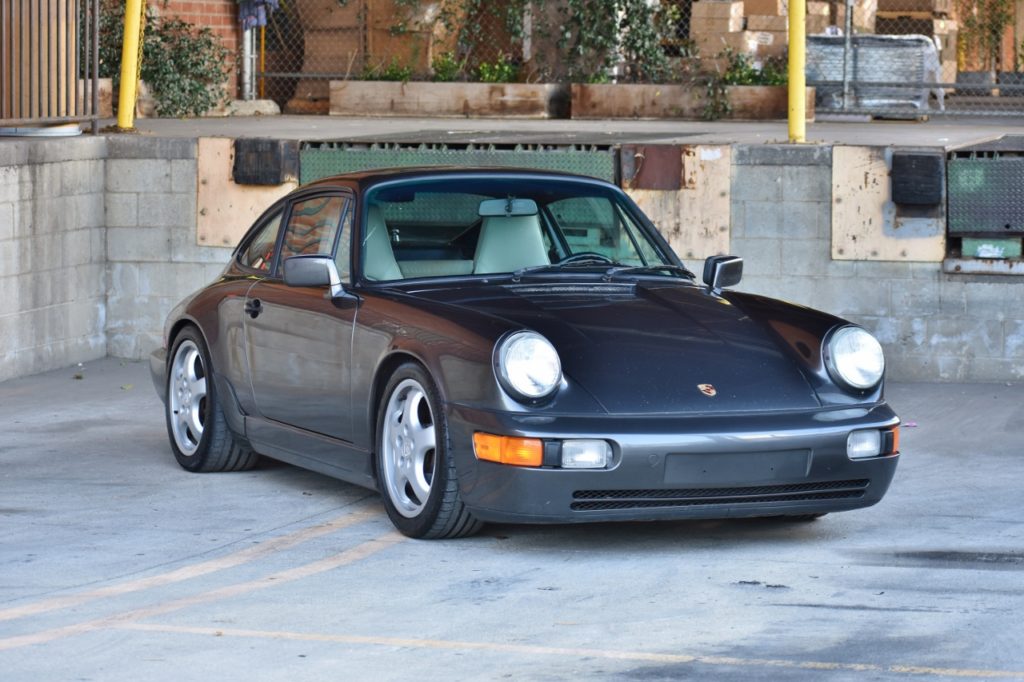 Although 911 are difficult to distinguish, the 964 was vastly superior to its predecessor's designs for two reasons: active aerodynamics and sleeker body paneling. The 964 had a significantly lower drag coefficient helping it speed up quicker while obtaining better fuel mileage. The smooth exterior was coupled with the rear spoiler that automatically deployed to produce downforce when drivers needed increased stability at these much higher speeds. Our 911 is covered in the popular sixties color, Slate Grey, but beautifully remastered by Porsche for the 964 with metallic flakes. Paint meter readings verify a Carfax report and seller's testimony of slight accident damage to the passenger door that resulted in dent removal and repainting. Also noteworthy are slight paint depth variations within the hood, front bumper, windshield cowling, rear decklid, and rear bumper. Sandblasting evidence exists around the wheels, particularly the rear arches.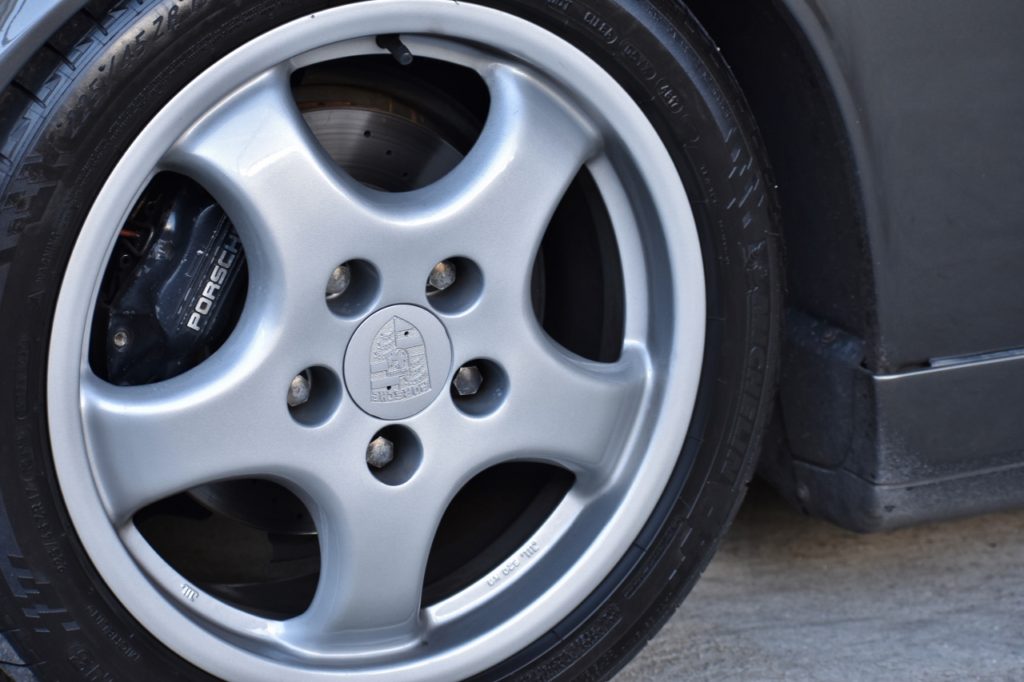 Paintwork and refinishing aside, the exterior finish is in excellent condition and remains stock apart from lower ride height. Replica 17" Cup 1 wheels built by Mille Miglia carry a 7.5" width up front with 9-inches in the rear. This allowed the current owner to comfortably accommodate a set of super grippy Michelin Pilot Sport PS2 tires fitted in May of 2018. A rock has caused a crack on the front windshield, but this will be replaced before the new owner takes delivery. The owner also states that during their ownership they have taken the Carrera 2 on several road rallies and participated in a track day event.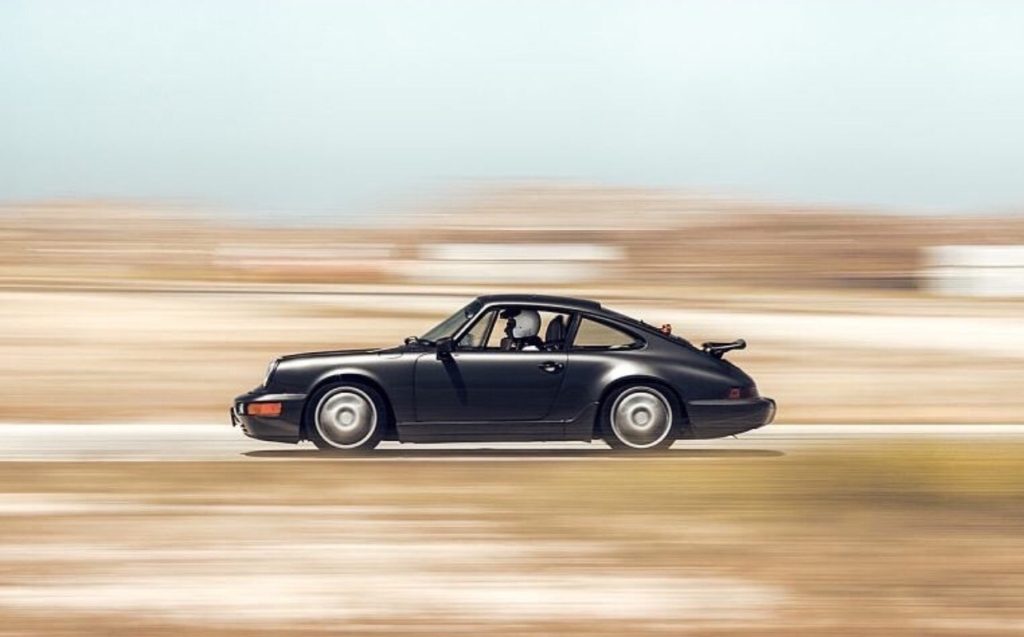 Inside, the parchment-like Silk Grey interior color boldly but beautifully contrasts the mysterious Slate Grey exterior. From the factory, this example was fitted with manually operated seats. However, these were removed by the present owner for a set of eight-way adjustable leather chairs in the same dye. Both front and rear leather covers show very slight signs of creasing and cracking. Elsewhere in the cabin, Silk Grey carpeting and leather is broken up by a black vinyl dashboard (with some cracking), factory black leather steering wheel with airbag, and customized plush black floor mats with "911 C2" embroidered in red. Furthermore, a new Porsche black leather shift knob was installed during the connection of an RS short-shift kit.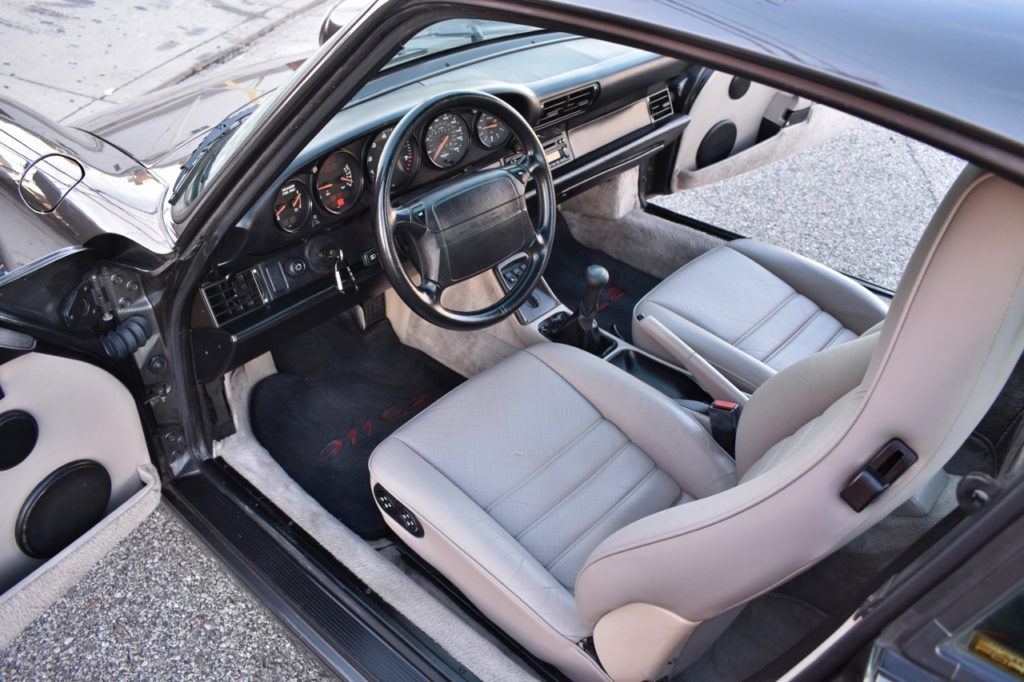 Above the new shifter is the manual control dial for the rear spoiler. A Porsche 993-generation radio with CD player has been substituted for the standard head unit. Adjacent to the receiver are the HVAC controls, and the seller notes that there is some noise from the A/C blower fan when operating at low speeds. Additionally, this 964 comes equipped with a sunroof and the standard instrumentation featuring a centrally mounted tachometer and a 180-mph speedometer.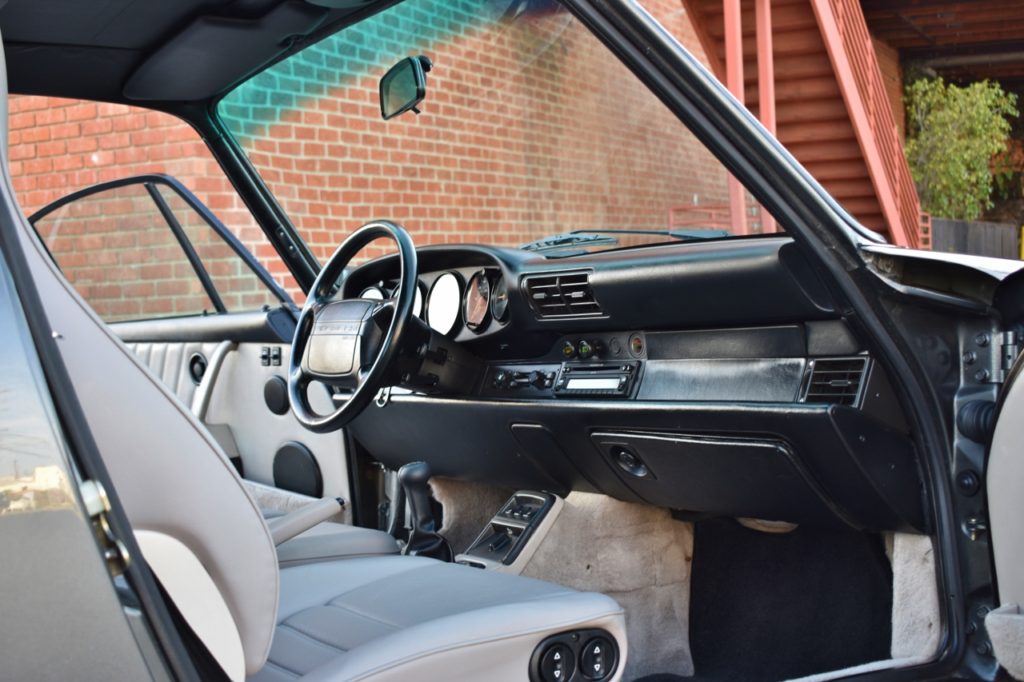 Another prominent advancement for the 964 was the air-cooled flat-six powerplant that now displaced 3.6 liters. This expansion provided a potent 250 horsepower and a seatback impressing 228 lb-ft of torque from the factory. When combined with the slippery new exterior styling the 964 could launch drivers to sixty in 6.8 seconds and would churn on up to a top speed of 164 mph!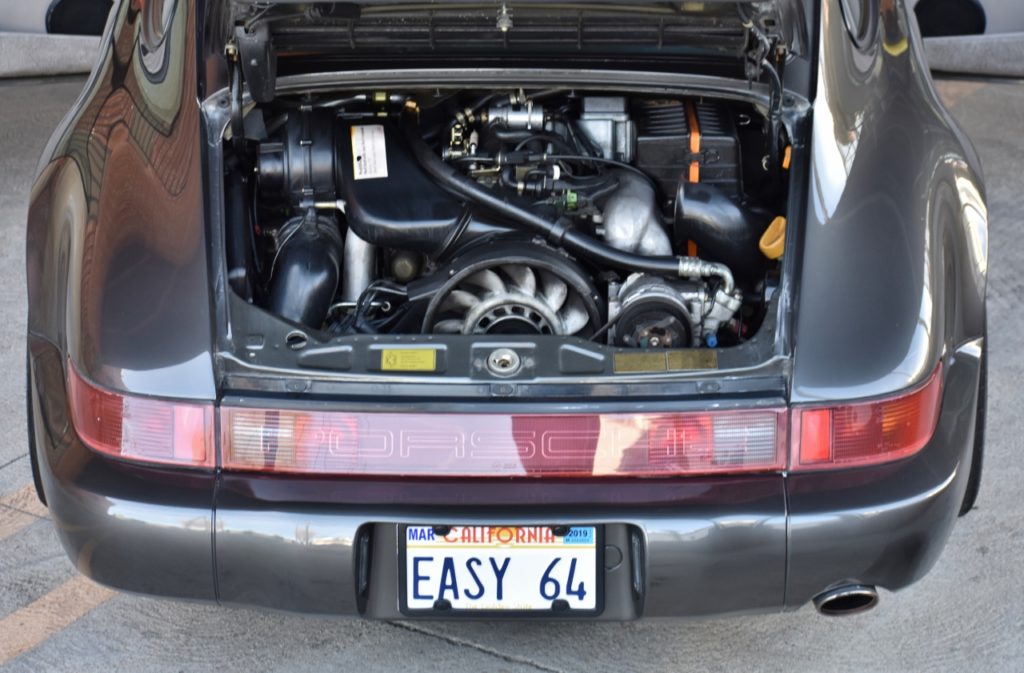 Our example sends power only to the rear wheels through its five-speed manual transmission. Upon reaching its 90k birthday, the engine was rebuilt and resealed. During this operation, RS motor mounts were installed with an RS air conditioning pulley, and the primary muffler was bypassed – resurrecting much of the lost Porsche flat-six sound. Currently on the odometer is 147,000 miles, of which roughly 40,000 were put in place by today's seller.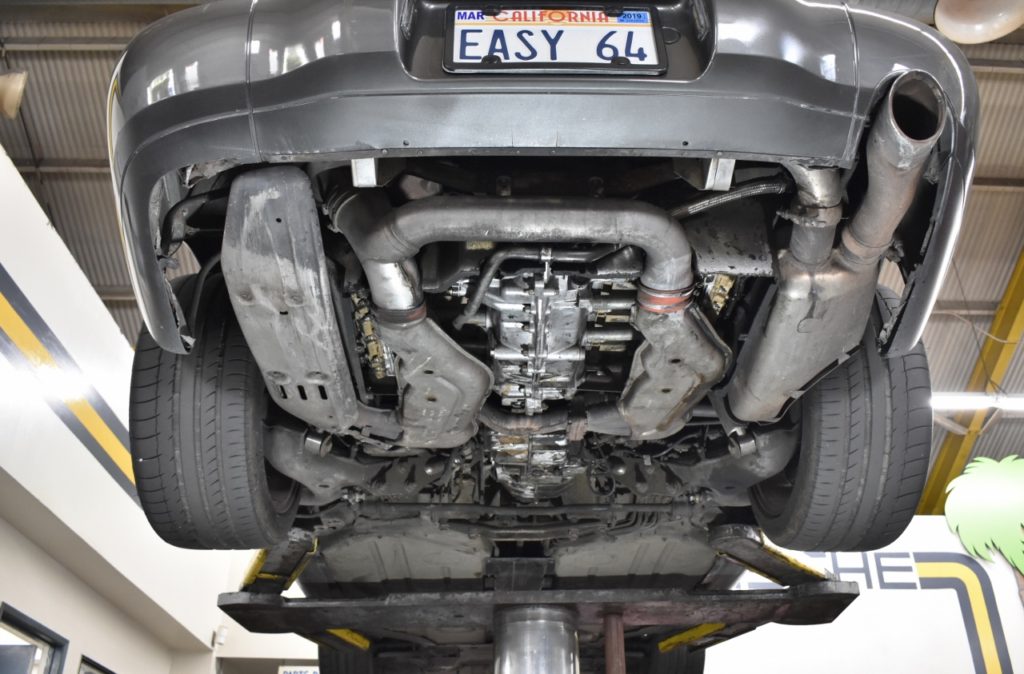 Keeping that power planted to the road are customized short-body KW V3 coilovers. These were installed and set to the aforementioned lower stance, but the damping and rebound remain at factory specifications. Well-established among Porsche enthusiasts, Tarett Engineering parts were used to add increased handling and competency throughout the suspension. The front shock mounts were exchanged, front and rear camber plates were added, and monoball spring plates fitted to the rear trailing arms. Braking was also advanced in 2018 with cross-drilled rotors and new brake pads.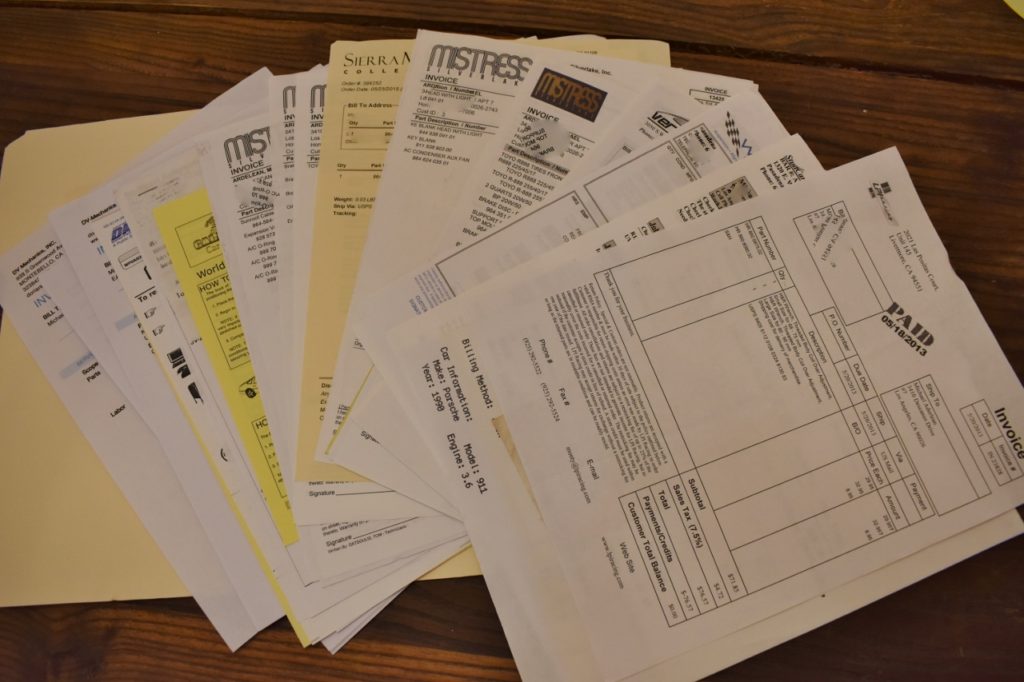 In total, the service records that will be handed over after the sale detail over $37,000 worth of improvements and maintenance. Aside from the pending windshield repair, an oil and filter change was performed in December of 2018 to prepare the 911 for sale. Factory literature, the driver's manuals, original spare wheel with tire, and tire inflation kit are all included with the transaction. Originally hailing from Utah, this 964 has a clean California title and a Carfax report showing ownership history throughout both states.