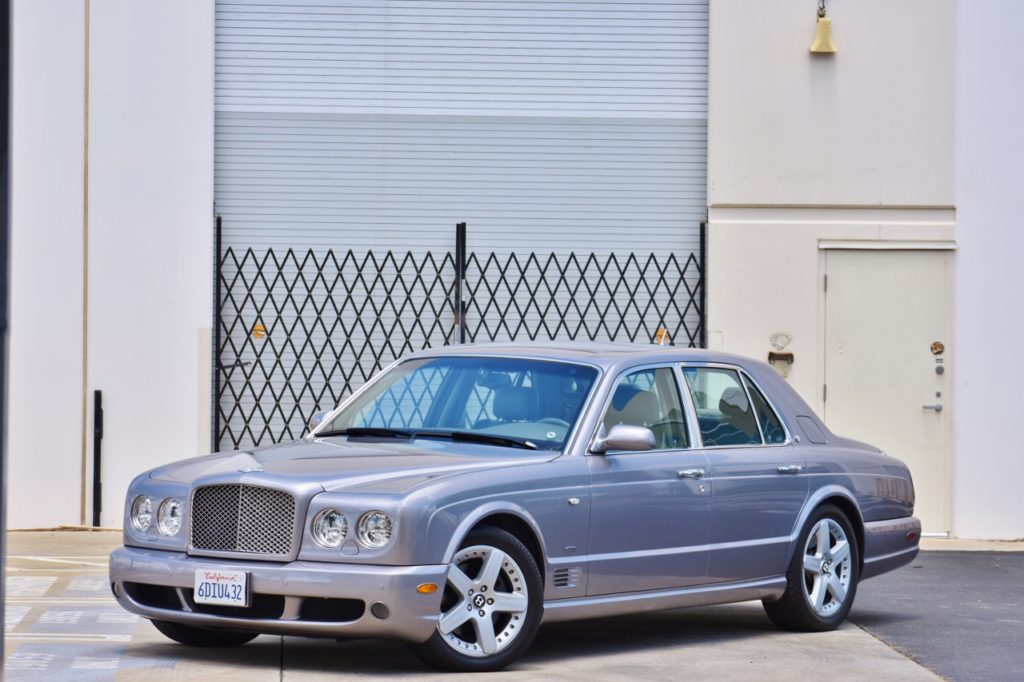 Sold – $33,500 (plus fees)
When unveiled in 1998, Bentley was ecstatic about their newest model, the Arnage. Not only did it represent the revitalizing replacement of the brand's highest-level luxury sedan after an eighteen-year production run, but it also engendered much needed brand-loyalist excitement over the all-new engine accompanying its release. Moreover, the Arnage symbolized an invigorating recommitment by Bentley ownership to maintain the brand's legacy well into the coming years.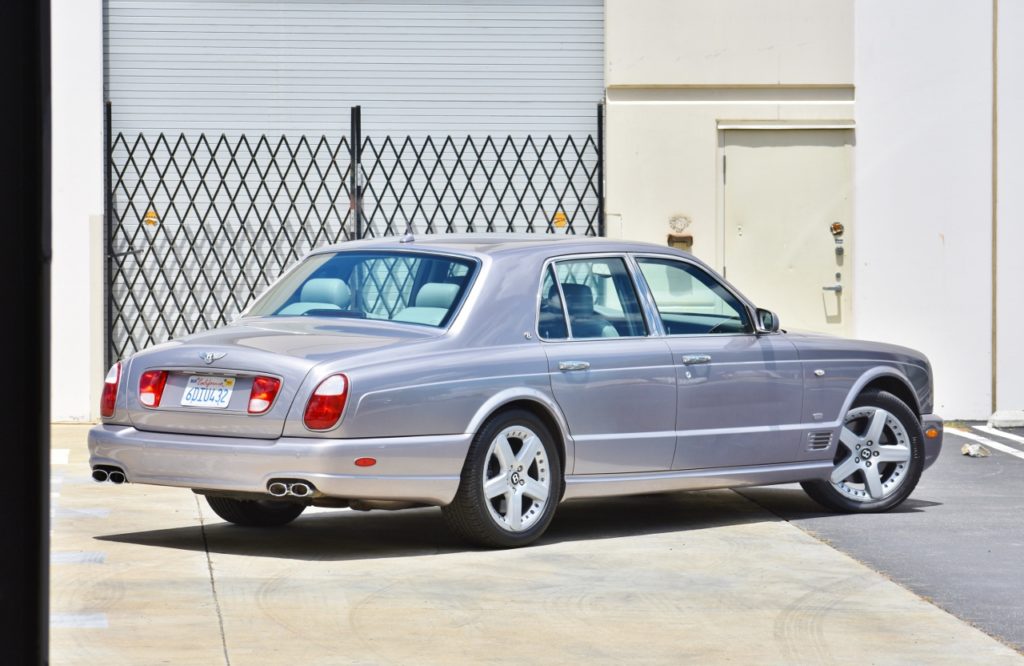 In proper keeping of that heritage, the Arnage commanded a premium price tag that catered exclusively to the financially well-heeled hierarchy. As such, it is of little surprise that among that elite ownership circle was Colonel David Scott, the commander of the Apollo 15 mission and the first person to drive on the moon. On auction now is his 2006 Arnage, which has been meticulously maintained before and after he purchased it in 2010 – here are the particulars.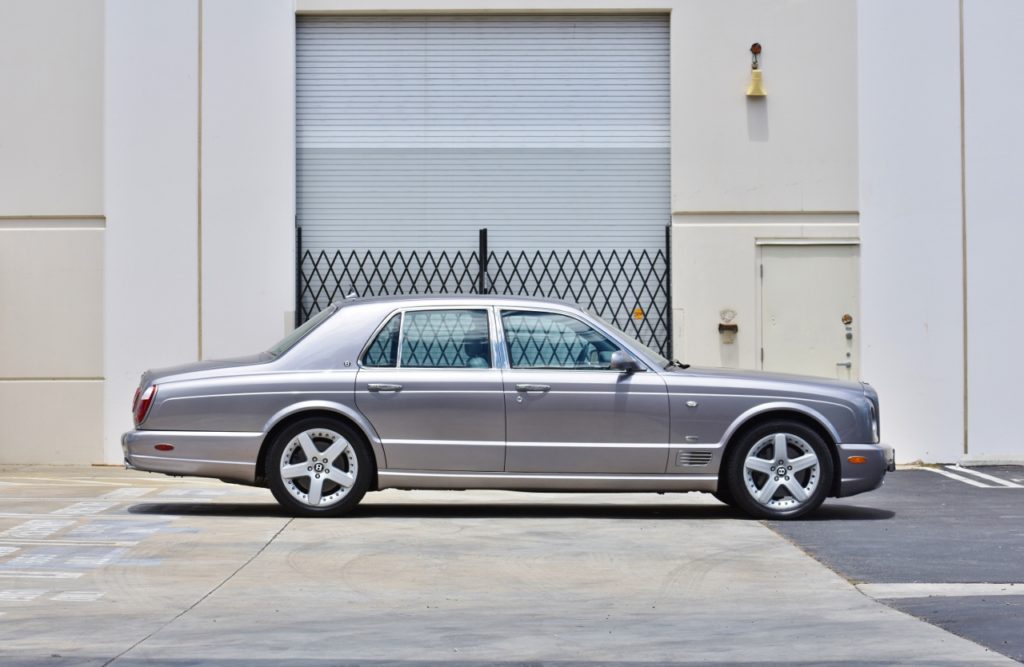 As one of the world's fastest and most powerful full-size sedans for a time, the exterior of the Arnage showcases a finely detailed mixture of sophisticated sensibility and speed. All over, beautifully rich Tempest Silver Mica paint coats the Mulliner enhanced exterior bodywork. Although the body paneling is in relatively great condition, the bottom of the passenger door has seemingly been painted by the original owner. Higher up on that same door is a small dent and a light crease.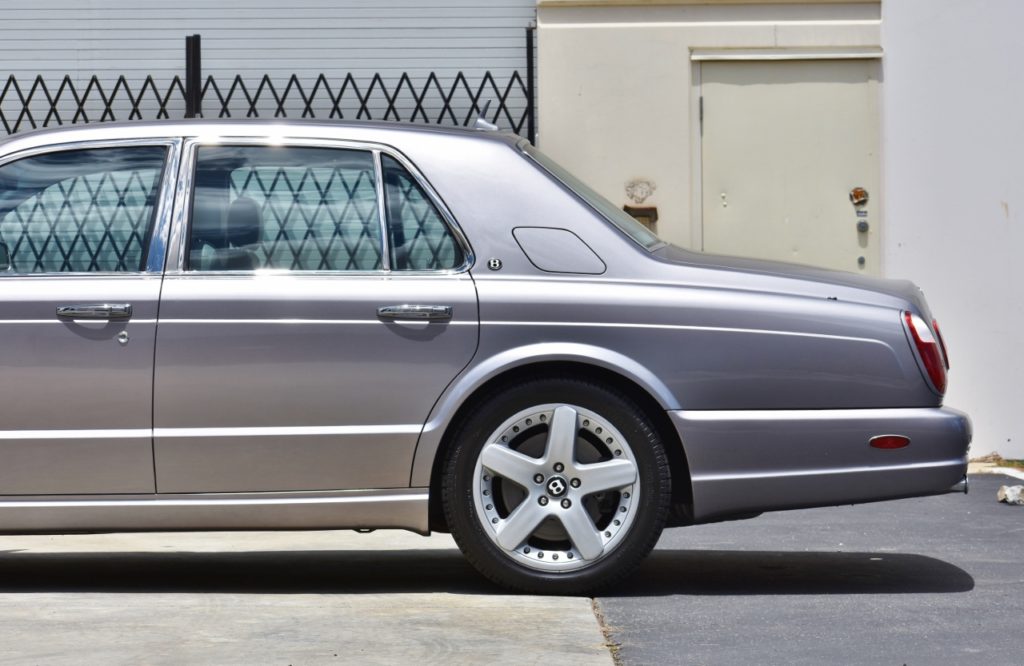 Aside from that door, the paint does have noticeable chips, touch-up points (right rear wheel arch), a crack in the roof-mounted antenna cover, and flaws within the exhaust outlet finish. Noteworthy on this exhaust system is the twin-tips that were not part of the standard equipment but assuringly enhanced the athletic appearance of the exterior. Five-spoke 19" multi-piece wheels have curb rash along the rim and wear Pirelli PZero Asimetrico tires with approximately 3,000 miles.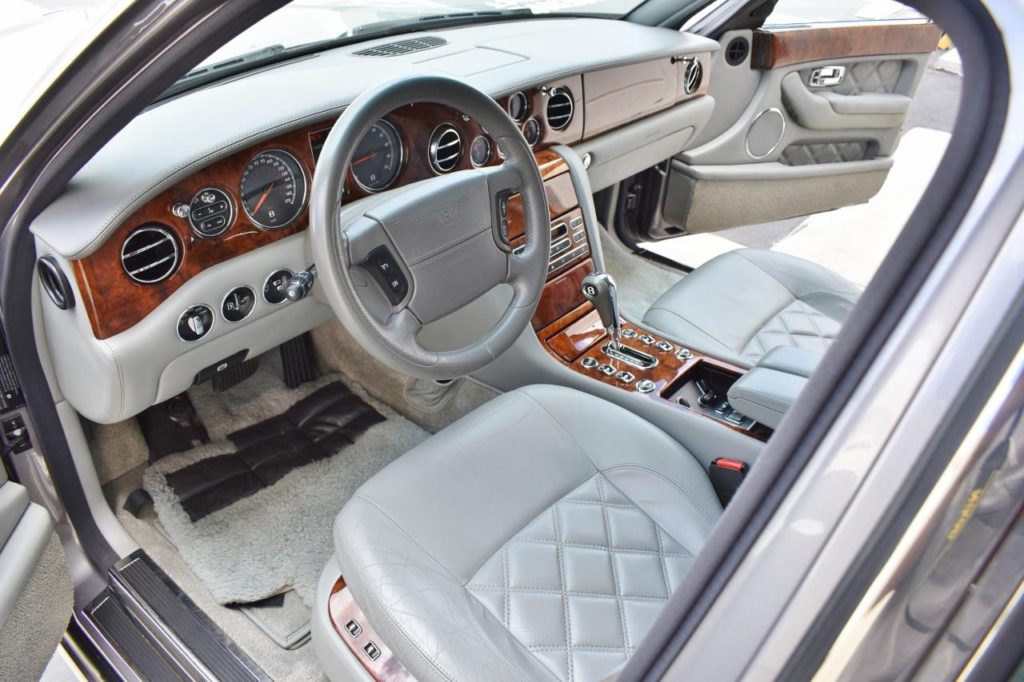 Comparable to any first-class stateroom, the interior is brimming with supple grey Connolly leather. The front seats are especially royal throne-esque with fully-electric adjustability, four preset memory buttons, two-stage heating, diamond-quilty embroidery, and black Bentley emblems stitched into the backrest. The rear seats feature similar aesthetic styling and located on the C-Pillar are individual vanity mirrors encased in burl wood. Matching the grey leather is deep-pile wool carpeting throughout the entire cabin.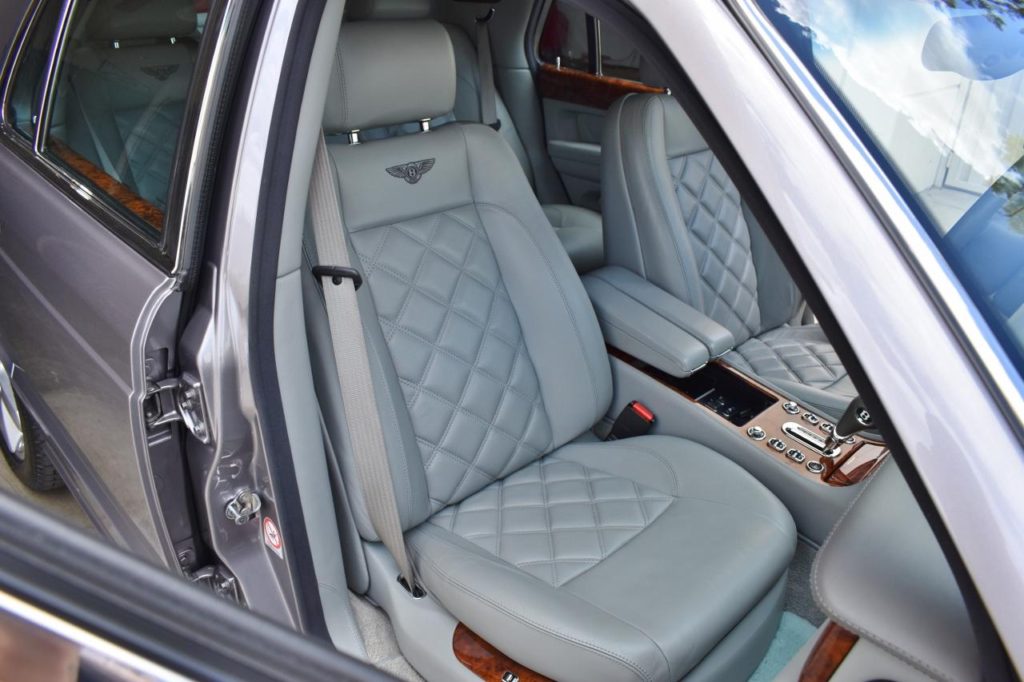 The same burl wood veneers present themselves upon the dashboard fascia, center console, door panels, and rear compartment vent casing. Buttons and switches among the wood are finished in chrome and behind the leather-wrapped steering wheel and in the center of the dashboard are instrument gauges encircled in chrome rings. Among them are a 170-mph speedometer, a 5,000-rpm tachometer, and a small digital display resides between the two. Meanwhile, clustered mid-dash are temperature and pressure gauges, a clock, and fuel level meter. Below the central gauges are the individual climate controls and several other vehicle function buttons. A mere exception exists within the entirely original interior, which is that an aftermarket unit has replaced the factory-provided radio head unit.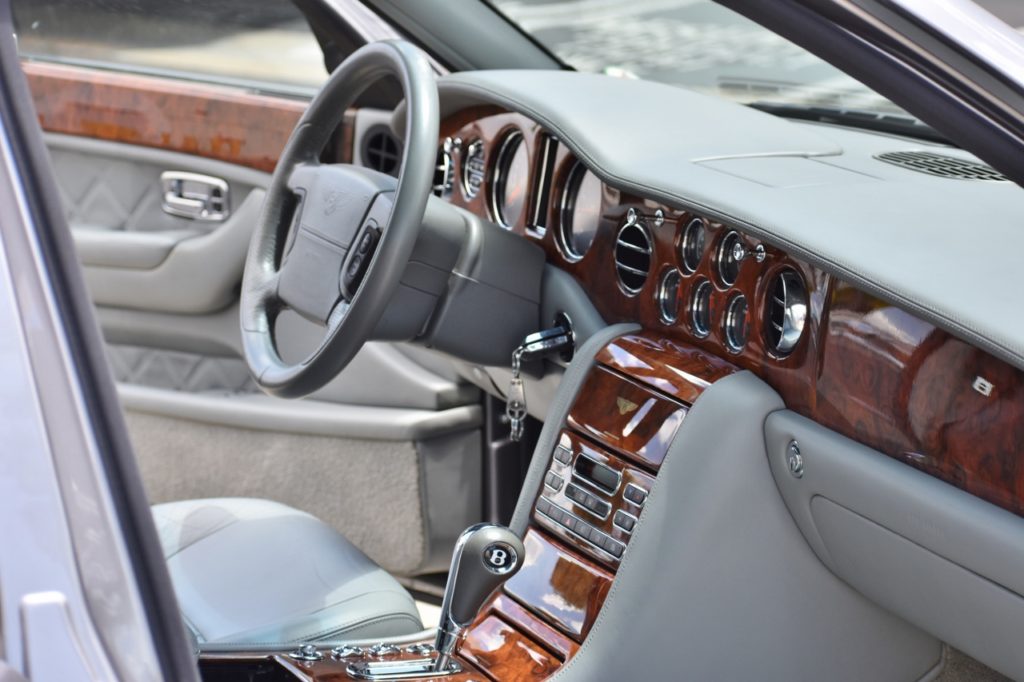 Previously discussed, the Arnage ranked highly among the fastest sedans in the world at one time. To do this, Bentley implemented a new twin-turbocharged 6.75-liter V8 engine with the Arnage that cranked out a titanic 500 horsepower and 738 lb-ft of torque. Sent to the rear wheels after being transferred through a five-speed automatic transmission, the big Bentley conquered sixty in 5.5 seconds with a top speed of 180-mph. Records of this behemoth's upkeep have been preserved and illuminate service from 20,000 miles until now at 39,000 miles. Here is a brief list of that maintenance:

20k miles – Glove box switch adjustment, window regulator and actuator cable replacement, vacuum hose to secondary air injection replacement, undertray adjustment, left front window regulator replacement, parking brake strut replacement, skid plate adjustment.
22k miles – Repair broken undertray, fluid check, fan bolt replacement.
23k miles – Coolant level sensor replacement and connector maintenance.
24-.5k miles – Alignment; fan circuit modification for increased cooling; 3k service; and new front brake pads, engine filters, right front window regulator, right rear window regulator, tires.
26k miles – Battery control module replacement, new trunk struts, auxiliary battery replacement, new rear gas springs.
27k miles – 3-month service inspection, replace the dump valve and antenna.
29k miles – 6-month service inspection; replace driver's front window regulator; and install new engine oil filter, air filters, wiper blades, light bulbs.
30k miles – Install new drive belt, thermostat, temperature sensor, front sway bar bushings, oil pressure transducer, right front strut, right front door latch assembly, and parking brake release strut.
31k miles – Modify vacuum hoses and replace the rear drop links.
32k miles – 6,000-mile service; replace fan belt, radiator, air conditioning condenser; install new rear brake pads; resurface rear rotors; bleed cooling system; and recharge air conditioning.
33k miles – Repair skid panel, check fluids, replace fan control circuit and fan.
35k miles – Replace the battery, auxiliary fan breaker, front brake pads, front rotors, and brake wear sensors.
36k miles – Mount four new tires, replace the lower control arm bushings, check the fluids, and pressure-test the cooling system.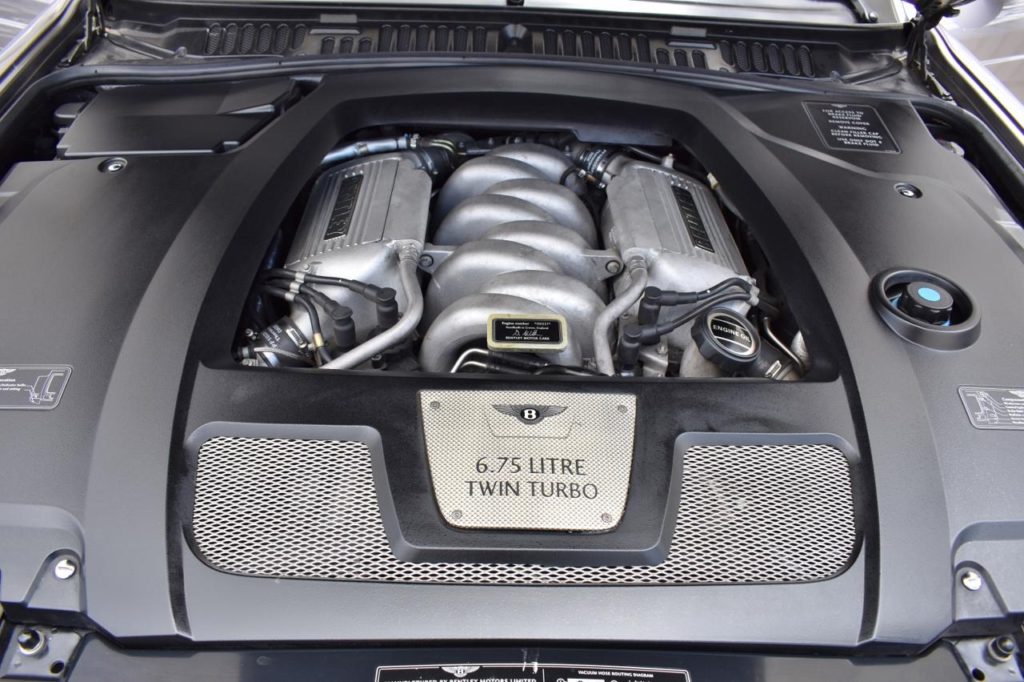 The owner's exhaustive adherence to maintenance has kept this Arnage in peak condition thirteen years after new. Provided with the sale are all of the factory-supplied books in a leather portfolio, the quick reference guide, interior equipment remote controls, and two factory trunk-stored umbrellas. Additionally, all of the maintenance records will be supplied with purchase. The Carfax report provides no indications of accidents or damages, and thus the Arnage is sold with a clean California title. Aside from being the torchbearer and pinnacle of Bentley's fleet revival, this Arnage has had the distinguished honor of serving as the terrestrial buggy for the first outer space automobile operator.

To see this astronaut's auction you can click on this link!