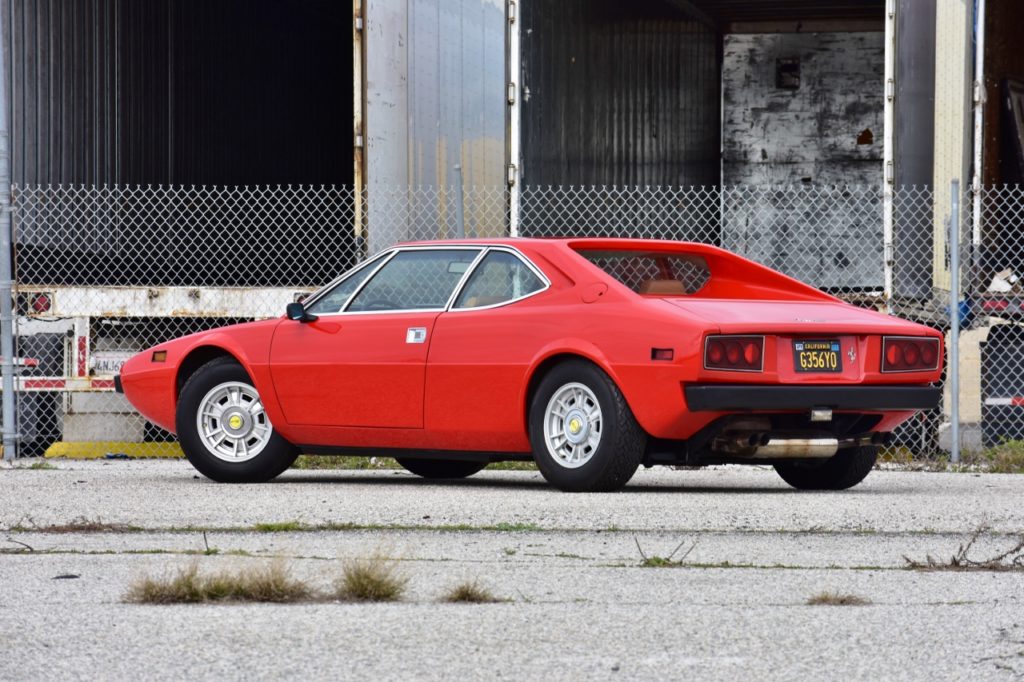 Sold – $65,000 (Plus Fees)
Simply put, it set a precedent. When the 308 GT4 arrived at Geneva in 1973, Ferrari had already produced several mid-engined sports cars. However, the conservative company had never done something so dismissive to their traditional paradigm for performance. Formerly branded under the Dino moniker, it was a Ferrari in every respect to who created it, yet its V8 engine was a first for a production Ferrari. That engine was mounted in the middle of the car, another first. The interior design was a two-plus-two seating arrangement – unique by even modern mid-engine standards. As for the seventies wedge-shaped exterior styling, you can applaud or blame Bertone for romancing Ferrari away from Pininfarina like a newly discovered love. Yes, the 308 GT4 is quite the chapter-changing car for Ferrari, and we have one on auction now!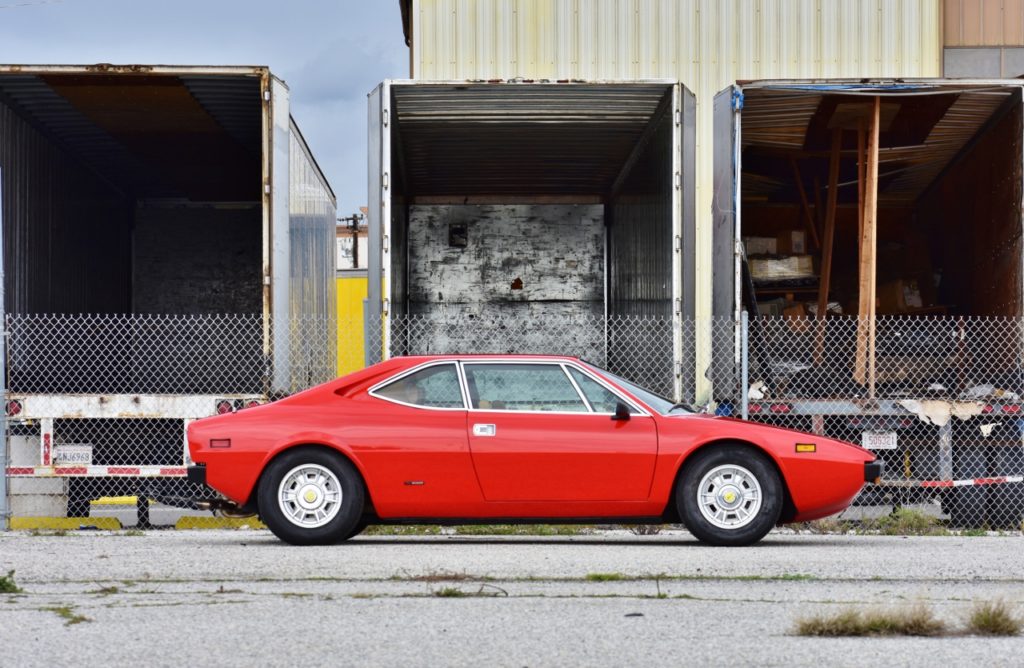 The bodywork, penned by the legendary Marcello Gandini himself, has been repainted in Rosso Chiaro and remains in good condition. During the repaint, the cowl, engine compartment, and panel undersides were also covered with the new coat. The U.S. mandated a previous owner has removed impact-bumper equipment. Those pieces have been substituted for the European fiber-glass variants, and likely eliminate nearly 100lbs of weight by comparison. The lower-rear valence grille has been uninstalled due to the installation of a non-original exhaust system.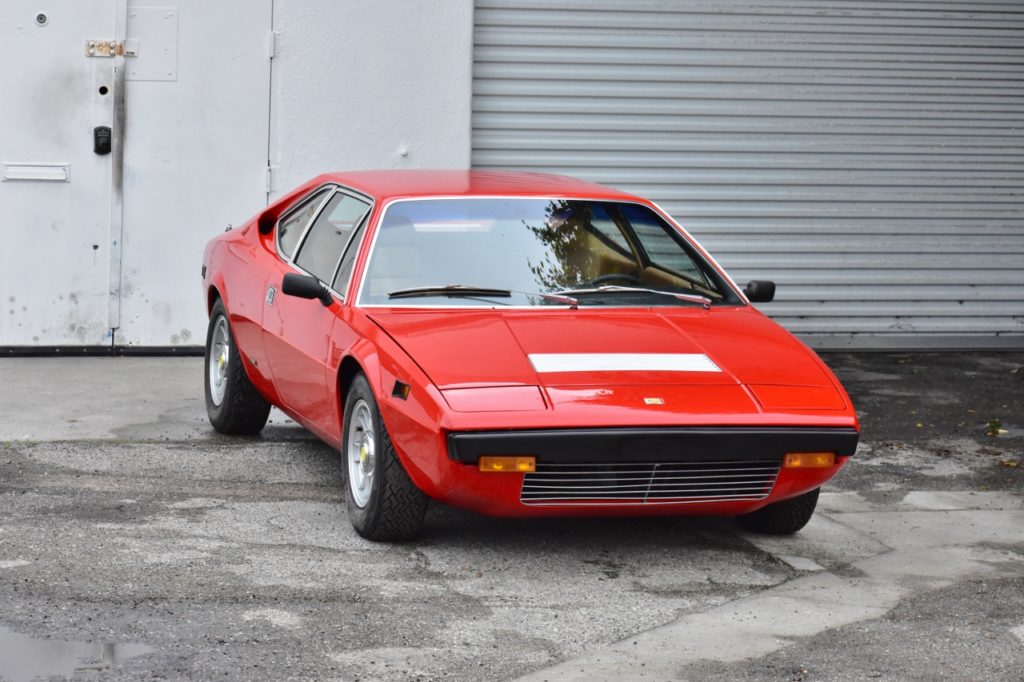 The original Dino badging (Ferrari badging would not be used until 1976) is still present on the hood and rear decklid cover. Both factory pop-up headlights perform as intended as they were recently replaced along with the signaling, reverse, and engine compartment lights. Displacing the original wheels (and spare wheel) are a group of replica Cromodora wheels with Dino center caps and metal Ferrari valve stems. Installed on all five wheels are a new set (2017 date code) Pirelli Cinturato CN36 tires, and the rear wheels are extended by 1" thanks to H&R DRA spacers. In addition to those modifications, the side mirrors are now Vitaloni "baby turbo" adjustable.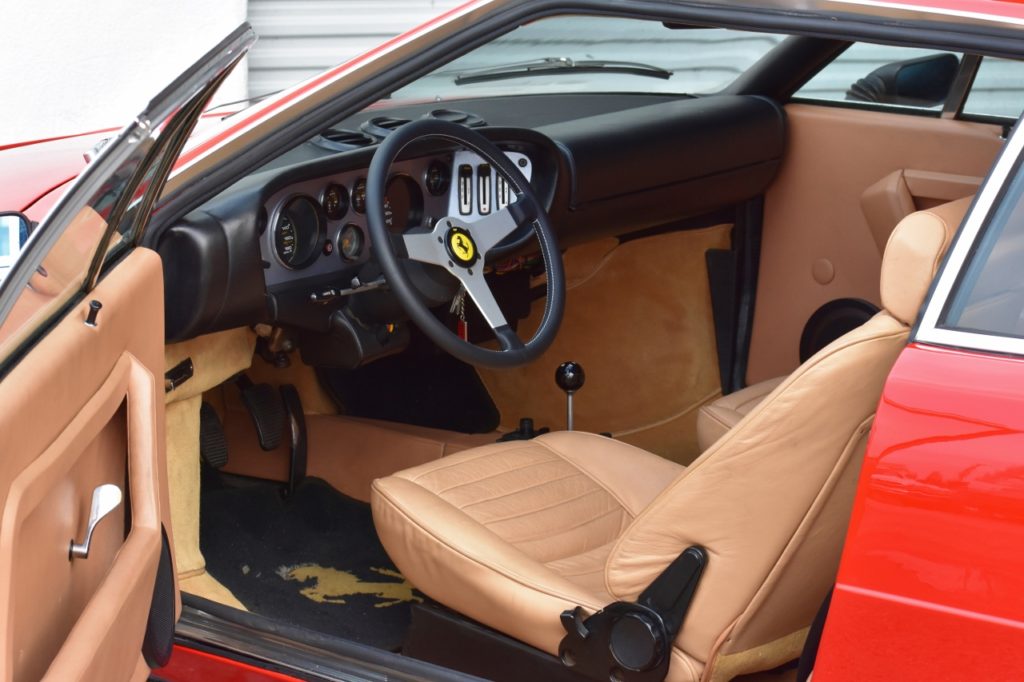 The interior, obsessively reviewed by Enzo Ferrari himself during the design process, is a charming place to reside. The manually adjustable front seats have been skillfully reupholstered in tan leather and place the driver squarely in line with controls and instrumentation. To match the new front seat leather color, the door panels, rear seats, and transmission tunnel leather has all been re-dyed. Below, newish black floor mats with the Ferrari Cavallino Rampante protect the tan carpeting. A replica of the original MOMO steering wheel, fitted with a Ferrari badge, is covered in black leather stitched together by white threading.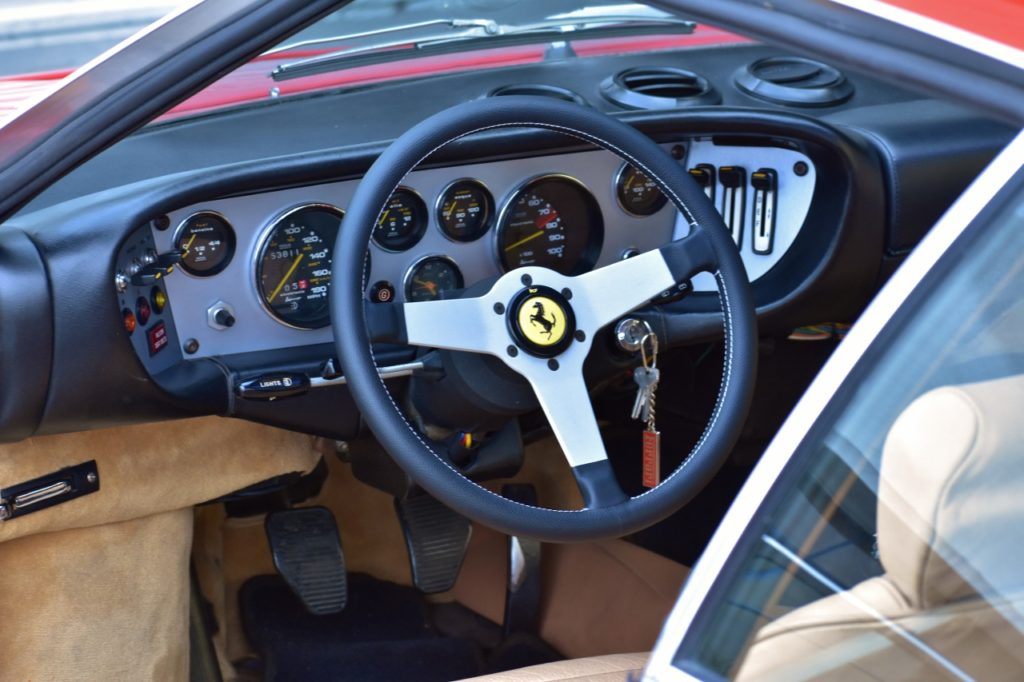 Behind the steering wheel, is the beautifully designed instrumentation board that sports Veglia Bortelli gauges fitted inside of a brushed aluminum panel. The included indicators are a 10,000rpm (7,600 redline) tachometer, a 180-mph speedometer, clock, fuel level, oil temperature, oil pressure, and coolant temperature dial. The air conditioning controls turn on a system recently updated to R134 with a dryer and compressor. Meanwhile, the heating system has benefited from a new blower motor with reattached hoses. A vintage Blaupunkt stereo/cassette that has gone unused with new door speakers is installed. A new interior light switch was also replaced not too long ago.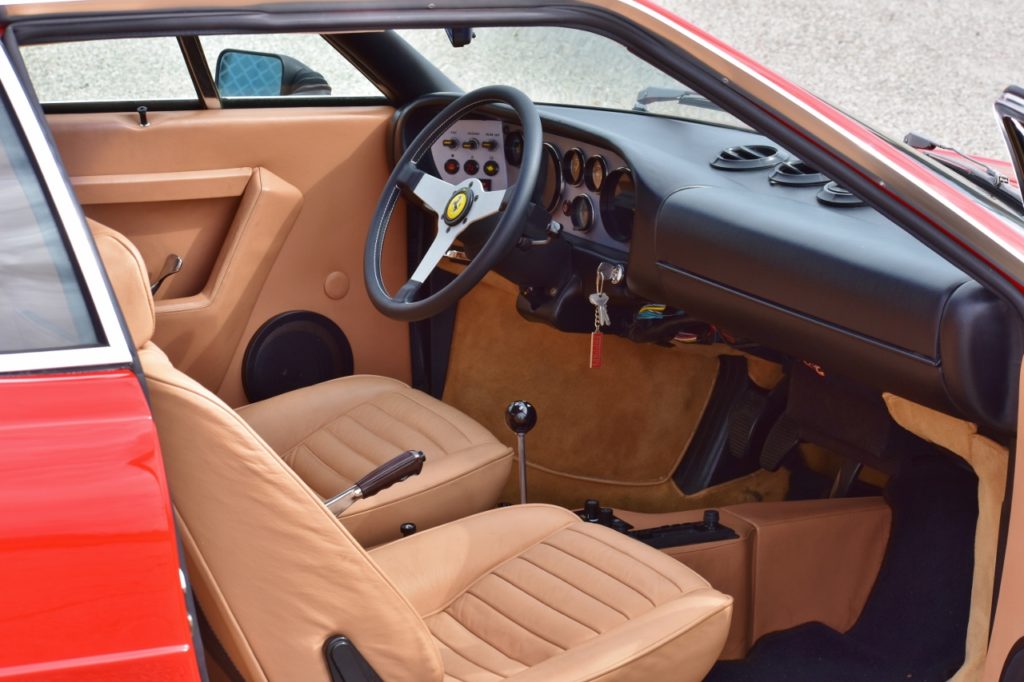 Transversally mounted into the chassis, the quad-cam V8 engine displaces three liters and is joined by a 5-speed manually shifted transmission. Prominently featuring bright red valve covers with Ferrari logos cast onto them, the motor produced 240 horsepower when new with emissions equipment. However, the factory-equipped emissions systems have been removed, and their air injection ports on the block plugged (although the car is still California-legal). An aftermarket exhaust system with quad-tips has also been fitted. Furthermore, the entire ignition system has been reworked and is now supported by an MSD ignition box, a Pertronix pointless distributor system, a brand-new wire set, new distributor caps, new rotors, distributor seals, eight spark plugs, and spark plug extenders.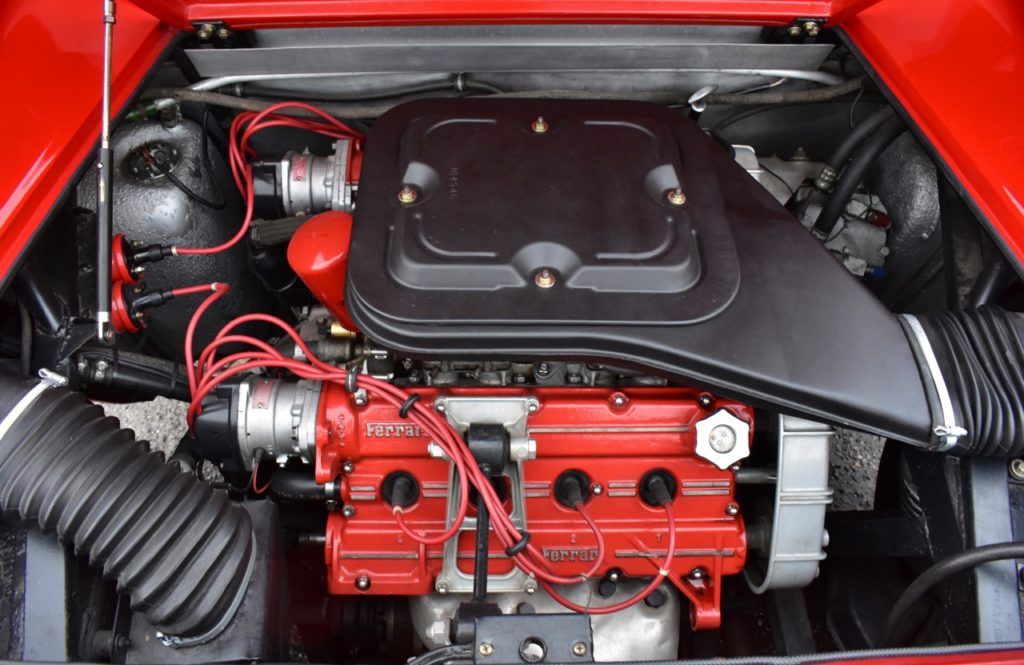 Complementing that conversion, a maintenance binder (included with the sale) shows considerable servicing within the past few years. Among those replaced parts are a timing belt and tensioner service, a water pump rebuild, a rebuilt alternator, intake manifold gaskets, a Weber 40 IDA carburetor set rebuilding, several sending units for the gauges replaced, new throttle and clutch cables, oil pan gasket, and much more. The client notes that despite this work there is some light oil smoking from the exhaust during cold start-ups. However, there is correspondingly very little oil consumption. In addition to that, a hole in the exhaust system (downpipe to muffler) and a rattle from the heat shield require repairs. The engine has slightly over 54,000 miles currently displayed on the 5-digit odometer.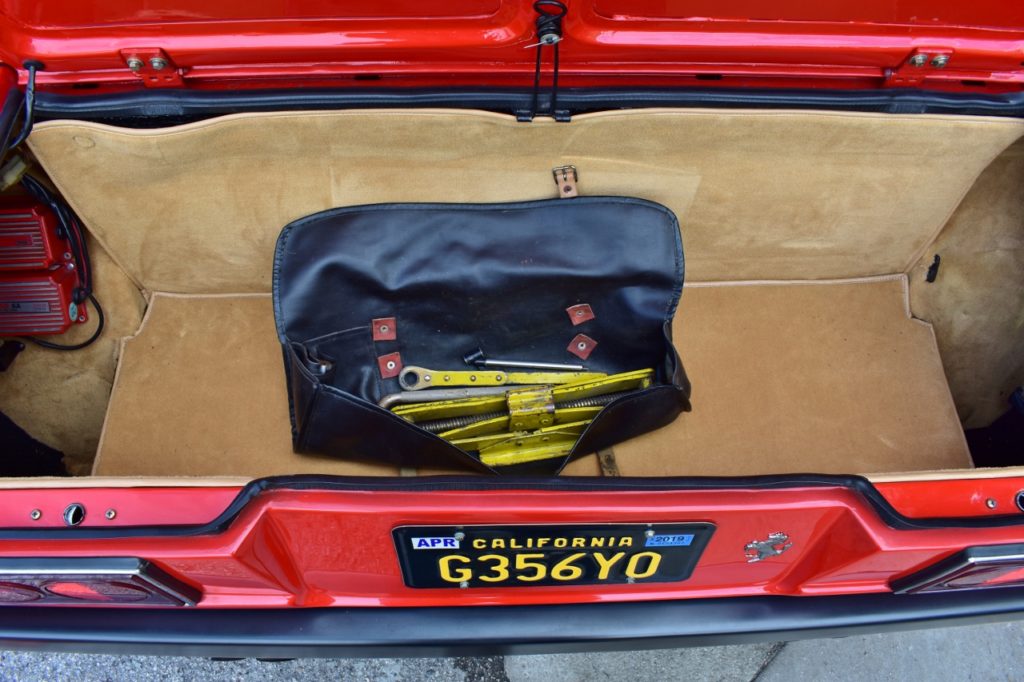 The tubular spaceframe chassis was stretched from the Dino 246 to create the 308 GT4's second row of seating. Nevertheless, this 308 GT4 handles crisply and the weight is well-balanced thanks to a fully-independent suspension arrangement with coil springs, anti-roll bars, and shock absorbers. Some paint chipping underneath of the car is evident due to standard use.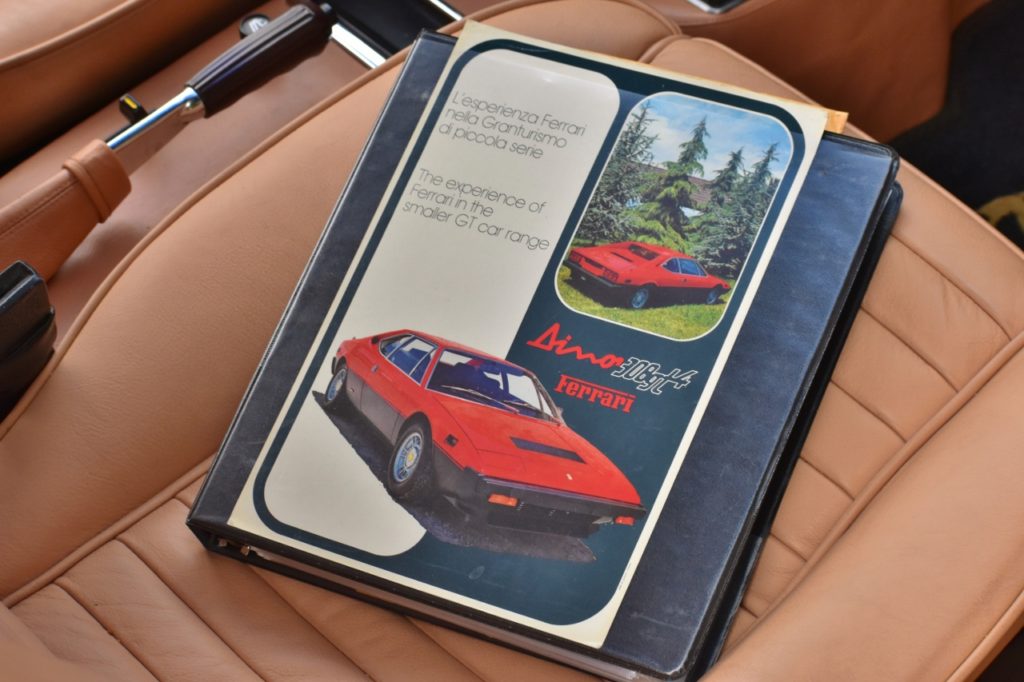 Accompanying the sale is a new set of trunk carpets and a toolset contained in a leather bag. The original MOMO steering wheel, U.S bumper side-covers, interior carpeting, rear exhaust grille, weatherstripping, and several other items inside of a box are also all provided with the purchase. First acquired new in Shawnee Mission, Kansas during June of 1977 this 308 GT4 has lived a well-kept life in Missouri, New Hampshire, and has spent the last five years in California. As such, it comes with a clean California title and the bidding begins now!