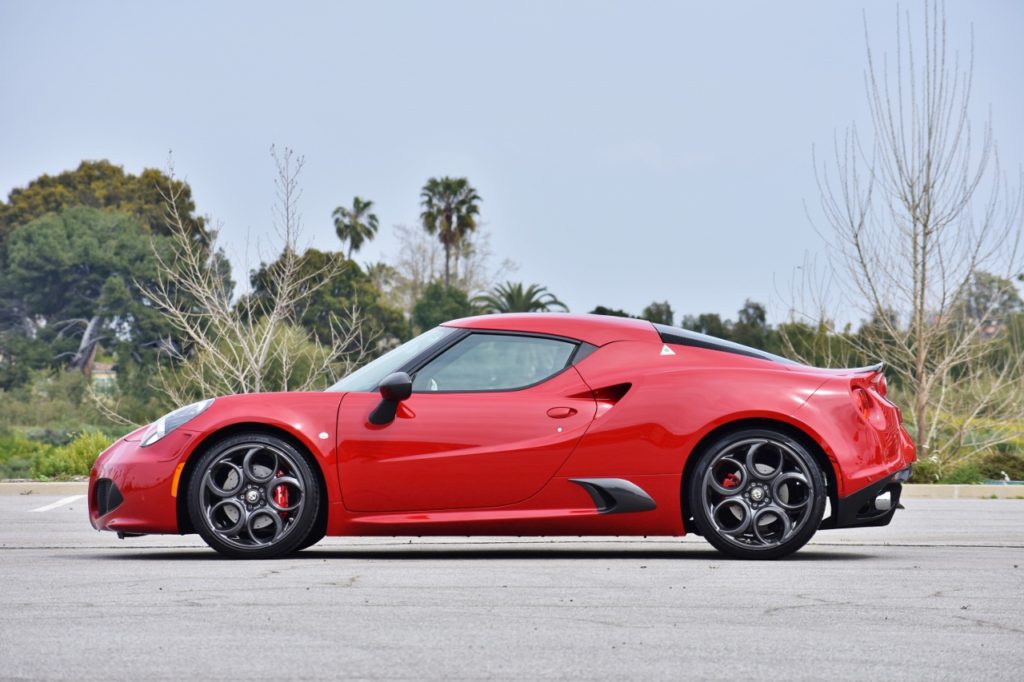 Sold – $43,500 (Plus Fees)
Alfa Romeo allocated a mere five hundred units of its new 4C to be sold in the United States in 2015 as Launch Editions. The 4C was not only heralding the return of the Italian brand to the US shores but also showcasing their first mass-produced sports car offered here. As a car, the 4C appeals to performance drivers seeking a raw, anachronistic approach to contemporary sports cars. Aside from the mesmerizing standard performance figures, the 4C Launch Editions came further equipped with special goodies that truly set it apart from other manufacturers "special editions." As a car that will no doubt appreciate, the Launch Edition will surely attract greater attention over the regular models in the future, and we happen to be selling one today.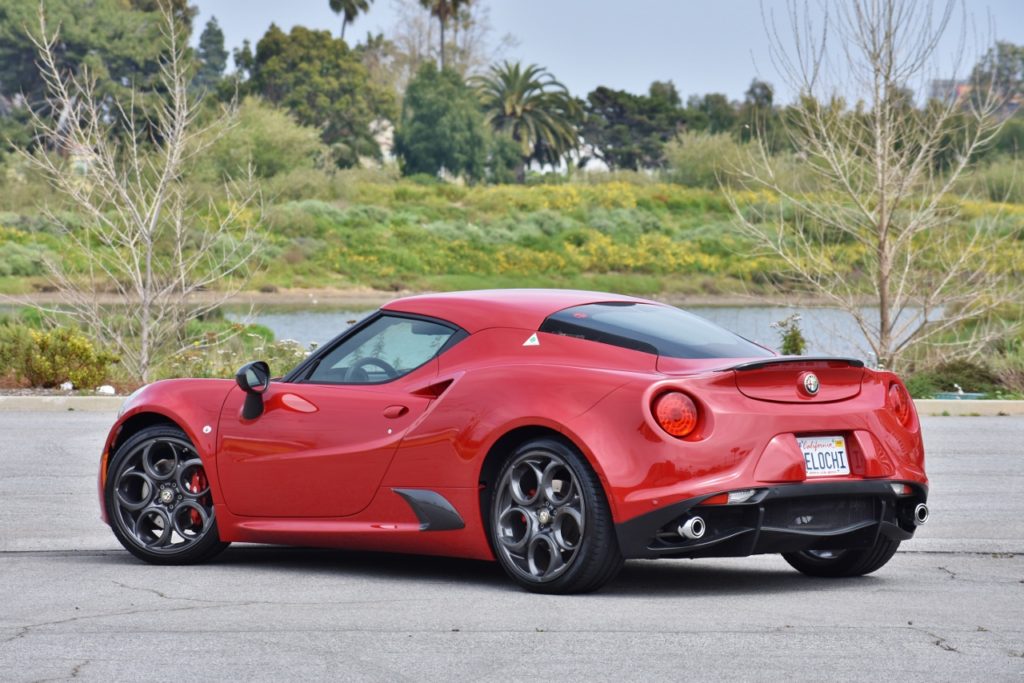 Constructed from carbon fiber and aluminum, the entire chassis of the 4C weighs only 236 lbs. Altogether, the little Alfa tips the scales in the US market at less than 2,500 pounds. The body of our example is painted in Rosso Alfa, one of four colors that were optional for the launch vehicles. The seller informs us that while overall the paint is in excellent original condition, there are some small visible scratches and rock chips. Launch Edition cars can be differentiated from the standard issue Alfa 4C by their asymmetric carbon fiber driver's side vent, front bumper wheel ducts, carbon fiber rear spoiler, carbon fiber mirror caps, and dark aluminum rear diffuser.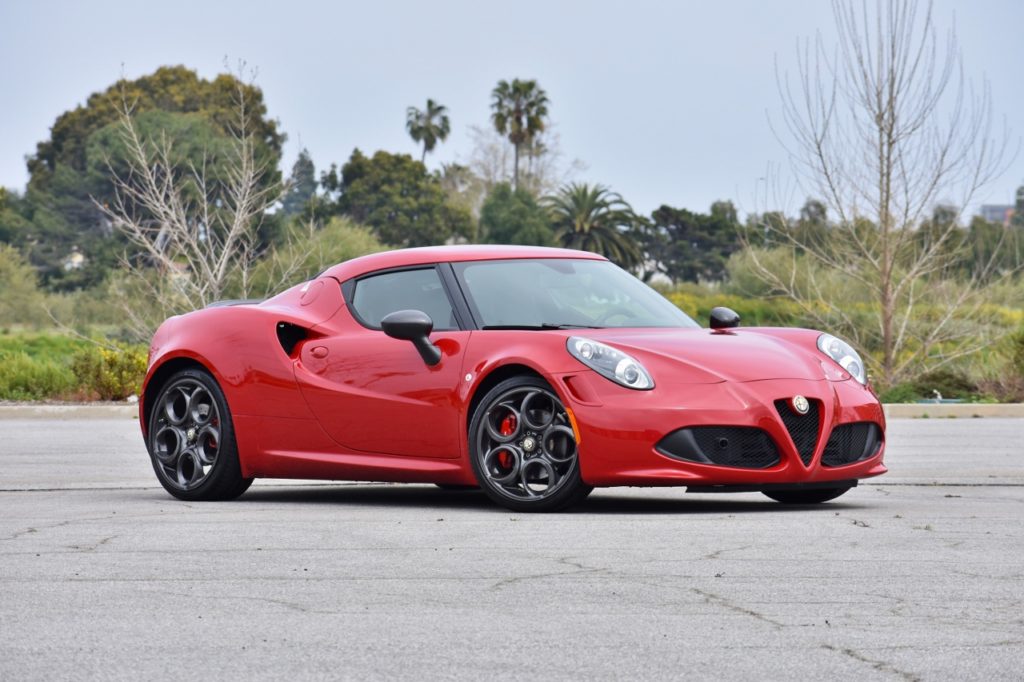 The 4C rides, in Launch Edition specification, on specially painted front 18" and rear 19" Cromodora alloy wheels. Pirelli P Zero tires supply grip and behind the wheels sit red painted brake calipers, also standard on the Launch Edition. Bi-Xenon headlights branded with the car model name and lined with carbon fiber are another premium option issued with these first 500 vehicles.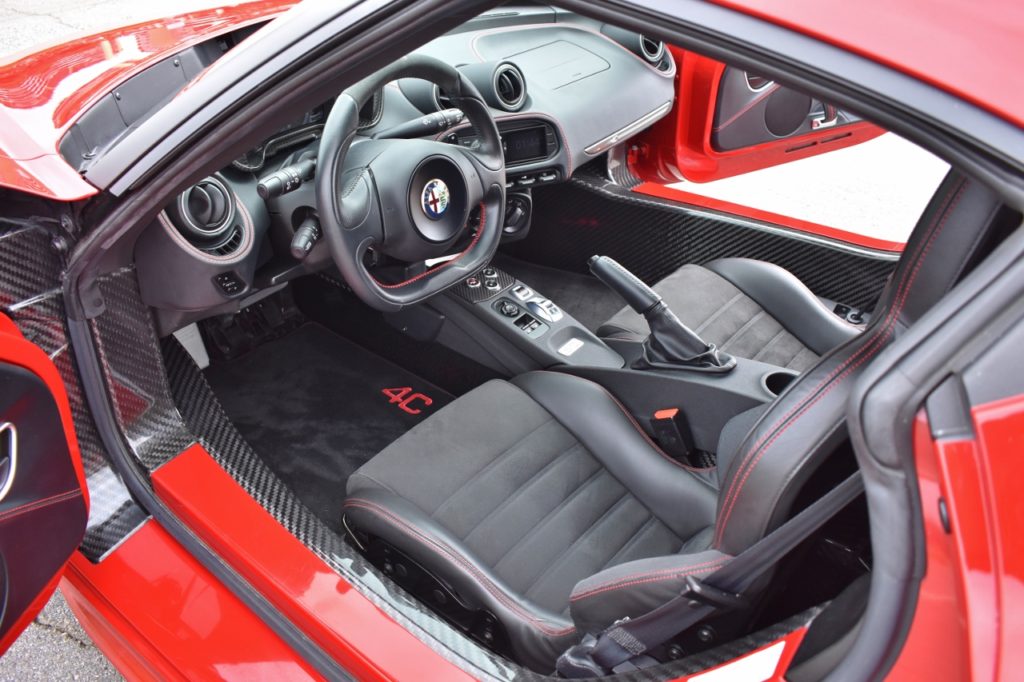 Inside, the red and black motif continues. Carbon fiber from the car's tub has remained exposed to limit weight while providing passengers a glimpse of the 4C's dedication to austerity-derived performance. Although spartan, Alfa has graciously given owners who optioned for the convenience package power windows, power locks, cruise control, an alarm system, park assist, a Bluetooth-capable stereo, and air conditioning from the factory in Modena. To keep passengers planted, light-weight bucket seats with adjustable backs are installed. The chairs are adorned with fine black leather fitted to microfiber inserts with contrasting red thread around the bolsters and forming the Alfa Romeo coat-of-arms in the headrests.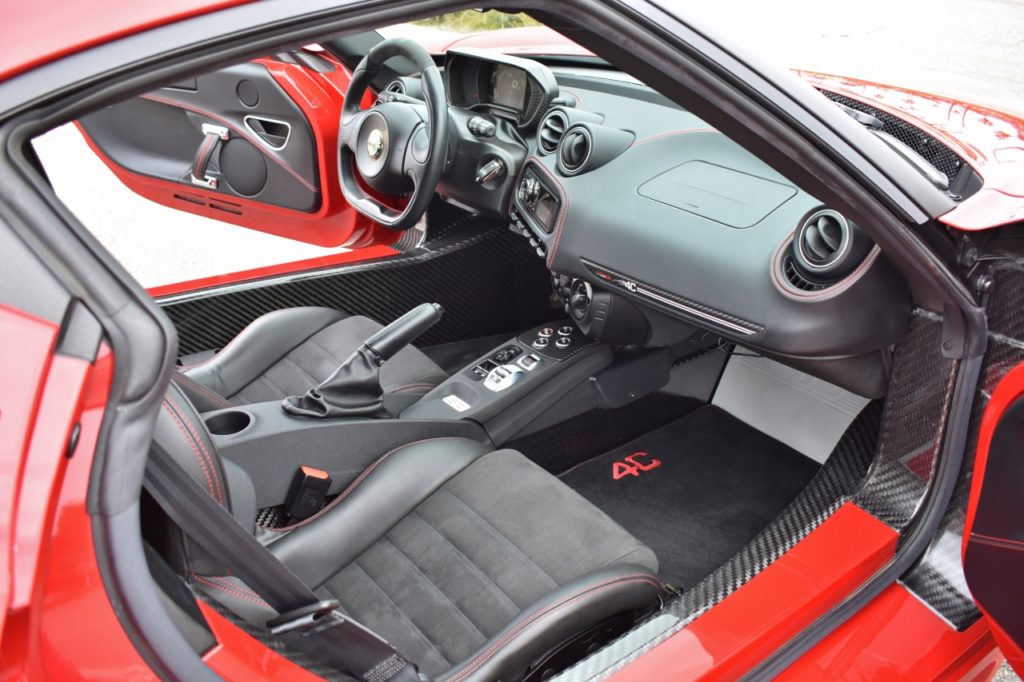 The black leather with red stitching further extends to the door panels and dashboard. Below, in the footwells, are black pile carpet floor mats with a red 4C emblems. The black leather, flat-bottomed steering wheel with paddle shifters is also stitched with red thread and sits in front of an LCD instrument display. The odometer of which currently displays 6,600 miles have been driven since newly purchased. Completing the interior, and adding a touch of exclusivity, is a numbered plaque showing this example to be the 484th 4C built out of the 500 slated for US delivery.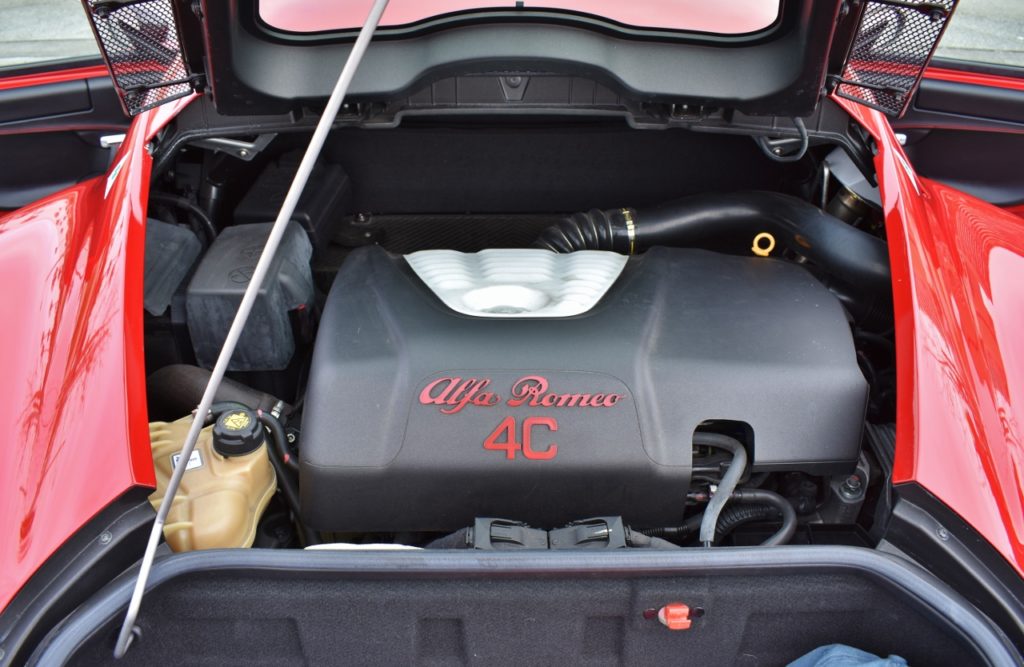 Creating momentum is a six-speed dual dry-clutch automatic transmission paired to the 1,742cc inline-four motor that has a single turbocharger with intercooler attached. The engine, when new, was good for 240 horsepower and 258 lb-ft of torque to the rear wheels. This, when measured against its petite weight, gave a superb power-to-weight ratio of 8.22 lb/hp, which reduced the sixty mph sprint to 4.5 seconds and bequeathed the 4C with a 160 mph top speed. A double-wishbone suspension resides up front and in the rear is a MacPherson strut assembly. The front control arm bushings have been replaced under factory warranty, and the front sway bar mounting strengthened due to recalls. Launch Editions also saw performance benefits from a BMC high-performance air filter, race-inspired exhaust system, and recalibrated suspension dynamics.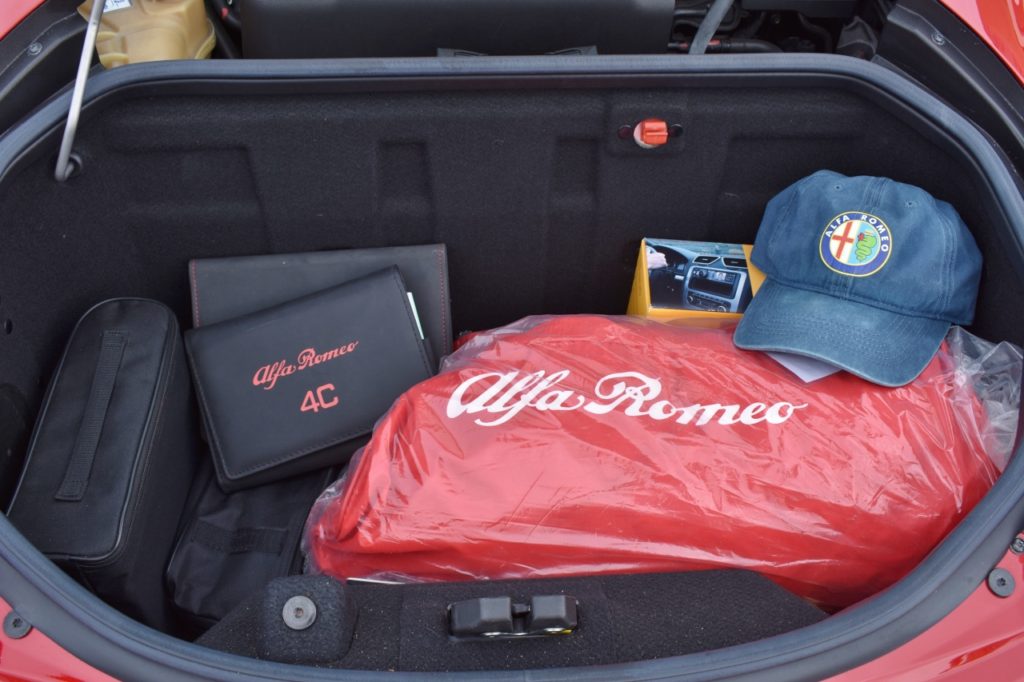 Initially sold in Florida, this 4C has resided in California with the current seller and second owner for two years. Optioned new with the convenience package and a red car cover, this 4C had an MSRP of over $72,000. The original window sticker, showcasing all of the options and standard equipment is included with the sale. An oil change was recently performed in preparation for the sale. Carfax reports tell of zero accidents or damages during its life and supply three logged maintenance visits to Alfa Romeo dealerships. With a featherweight figure, lightning-fast power delivery, stunning looks, and the precision of unassisted steering, the 4C is as close to seventies supercar as you can get in the modern era. Our example is live on auction now and comes, of course, with a clean California title.